Democrats and the Media Need Trump—What Else Do They Have to Run On?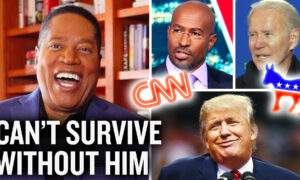 After his victory speech against me in the recall election, California Gov. Gavin Newsom said that Donald Trump may have been defeated, but Trumpism has not been. And on Republican Glenn Youngkin running in the gubernatorial race in New Jersey, CNN's Van Jones said: "You do have the grassroots folks out there fighting for this on the Democratic Party side. The stakes are high. When this election is over in Virginia, we will know: have we seen the emergence of the Delta variant of Trumpism? The Delta variant of Trumpism. In other words, Youngkin—same disease, but spreads a lot faster and can get a lot more places." They just can't live without Trump. It truly is media schizophrenia. They love the ratings they get when they cover him, but they hate the fact that all the free publicity they gave him before his election got him elected.
Follow EpochTV on Facebook and Twitter
"The Larry Elder News Show" is available on YouTube, Youmaker, and EpochTV. It also airs on cable on NTD America. Find out where you can watch us on TV.