With 397 of 435 congressional districts set for 2022 elections after Census reapportionment, a range of analyses acknowledge that heading into fall's midterms, Democrats will benefit more than Republicans from the once-every-decade process.
According to reviews and constantly updated trackers posted by Real Clear Politics, Politico, Fox News, and FiveThirtyEight, among others, neither party stands to make significant gains as a result of the reapportionment in securing the 218 seats necessary to hold the majority in Congress.
Democrats now hold a 221-209 advantage in the House with five vacancies.
Varied analyses maintain redistricting nationwide has so far created between eight to 11 more "Democratic-leaning" seats, two to six fewer "Republican-leaning" seats, and significantly fewer "competitive districts."
On April 7, Politico's redistricting tracker classified the mapped 397 congressional districts with 183 being "strong Biden," 153 being "strong Trump," and 61 being "competitive districts."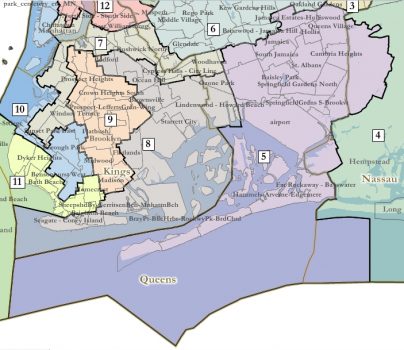 On April 4, FiveThirtyEight's redistricting tracker indicated that there were 181 "Democrat-leaning" congressional districts, 182 "Republican-leaning" districts, and 34 "highly competitive" districts.
Among reasons for the increase in Democratic congressional districts—which surprised many analysts—are "aggressive gerrymanders" in several Democrat-controlled states, most notably New York.
New York lawmakers ignored a nonpartisan redistricting commission's maps and instead created a set that eliminates four of the eight congressional districts that lean Republican. The legislature's map turns a 19-8 Democrat-controlled congressional delegation into a 22-4 Democrat dominant contingent.
On March 30, New York Supreme Court Judge Patrick McAllister ordered state lawmakers to redraw their adopted legislative maps by April 11 or the court would appoint an independent body to do so.
But on April 4, State Appellate Division Justice Stephen K. Lindley put a temporary hold on McAllister's ruling until an April 7 hearing on whether to extend the stay for the 2022 election cycle. Lindley was expected to issue a decision by April 8.
Legal actions against Republican attempts at gerrymandering have been more successful, with courts overturning proposed legislative and congressional district maps crafted by GOP-dominant legislatures in North Carolina, Pennsylvania, and Ohio.
But much remains uncertain, including how the remaining 38 congressional district seats are mapped in New Hampshire, Missouri, and Florida, the only three states that had not adopted post-2020 Census district areas as of April 7.
New Hampshire Republican Gov. Chris Sununu and the GOP-led legislature are expected to soon agree on competing maps for the state's two congressional districts.
Missouri's House and Senate Republicans cannot agree on how to divvy up the state's eight congressional districts, but a compromise and adopted maps are anticipated soon. Because the candidate filing deadline for the state's August 2 primary was March 29, hopefuls for 2022 elections were allowed to proceed using 2010 boundaries.
In Florida, Gov. Ron DeSantis has called the state's lawmakers back to Tallahassee for an April 19-22 special session to forge consensus between competing congressional district maps, one set approved by the legislature and the other favored by the governor.
Florida gained more than 2.7 million residents since the 2010 census, boosting its population to 21.54 million, a 14.6 percent increase that left the state 171,561 residents shy of qualifying for a second additional seat. It was the first time since 1940 that Florida failed to add two seats in post-Census congressional district reapportionments.
As the nation's third-most-populous state, behind California and Texas and eclipsing New York, Florida will now have 28 congressional districts and 30 electoral votes, under the United States Census Bureau's 2020 Apportion Results.
Much of the contention between the governor and Republican statehouse leaders in redrawing the former 27 congressional districts into 28 new ones involves the state's Congressional District 5, which spans North Florida from Jacksonville to Tallahassee. It is now held by U.S. Rep. Al Lawson, (D-Tallahassee).
CD 5 is Florida's only Democrat-controlled congressional district north of Orlando.
DeSantis' proposed maps would eliminate CD 5 as now constituted and also reconfigure CD 10, a Central Florida district now held by Democrat U.S. Rep. Val Demings, who is challenging Republican incumbent Marco Rubio for his U.S. Senate seat in November.
Regardless of how Republicans resolve the differences in competing maps, one thing that is certain is both maps will increase GOP's current 16-11 congressional delegation advantage by at least two seats with the 28-member delegation breaking down anywhere from 17-11 to 19-9.
Another thing that is certain in the "new" Florida congressional district will be CD 15, which will span eastern Pasco and northern Hillsborough counties north of Tampa and west of Lakeland in central Florida.
The district will be relatively purple and competitive with Democrat Eddie Geller, a former stand-up comedian, likely to take on the winner of a GOP primary battle between state Rep. Jackie Toledo and former U.S. Rep. Dennis Ross.
Ross served four terms in Congress representing Florida's former CD 15, which spanned much of Polk County, including the city of Lakeland, and parts of Hillsborough County.
CD 15 is now CD 16 under both the legislature's and DeSantis' maps. Republican U.S. Rep. Scott Franklin won the district in 2020 and is strongly favored to win re-election in November.
Rather than challenge Franklin for the district he held from 2010 to 2018, Ross told The Epoch Times he chose to run in the newly created district because "there will not be an incumbent" in the race.
Under federal rules, a U.S. House representative does not have to live in a congressional district to represent it. Ross, who lives in Lakeland, said he'd consider moving into the newly created district if elected.
But, he said, he essentially has eight year's experience representing most of the district when it was part of the old CD 15.
"It is not new territory to me. I suspect I know that district better than anyone," Ross said.
He doesn't expect Toledo to make an issue of his residency during their campaigns leading up to the state's Aug. 23 primaries.
"My current opponent doesn't live in what would be that district either," Ross said.