DeSantis' Office Responds to 'Bullying' Masked Students and 'COVID Theatre' Remarks
PUNTA GORDA, Florida–Florida Gov. Ron DeSantis rolled into Hillsborough County to announce a $20 million cyber security education initiative, but left in a media storm after asking masked high school students sharing the podium with him to "please take them off," a request that was described as an act of bullying by some news outlets.
The Republican governor's press secretary Christina Pushaw told The Epoch Times in a telephone interview that the media "got it all wrong," and missed the point of what the governor said on March 2 at the news conference at the University of South Florida in Tampa.  She shared her perspective of what she saw:
"Gov. DeSantis directly told them what the science says, and gave them permission not to wear masks, if they did not want to," she said. "Most of them removed their masks, smiled and laughed, and two chose to keep their masks on."
Pushaw said that the two who left their masks in place were allowed to remain on the podium and be part of the event, and were there primarily because they are "interested in cybersecurity and the program the Governor announced."
In reference to some media outlets reporting that the governor had "bullied" the students into removing their masks, she said:
"I wish the media would … stop trying to make this into a culture war to advance a partisan agenda. [The students] were well-behaved, respectful, and impressive young people. I do not believe that the kids were there to engage in political activism or be any part of a political stunt."
While approaching the lectern to make his announcement, the governor told students: "You do not have to wear those masks—please take them off. Honestly, it's not doing anything; we've gotta stop with this COVID theater. So if you want to wear it, fine, but this is ridiculous."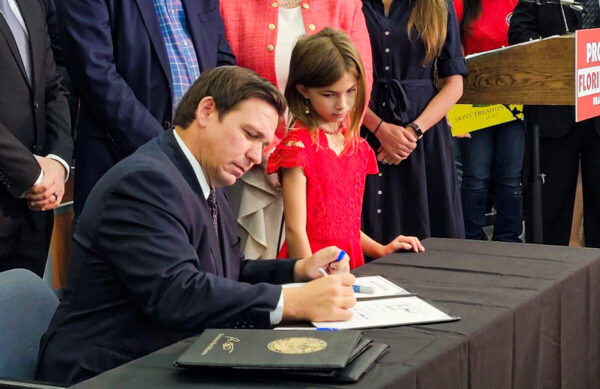 In November 2021, a special session of the Florida Legislature passed a measure making masks optional. At a Nov. 18 press conference, after signing the bill into law, the governor said he believes that masking students is detrimental to their educational and social development, especially those "students who have speech, emotional, and physical problems."
The students on the podium at the University of South Florida were later identified as being from Middleton High School in Tampa.
Hillsborough County Superintendent Addison Davis released a written statement: "It is a student and parents' choice to protect their health in a way they feel most appropriate. We are proud of the manner in which our students represented themselves and our school district."
Pushaw said that Hillsborough County was one of the few districts that had "defied the law" and the Governor's Executive Order making masks optional in 2021, following the law the governor signed to "strengthen parents rights."
"When the kids returned from Winter break in January, Hillsborough County Schools officially advised students and families that mask-wearing is strongly encouraged," she said.
She also said that kids are impressionable and bend to peer pressure, especially from authority figures.
"We understand teens are susceptible to peer pressure and pressure from authority figures, including school administrators," she said. "I believe that's why the teens were wearing masks at the event; they have been conditioned to think it's the right thing to do."
On Feb. 24 DeSantis and the state's Surgeon General Joseph Ladapo jointly announced new COVID-19 guidance that pushed back on what they called "unscientific corporate masking." The new measures call for reducing isolation for all Floridians, including schoolchildren and day-cares. It also recommends that "physicians should exercise their individual clinical judgment and expertise, based on their patients' needs and preferences."
Ladapo has always maintained that there has "never been any evidence" that masks work.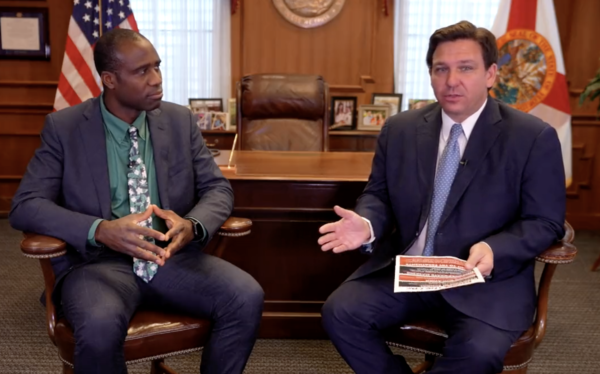 "Evidence suggests that most secondary transmission occurs early on," Ladapo said in a press release on Feb. 24. "Our state will continue to make decisions for Floridians rooted in sound science, not fear, whether they are working or in school."
Pushaw blames politicians for some of the COVID-19 directives and cited the case of 8-year-old Fiona Lashells, whose refusal to wear a mask caused her to be suspended 36 times from her Florida elementary school during the 2021 school year.
"This is in contrast to what forced-masker politicians have done in Florida," she said. "For example, Palm Beach County Schools suspended a second-grader for 40 days because she didn't wear a mask—they denied her the right to an education by denying her entry into the classroom. Gov. DeSantis condemns this petty tyranny."
Florida Democratic gubernatorial candidates swiftly took to Twitter to condemn the governor's comments.
Agriculture Commissioner Nikki Fried said: "As governor, I won't bully students. You can judge someone's character by how they treat waiters—and high school students. Shame on [DeSantis]."
U.S Representative Charlie Crist, another hopeful Democrat running for a chance to return as governor, said in a Tweet: "Young people in our state deserve to be treated with respect, not dunked on by a heartless, egotistical Governor with a political agenda."
Pushaw said that, after the press conference, several of the students—masked and unmasked—requested a photo with DeSantis.
"They asked if they could have their picture taken with the governor, in which he complied—with masks off, of course," she said. "They laughed about it, the ones wearing masks took them off and they had their photo taken with the governor."