DeSantis Proposes $25 Million to Restore Miami's Freedom Tower
PUNTA GORDA, Fla.–Gov. Ron DeSantis announced on May 9 that he supports $25 million in his proposed budget for the renovation and restoration of Miami's historic Freedom Tower, seen as a beacon of hope for those escaping "Castro's tyranny" to live in a free society.
The last time he visited the Mediterranean-style structure in downtown Miami, the governor said he noticed that it "needs some love."
"We have not fully signed the [2023] budget; we're still going through things, but the legislature provided, and I have approved, a full $25 million to be able to support the Freedom Tower. We know it needs some love, we know it needs some repairs, so this funding will be used to complete urgent structural repairs," DeSantis said. "It will conserve and restore historical architectural components, it will make the building more accessible for people with disabilities, and we'll install museum-quality climate control and security systems to safeguard the Cuban-American history that is stored here and will reimagine and redesign the exhibits displaying that history to make it more engaging for all ages."
He also signed SB 160 to approve road designations across the state, including three designations to honor brave Cuban freedom fighters and the Floridians who "fought against Castro before leaving Cuba to come to Florida."
"The Freedom Tower represented a turning point not only in their lives but also a turning point for human liberty," DeSantis told those in attendance at the press briefing in Miami. "I think this tower is a reminder that freedom is not free, that you have to fight for your rights, and there are a lot of people that are out there that would love nothing more than to put you under some form of oppression."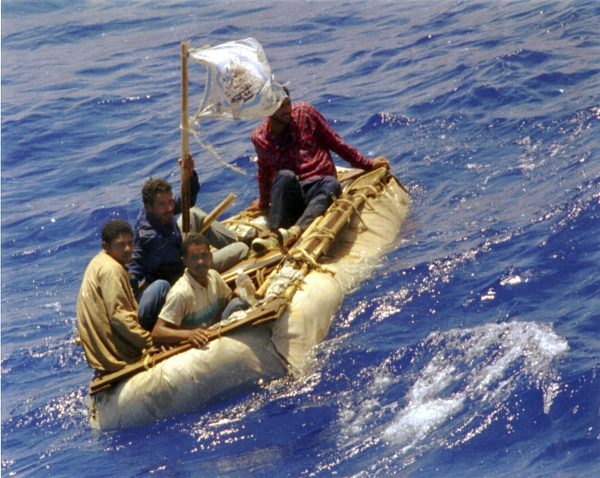 It is estimated that from 1959 until 1974, approximately 650,000 Cubans came to the U.S., he said.
"Many of them came to south Florida either by plane or by boat, and once they landed, they would be taken right here to the Freedom Tower, where they would receive assistance to begin their new life in the United States," he continued.
Lt. Gov. Jeanette Nuñez, the daughter of Cuban immigrants, said she remembers what President Ronald Reagan said of oppressive governments like the one her parents fled.
"He said that freedom is never more than one generation away from extinction," Nuñez said, quoting former President Reagan. "Truer words have never been spoken."
DeSantis also signed HB 395, which designates November 7 as the state's official "Victims of Communism Day to honor more than 100 million people who have "fallen victim to communist regimes across the world."
DeSantis told the crowd he is disturbed by what he sees on college campuses with students promoting socialist ideas, such as flying a flag displaying a hammer and sickle that represents the former Soviet Union.
"There are probably more Marxists on college faculties in the United States than there are in all of Eastern Europe combined," he said.
"That, to me, speaks of a tremendous ignorance about what those individuals represented and the evils that Communism inflicted on people around the world. Our goal here is to stand for the truth. It's to make sure that Florida—every year—will be able to speak the truth about the evils of Communism and recognize those who have fought under the yoke and escaped for freedom," the governor said.
"We want to make sure that every year that folks in Florida, but particularly our students, will learn about the evils of Communism, the dictators that have led Communist regimes, and the hundreds of millions of individuals who suffered and continue to suffer against the weight of this discredited ideology."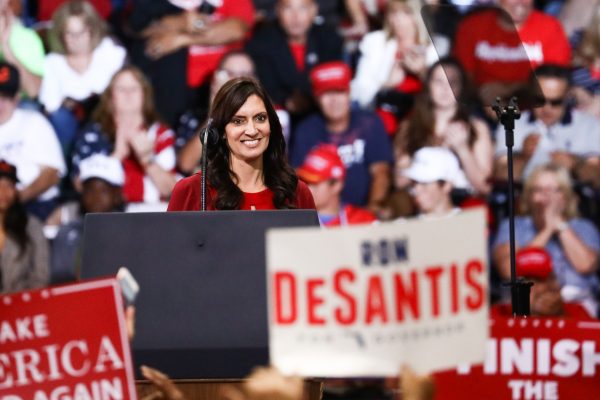 DeSantis said when people "looked for the moral compass of what's happening on this side of the world, they'd look to Florida and Miami."
"I'm proud to be a part of that, I'm proud to be standing for the truth," DeSantis said. "Ronald Reagan said that one day, Communism would be viewed as a sad bizarre chapter in human history, whose last pages were being written as they spoke."
The governor said Reagan's words were spoken in the early 1980s, a time when everyone thought the Cold War would "go on forever."
"I think through his leadership, and many others, the Soviet Union was brought to heel … [When] the Berlin Wall was brought down," he said. "You'd think that after seeing all of the wreckage of Communism, it would be something that faded into the background, but it's not dead. These Marxist ideas are not dead, they are in many places, right now, oppressing people. So when we're speaking the truth, it's not just for history, it's for the here and now."
Florida State Senator and incoming Commissioner of Education Manny Diaz said remembering the past was important in preserving freedom.
He said it was everyone's job to "make sure that this Tower stands, that the lessons stand for the next generations," so future Floridians understand the power of freedom and the perils of Communism.
"I'm very lucky to not only have sponsored the bill with my colleagues in the House but also [to have] the opportunity to implement this bill" as incoming Commissioner of Education "[to] make sure that every one of our students that [takes] a government class in the state of Florida will have a lesson on the perils and evils of Communism," Diaz said.
"And, that we will have a day every year to commemorate those victims," he said, referring to Freedom Tower as Florida's Ellis Island.
Nuñez said communist regimes create crisis after crisis and do nothing but "inflict suffering."
She agrees with DeSantis, that across college campuses in the United States, Communism, Marxism, and Socialism are being romanticized.
Actions like removing "woke ideologies" and critical race theory from the classroom "help ensure" that Florida's students "get the best education, free from socialist ideologies and other woke terms that would not be allowed," Nuñez said.
She said the new legislation would ensure that on Nov. 7, students "understand the importance of history and what has happened across the world and in the past."