Donald Trump emerged as the clear winner in the highly anticipated straw poll conducted by the Conservative Political Action Conference (CPAC), cementing his position as the preferred candidate of the Republican grassroots in his bid for the White House in 2024 with a commanding lead of 62 percent.
Trump easily surpassed his nearest rival, Florida Gov. Ron DeSantis, who secured only 20 percent of the votes. This outcome was not unexpected, as Trump has been the top pick in the past five CPAC straw polls, which serve as a barometer of attendees' presidential preferences.
Trump's former ambassador to Denmark Carla Sands told the Epoch Times she anticipated the result.
"[Trump] was the former president who won more Republican votes than any U.S. president before him," she said. "It doesn't surprise me."
Still, Sands had good things to say of Desantis.
"Desantis is fantastic," she said. "He's a wonderful governor, but Trump was the best president."
Last year, at the CPAC straw poll in Orlando, Trump received 59 percent of the votes, while DeSantis came in a distant second with 28 percent. CPAC has also become a Trump-friendly gathering over the years, with several potential Republican presidential candidates, such as DeSantis, Mike Pence, and Tim Scott, choosing to skip the event this time.
Sebastian Gorka, Trump's former deputy assistant to the President, felt the same way. When asked if he was surprised by the voting result, Gorka said, "No, of course not."
Former Arizona gubernatorial candidate Kari Lake spoke highly of both President Trump and Gov. Desantis but believes Trump is ultimately the man to get the job done.
"This country needs Trump," Lake told The Epoch Times. "And he knows how to win."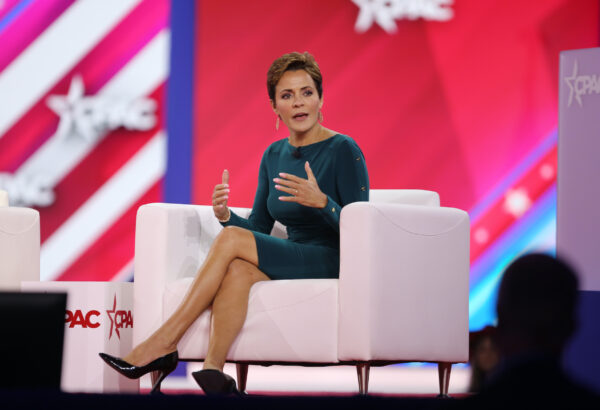 Lake also praised Governor Desantis for his work in Florida. She and others commented on Trump's charisma and energy, saying it is a big part of why he will likely be the 2024 nominee.
Trump's victory in the straw poll underscores his continued popularity among the conservative base and his standing as a formidable force in the Republican Party.
"Thank you for that beautiful straw poll," Trump said in his speech which followed. "That was a big win."
Read More
Trump is scheduled to address the conference on Saturday evening, along with two other declared presidential hopefuls, Nikki Haley and Vivek Ramaswamy, who delivered speeches earlier in the week.