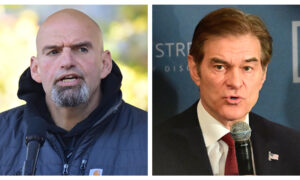 Dr. Mehmet Oz and John Fetterman are competing for a senate seat, in a race that could help determine which party controls the chamber.  We have the highlights from their highly anticipated debate in Pennsylvania on Oct. 25.
Shots fired as Zeldin and Hochul square off in a heated debate to determine who sits in the governor's chair. Polls show a narrowing gap as Zeldin hammers away at public safety concerns.
New York's Supreme Court strikes down New York City's Covid vaccine mandate. Find out what the judge had to say in his ruling.
Topics in this episode include:
1. Oz and Fetterman Clash in First and Only Debate
2. Zeldin and Hochul Face Off in Race for Governor
3. AZ, NV Counties to Hand Count Midterm Ballots
4. Arkansas' Sanders Vows to Fight Biden's Policies
5. NY Supreme Court Strikes Down NYC Vaccine Mandate
6. Over 63,000 Deportation Cases Thrown Out in FY 2021
7. Progressive Democrats in Congress Retract Letter
8. Former US Military Pilot Arrested in Australia
9. Scientists Conduct Study on Canyon Fire Burn
10. How to Prepare for Emergency Situations
11. Universal Studios Beijing Temporarily Closes Over Covid
12. Man Builds Garden for Cheeky Groundhog
* Click the "Save" button below the video to access it later on "My List."
Follow EpochTV on social media:
Twitter: https://twitter.com/EpochTVus
Rumble: https://rumble.com/c/EpochTV
Truth Social: https://truthsocial.com/@EpochTV
Gettr: https://gettr.com/user/epochtv
Facebook: https://www.facebook.com/EpochTVus
Gab: https://gab.com/EpochTV
Telegram: https://t.me/EpochTV