Voters in Georgia have cast more ballots so far during the early voting period, surpassing the 2020 presidential election early vote totals, according to the Secretary of State's office.
"Reports of long lines were rare, with some lines in the metro areas being reported," said Georgia Secretary of State Brad Raffensperger's office in a news release. "No substantial delays were reported … early voting turnout is expected to increase during the last week."
According to the release, 268,050 voted early and in person, while 23,690 cast absentee ballots. During the 2020 election cycle, when early voting was initiated, some 266,403 people cast their ballots around the same time, the release said.
It noted that Tuesday's vote total marks a more than 75 percent increase from day two of the 2018 midterm early voting and around 3.3 percent more over the early voting phase of the 2020 presidential election.
"We're extremely pleased that so many Georgians are able to cast their votes, in record numbers and without any reports of substantial delays," said Georgia Secretary of State Brad Raffensperger, a Republican who has received criticism from former President Donald Trump for what he says was not taking enough action to combat fraud during the 2020 contest. "This is a testament to the hard work of Georgia's election workers, the professionals who keep our elections convenient and secure."
Georgia has a highly contested gubernatorial election as well as a contested election for one of the state's Senate seats. Gov. Brian Kemp, a Republican, faces off against Democrat Stacey Abrams, while Sen. Raphael Warnock (D-Ga.) is being challenged by former NFL star Hershel Walker, a Republican.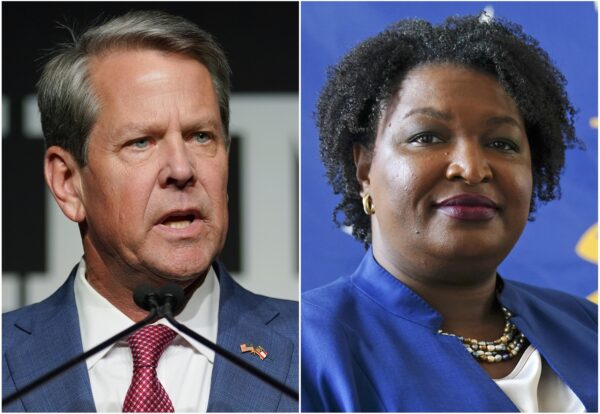 Popular Rep. Marjorie Taylor Greene (R-Ga.) is also up for reelection, although election forecasters say that she will most likely prevail over Democrat challenger Marcus Flowers.
University of Florida professor Michael McDonald, who handles the U.S. Elections Project, has said that midterm elections generally turn out fewer voters than during presidential election years.
He noted that in-person voting in Georgia is much higher this year due to last year's voting laws that restricted casting mail-in ballots.
"Part of what is happening is Georgia's new laws made it more difficult to cast a mail ballot," McDonald wrote on Wednesday evening, adding: "Total (in-person + mail) is still higher than 2018, but the increase over 2018 is not as impressive looking at in-person vote alone."
As of Oct. 20, meanwhile, some 4.9 million have cast early votes across the United States, according to his project. Some 750,000 have voted in person, while 4.1 million have cast mail-in ballots with Florida and California leading the way.