Edmonton Oilers Beat LA Kings 4–2, Gain Home Ice for Game 7
The Edmonton Oilers forced a Game 7 in the Western Conference first-round series, defeating the Los Angeles Kings with a Game 6 win, 4–2, at Crypto.com Arena on Thursday.
The Oilers goalie Mike Smith made 30 saves, while Evander Kane scored two goals and an assist, and Connor McDavid added a goal and two assists.
Tyson Barrie broke the 2–2 tie late at the 14:50 mark in the third period, with a wrist shot from the right face-off circle, assisted by Leon Drasaitl and Connor McDavid.
"Whatever reason, there was a big gap between me and [Draisaitl], and I just saw that I could jump in and kind of make it an odd-man [rush], and he made a nice little sauce over to me and kind of got lucky to beat 'Quickie' there," said Barrie. "So, just kind of a nice to see that one go in."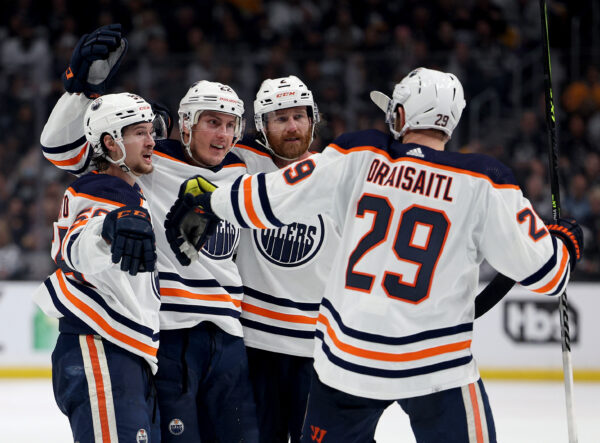 Edmonton had the edge statistically with 37 shots to the Kings 32, and won 41 face-offs to 33. Meanwhile, L.A. had four more hits 30–26, and had a big advantage in power plays opportunities 4–1.
"I thought our players really dug in and found a way to win," said second seed Edmonton coach Jay Woodcroft.
The teams will play Game 7 on Saturday as the No. 2 seed from the Pacific Division, Edmonton, gains the advantage with home ice.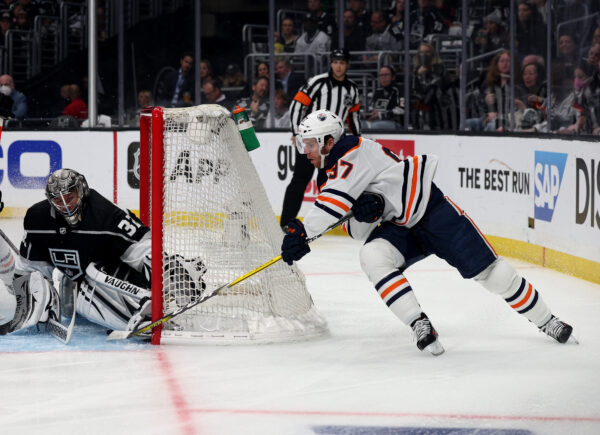 "I can't wait," added Barrie. "[The fans] been amazing all year, all playoffs and we've seen the crowds and what they're getting up, to so it's going to be bonkers in there. We can't wait to get on the ice for Game 7. It's going to be awesome."
The Pacific Division third seeded Kings got 33 saves from Jonathan Quick, while Sean Durzi and Carl Grundstrom scored a goal apiece.
"Somebody a few years ago said that usually the fourth game is the toughest one to win. Pretty sure you guys know who it is," said Kings captain Anze Kopitar of their former coach Darryl Sutter. "Obviously there's something to it. We would have liked to close it out, but it didn't happen, and we got to move on and look ahead to Saturday."
Early in the first period, Oilers center McDavid scored a wraparound goal at 1:40 for an early lead, and Kane tipped in a rebound from a shot by Brett Kulak to increased the lead to 2–0 in the second period at the 1:50 mark.
The Kings rallied to get within a goal, from Durzi on a power play at 13:59 in the second—with a wrist shot from the high slot with the assist by Adrian Kempe and Kopitar.
Early in the third quarter, Grundstrom tied the game at 2, with another wrist shot from the left circle.
However, Barrie would get the game winner for Edmonton, and Kane scored an empty-net goal with one minute remaining in the game for a 4-2 final score.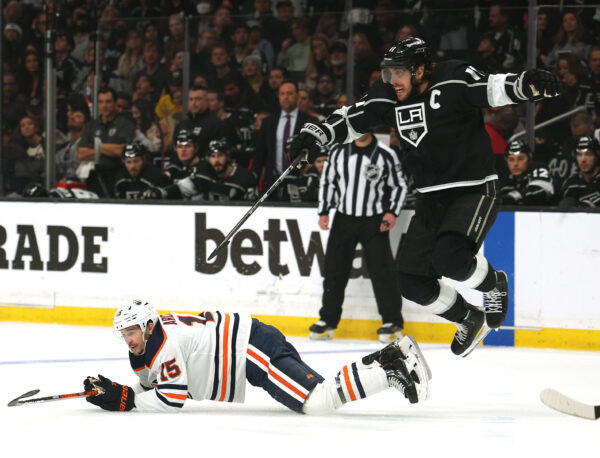 "Hey, it's the playoffs," added Kopitar. "It's going to be tight, and we were down 2-0. It didn't faze us too much. I mean, we knew we had to get one on the power play at some point, so that was big. And then, obviously, [we] tie it up pretty early in the third. Just couldn't push it over the line."
In previous Game 7s, the Kings won their past four, and are 5–3 on the road and 7–4 overall.
The Oilers are 6–4 in Game 7, and 3–1 at home. They have lost their past two on the road and haven't played a Game 7 at home since April 16, 1990, beating the Winnipeg Jets in the Smythe Division Semifinals. No current Oilers has scored a goal in a Game 7.
The Oilers and Kings will play Game 7 of the Western Conference First Round at Rogers Place in Edmonton on Saturday at 7 p.m. PT—television coverage is on ESPN, CBC, SN, TVAS, and BSSC.
The winner will face either the Calgary Flames or the Dallas Stars in the second round, as they are also playing a deciding Game 7.