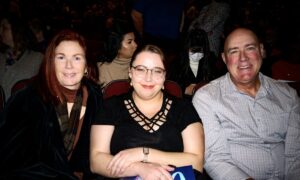 RALEIGH, N.C.—A special Christmas gift for their niece, Jeff and Robin Kasper brought Kirsten Pauley, real estate office manager, to the matinee performance of Shen Yun Performing Arts at the Raleigh Memorial Auditorium on Jan. 21.
"We've never seen anything quite like this," said Mrs. Kasper, "I'm so glad that it came to Raleigh so we could participate … it's breathtaking, it's beautiful and graceful!"
Impressed with the beauty and dynamics of classical Chinese dance, Ms. Pauley said it was very different from Western ballet.
"It's whimsical and elegant, much different than a Russian ballet or something else you see [in the West] … it's wonderful!"
With its flips and gentle elegance, classical Chinese dance is one of the most athletic and expressive art forms in the world. Based out of New York, Shen Yun is the world's premier classical Chinese dance company. Along with folk and ethnic dance, Shen Yun presents story-based dances that depict the history and traditional culture of China from ancient times to the modern day.
Mrs. Kasper was delighted by the company's patented method of integrating a 3-D animated backdrop with the stage performance. It allows the performers to travel back and forth between the stage and the background projection.
"It gives it another dimension that was completely unexpected, and delightful," she said, "they disappeared at the step and they show up on the screen!"
Ms. Pauley was particularly moved by a dance story depicting the modern-day persecution of Falun Dafa, also called Falun Gong, a meditation and spiritual discipline based on the principles of truthfulness, compassion, and tolerance.
"It was very impactful," she said, "I teared up a couple of times … you just really see the emotions."
The Chinese Communist Party (CCP) launched a persecution against the practice in 1999, and adherents have since been subjected to unprecedented imprisonment, torture, and abuse.
Since Shen Yun's inception in 2006, its mission has been to revive China's 5,000-year-old traditional culture. The company's website says its performance demonstrates "China before communism."
"Pick any other type of society that has a culture that is that strong for so many centuries," said Mrs. Kasper, "it needs to stay alive and it needs to be continued!"
Mr. Kasper was also very impressed with Shen Yun Performing Arts and expressed his gratitude for the company visiting his hometown of Raleigh, North Carolina.
"These are world-class dancers," he said. "This is absolutely amazing!"
Thank you for bringing this to Raleigh so we can see it, we've been waiting for this for a long time.
— Jeff Kasper
"Thank you for bringing this to Raleigh so we can see it, we've been waiting for this for a long time."
Mrs. Kasper agreed and said, "Everyone must go to this performance."
Reporting by Yawen Hung and Jennifer Schneider.
The Epoch Times is a proud sponsor of Shen Yun Performing Arts. We have covered audience reactions since Shen Yun's inception in 2006.