Exploring San Diego's North Park
You're vacationing in San Diego. You've had a close encounter with wildlife from every continent at the zoo. You've strolled the waterfront and admired the clipper ship Star of India and the massive aircraft carrier Midway. You've shopped at Horton Plaza and supped in the Gaslamp Quarter. What now? Explore North Park.
This historic neighborhood—a former lemon grove turned subdivision in the years leading up to World War II—may not have the flash of downtown, but it does have an abundance of local color accentuated by historic architecture. It also has a craft brewery scene with as many varieties of IPAs as there are cabernets in Napa. It's all concentrated in a few square blocks radiating out from the corner of University Avenue and 30th Street, making it a perfect place to explore on foot.
North Park is definitely on the rise, thanks to a group of young entrepreneurs who have taken former industrial and commercial spaces and transformed them into microbreweries where massive steel tanks and tasting rooms exist side by side.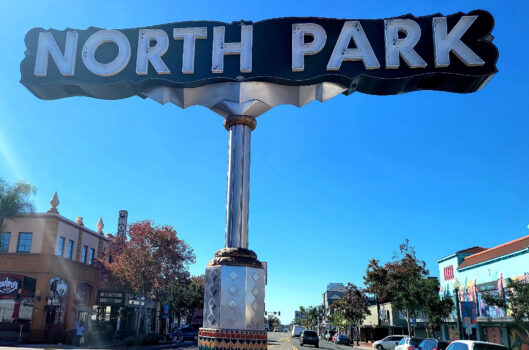 But what really makes a sip-and-stroll through North Park so appealing—whether your taste runs toward hazy IPAs, muscle-bound stouts, or sparkling ciders—is meeting the owners of these establishments. If you've got the time, they've got the beer. They're more than willing to share a flight of their brews along with the stories behind their prize-winning creations.
Anyone who has delved into the realm of wine-tasting knows how the description of a wine's flavor profile can take on absurd proportions. One wine website I found listed no fewer than 68 different flavor profiles just for fruits, berries, flowers, and herbs. And that was just the beginning. How about: bubblegum, cigar box, potting soil, wet gravel, boiled eggs, or burnt rubber? A day of beer and cider tasting in North Park will take you on a similar taste-bud adventure. "Just give me a beer" is not part of the vocabulary!
With its mid-20th-century ambience, long wooden bar, and tiled floor, theCo. is a perfect place to begin. From its humble beginnings in owner and brewmaster Kelsey McNair's garage, the company grew in size and reputation, due in no small part to its award-winning Hop-Fu! IPA. This signature brew, along with others, can be sampled at the brewery's current location (3038 University Ave.), which opened in June 2016.
A flavorful next stop is Mike Hess Brewing (3812 Grim Ave.). You enter the tasting room by way of a gangplank elevated over a forest of gleaming steel tanks and the canning line where the magic takes place. When I arrived just before Halloween, our playful hostess and tasting-room manager, Hannah Legacy, was dressed as a black cat adorned with nose and whiskers. She produced a delectable flight of Hess offerings that included the Solis West Coast IPA, an "Into the Sunset" blood orange wheat beer (delicious), and the seasonal "Oktoberhess" Marzen, all leading to an exotic finale, the Hess "Vietnamese Coffee Stout," a dessert beer to be served over ice cream.
Unlike his fellow brewers, Steve Billings, the founder of The Original 40 Brewing Co. (3117 University Ave.) has family roots in San Diego and North Park that go back for generations. The name of the brewery, he said, honors the original 40 acres of land purchased in 1893 by James Monroe Hartley that became North Park. Perhaps that's why his brewery-tasting room with its many taps and accompanying comfort food has such a homey feel. There's plenty to sample, but don't pass up the fresh-baked mega-pretzel.
Inspired by mountaineering with its booth seats suspended from climbing ropes, Bivouac Ciderworks (3986 30th St.) offers a perfect next stop. It's the creation of Lara Worm, a former Washington, D.C., Department of Justice prosecutor who traded in her legal briefs for cider blends. Combined with a delectable selection of side dishes, Bivouac's specialties include (among others) the "San Diego Jam" (a blackberry cider) and spicy ginger "Groundline." But my cider of choice was the "True Lover's" rose. Blended with French Provençal rose, this light, sparkling cider with its pink tinge (available at Whole Foods) will be a festive holiday alternative to champagne.
After all this tasting, the perfect place for dinner is The Smoking Goat (3408 30th St.). This cozy French-style bistro features the creations of Chef Fred Piehl, former chef of The Lodge at Torrey Pines. The menu and the atmosphere are exactly what you'd want from a French bistro: a perfect bowl of mussels; thick bubbling cheese-topped onion soup; duck liver pate. But if "roughing it" is what you seek, head next door to Piehl's One Door North, where you can eat inside in a camp tent, then go outside and roast marshmallows over a campfire.
When You Go
Guide to North Park:
SanDiego.org/explore/downtown-urban/north-park-south-park.aspx
Bivouac Ciderworks: BivouacCider.com
The Smoking Goat: TheSmokingGoatRestaurant.com   
Jim Farber is a freelance writer. To read features by other Creators Syndicate writers and cartoonists, visit the Creators Syndicate website at Creators.com. Copyright 2021 Creators.com