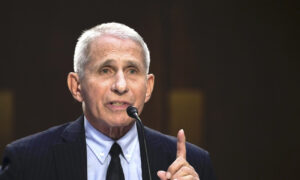 Dr. Anthony Fauci responded on March 15 to a newly released email that said he was among those who "prompted" work on analyzing how COVID-19 came about, which resulted in a paper that claimed the laboratory origin theory was not credible.
A special U.S. House of Representatives panel on March 5 released the email, sent by scientist Kristian Andersen in February 2020 to the journal Nature.
"There has been a lot of speculation, fear mongering, and conspiracies put forward in this space and we thought that bringing some clarity to this discussion might be of interest to Nature," Andersen wrote at the time. "Prompted by Jeremy Farra[r], Tony Fauci, and Francis Collins, Eddie Holmes, Andrew Rambaut, Bob Garry, Ian Lipkin, and myself have been working through much of the (primarily) genetic data to provide agnostic and scientifically informed hypothesis around the origins of the virus," Andersen added.
In another message that had previously been made public, Andersen said the work was "focused on trying to disprove any type of lab theory."
Anderson was one of the co-authors of a paper published without peer review in February 2020. Both that version and one later published by Nature Medicine said the analysis shows that "SARS-CoV-2 is not a laboratory construct nor a purposefully manipulated virus." SARS-CoV-2 causes COVID-19.
Fauci was asked about the emails on Wednesday during an appearance on NewsNation.
"Absolutely not," he said when host Chris Cuomo inquired whether the paper was drafted to disprove the lab origin theory.
Fauci referenced the secret phone call involving himself, Andersen, and others that took place on Feb. 1, 2020, and involved several experts—including Andersen—saying characteristics of COVID-19 pointed to it being engineered.
"During the phone call on Feb. 1, where very competent evolutionary biologists were going back and forth, and they decided on the phone call, listen, let's take a little time and go back and really carefully examine those sequences and see if, in fact, there's anything to that," Fauci said.
"They did that and they came to the conclusion that, in fact, it is more likely that it was not something that was engineered, but something that actually escaped from a wet market [in Wuhan, China]. And in order to get it peer reviewed, they wrote a paper to let the peer review system evaluate whether it was valid, and it did and that's how the paper came about," Fauci added. "So this idea of saying, write the paper to definitively disprove something is conspiracy at its height. It's really ridiculous."
Grateful for 'Advice and Leadership'
According to other emails made public after being acquired through the Freedom of Information Act, Fauci was involved in looking over drafts of the paper before it was published. In one email, Andersen thanked Fauci and several others "for your advice and leadership as we have been working through the SARS-CoV-2 'origins' paper."
"Thanks for your note. Nice job on the paper," Fauci responded.
Fauci's boss, Dr. Francis Collins, was also thanked. In a later email to Fauci, he said that the lab origin theory was "very destructive" and that he had hoped the paper "would settle this" but that it "probably didn't get much visibility."
"I would not do anything about this right now. It is a shiny object that will go away in times," Fauci wrote. In April 2020, Fauci cited the paper during an official White House press conference without mentioning his involvement, telling reporters that "a group of highly qualified evolutionary virologists looked at the sequences there and the sequences in bats as they evolve and the mutations that it took to get to the point where it is now is totally consistent with a jump of a species from an animal to a human."
For the natural origin theory to be true, a host animal must have passed the virus on to humans. No such animal has been identified.
Fauci has maintained during recent interviews that he's kept an open mind as to the origin of COVID-19.
"If that is true, why did Dr. Fauci tell the American people at a White House briefing televised on April 17, 2020, that COVID-19 was 'totally consistent' with a natural origin and never mentioned that half the scientists on a February 1, 2020, conference call thought it was a lab leak," Rep. Debbie Lesko (R-Ariz.), a member of the special U.S. House panel, the Select Subcommittee on the Coronavirus Pandemic, told The Epoch Times via email.
"That doesn't sound like someone with an open mind. That sounds like someone misleading the American public," Lesko added.
Ties to Wuhan
Before the paper was published, Andersen and some other scientists said the virus appeared to be engineered.
"I just can't figure out how this gets accomplished in nature," Robert Garry, one of the paper's co-authors, said in one missive.
Also prior to the publication, Andersen said in an email that the group was working to "disprove any type of lab theory, but we are at a crossroad where the scientific evidence isn't conclusive enough to say that we have high confidence in any of the three main theories considered." Soon, though, Marion Koopmans, who was involved in discussion with the group, said that he was against talking about the possibility of "lap escape" because it "could backfire" and "generate … conspiracy theories."
More than one of the scientists involved with the paper had ties to the laboratory experimenting with bat coronavirus located in the same Chinese city, Wuhan, where the first COVID-19 cases were detected in 2019. Fauci, for instance, headed a U.S. agency that provided taxpayer money to the lab. He left the position around the end of 2022.
Jeremy Farrar, head of the Wellcome Trust and the incoming chief scientist for the World Health Organization, was also involved in the discussions. Farrar later signed onto a letter in The Lancet that said, "We stand together to strongly condemn conspiracy theories suggesting that COVID-19 does not have a natural origin." One of the citations was to the Andersen paper. Among the co-authors was Peter Daszak, whose EcoHealth Alliance group was the intermediary between Fauci's agency and the Wuhan lab.
Farrar actually prompted an edit to the Andersen paper, according to newly released emails, compelling the authors to change "it is unlikely that SARS-CoV-2 emerged through laboratory manipulation of a related SARS-CoV-like coronavirus" to "it is improbable that SARS-CoV-2 emerged through laboratory manipulation of a related SARS-CoV-like coronavirus."