FBI Should Be Broken Up, Agents Moved to Other Departments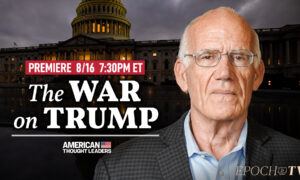 This episode will premiere on Tuesday, Aug. 16, at 7:30 p.m. ET.
"When you have an agency that has gone rogue and is interfering at the highest level of the country to affect an election; and the directors of those agencies are willing to alter or leak documents that they shouldn't or lie under oath to federal investigators or lie to a committee by claiming amnesia; and they oversee a bureau that will wipe clean phone records that are under subpoena; or they will not prosecute one person, but they will another; then it's institutionalized. And you've got to get rid of it."
The FBI should be broken up and its primary functions shifted to other departments of the federal government, argues classicist, political commentator, and military historian Victor Davis Hanson.
He's the author of "The Dying Citizen" and "The Case for Trump."
The FBI's armed raid on Mar-a-Lago is unprecedented, Hanson says, and it's the latest in a war being waged against the former president, from the Russia collusion hoax to impeachment proceedings against him—twice.
"We're in a revolutionary cycle where the left has now said, under the pretext that Donald Trump is so extraordinarily threatening to the Republic, that it requires any means necessary to end him. And therefore we're going to do things that are revolutionary."
Subscribe to the American Thought Leaders newsletter so you never miss an episode.
* Click the "Save" button below the video to access it later on "My List".
Follow EpochTV on social media:
Twitter: https://twitter.com/EpochTVus
Rumble: https://rumble.com/c/EpochTV
Truth Social: https://truthsocial.com/@EpochTV
Gettr: https://gettr.com/user/epochtv
Facebook: https://www.facebook.com/EpochTVus
Gab: https://gab.com/EpochTV
Telegram: https://t.me/EpochTV