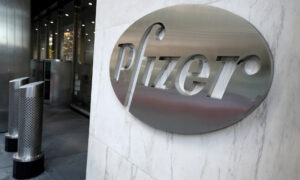 The Food and Drug Administration (FDA) has approved Pfizer's vaccine, Abrysvo, which protects adults 60 and older from the respiratory syncytial virus (RSV), Pfizer announced on Wednesday.
The approval makes Abrysvo the second RSV vaccine available for the common virus. On May 3, the agency approved GSK's Arexvy, the world's first RSV vaccine for adults 60 and older.
"This past RSV season demonstrated the serious consequences and potential health risks this virus poses for older adults," said Dr. Edward E. Walsh, professor of medicine at the University of Rochester Medical Center and principal investigator in the RENOIR study.
"[The] FDA approval of Abrysvo recognizes significant scientific progress, and importantly helps provide older adults potential protection against RSV and an opportunity to improve community health by helping prevent the disease."
FDA advisers voted 7-4 with one abstention in February that there was adequate data to support Abrysvo's safety and effectiveness.
According to Pfizer, the FDA's decision to approve the vaccine was based on data from the Phase 3 clinical trial (NCT05035212) known as RENOIR (RSV vaccine efficacy study in older adults immunized against RSV disease). RENOIR is a global, randomized, double-blind, placebo-controlled study designed to evaluate the efficacy, immunogenicity, and safety of a single dose of the vaccine in adults aged 60 and older.
Approximately 37,000 participants were enrolled in RENOIR, with half receiving RSVpreF 120 μg and the other half receiving a placebo in a 1:1 ratio. RENOIR is an ongoing study, with efficacy data being collected during the second RSV season. The interim results were published in the New England Journal of Medicine.
The study on the Pfizer vaccine did include concerns about autoimmune syndromes. One patient among the 34,000 who received the vaccine in the study developed a life-threatening case of Guillain-Barré syndrome a week after receiving the shot. Another developed Miller Fisher syndrome, which is a subtype of that condition.
That means the incidence rate for these syndromes is 1 in 9,000, higher than the 1 in 100,000 seen in the general population.
In a clinical trial, the Pfizer vaccine was 66.7 percent effective at preventing moderated lower respiratory tract illness with two or more symptoms and 85.7 percent effective at preventing illness with three or more symptoms in people 60 and older, according to Pfizer.
In contrast, GSK's Arexvy was about 83 percent effective at preventing lower respiratory tract disease in older adults and 94 percent effective at preventing severe disease.
Abrysvo could be available for seniors by fall, pending recommendations from the U.S. Centers for Disease Control and Prevention and its vaccine advisers, who are scheduled to meet in June.
"A vaccine to help prevent RSV had been an elusive public health goal for more than half a century," stated Dr. Annaliesa Anderson, senior vice president and chief scientific officer of vaccine research and development at Pfizer.
"Abrysvo will address a need to help protect older adults against the potentially serious consequences of RSV disease. We are extremely grateful to the clinical trial participants, study investigator teams, and our dedicated Pfizer colleagues for their roles in making this vaccine available," Anderson added.
RSV is a highly contagious virus that causes flu-like illness in people of all ages. Although RSV is often associated with babies and young children, it can also be dangerous for seniors. In the United States, an estimated 159,000 adults 65 and older are hospitalized yearly with RSV, and an estimated 10,000 to 13,000 die due to infection.
The FDA is also reviewing Pfizer's maternal vaccine to protect infants and is expected to make a decision by the end of August.
More RSV vaccines may be on the way, too. Moderna is finishing its Phase 3 trial for an mRNA vaccine for RSV in older adults and expects to submit results to the FDA within the next few months. Bavarian Nordic also said it will report results from a Phase 3 trial of its RSV vaccine for older adults this year.
CNN Wire and Reuters contributed to this report.