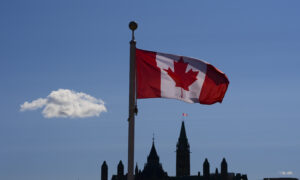 The federal government's pending gun-restriction legislation will be expensive to carry out if passed into law and won't address issues across the country that contribute to firearms-related crime, says Alberta Chief Firearms Officer Teri Bryant.
Bryant made the comments on March 10 while testifying before the House of Commons Standing Committee on Public Safety and National Security, as first reported by Blacklock's Reporter.
The committee is currently studying Bill C-21, An Act to amend certain Acts and to make certain consequential amendments (firearms), which was introduced May 30, 2022, and sponsored by Public Safety Minister Marco Mendicino.
If passed into law, Bill C-21 will permanently ban the buying, selling, and importation of a number of firearms in Canada, including handguns.
The Liberal government previously introduced sweeping amendments to the pending legislation that would have also banned most shotguns and rifles—many of which are commonly used for hunting—but they were withdrawn in early February following stiff opposition.
However, Bryant told MPs on the committee that "Bill C-21 continues to undermine confidence in our firearms control system while contributing nothing to reducing the violent misuse of firearms."
The bill is "based on a fundamentally flawed premise," she said.
"Prohibiting specific types of firearms is not an effective way of improving public safety. It will waste billions of taxpayer dollars that could have been used on more effective approaches."
Bryant said the money expected to be used in implementing Bill C-21 would be better spent on "enforcement of firearms prohibition orders, reinforcing the border, or combatting the drug trade and gang activity."
The legislation will also impact a number of Canadian firearms businesses and shooting ranges across the country, she said, the latter of which she noted are popular training spots for law enforcement officers.
"The goal of this bill is demonstratively not about public safety, but an attempt to destroy long-established communities of law-abiding firearms owners across the country by targeting their property," Bryant testified.
Bill C-21
Prime Minister Justin Trudeau had already banned some 1,500 models and variants of firearms deemed by the federal government to be "assault-style" in May 2020 through an Order in Council.
Cabinet also officially outlawed the buying, selling, and transferring of new handguns in Canada effective Nov. 9, 2022, through an order made under the Firearms Act.
Bill C-21 would enshrine in law both the May 2020 gun ban and last year's handgun freeze.
The legislation also aims to introduce a mandatory firearms buyback program, which has received steady pushback from a number of the provinces.
The Alberta government tabled a provincial firearms bill on March 7 that is intended to expand Bryant's role as Chief Firearms Officer and also give the province "more tools to protect areas of provincial jurisdiction over firearms."
Alberta is joined by Saskatchewan, Manitoba, New Brunswick, and Yukon in taking action to oppose Ottawa's proposed gun buyback program.
The provinces have told their respective RCMP divisions that no provincial funding should be used to confiscate firearms as part of carrying out the buyback program.
Mendicino has defended Ottawa's proposed gun buyback program, saying in a July 2022 tweet, "Weapons of war like the AR-15 have no place in Canada."
"The government banned assault-style firearms like the AR-15 two years ago and will soon begin a buyback program to get these weapons of war off of our streets," according to a Public Safety Canada news release issued Jan. 16.
Marnie Cathcart and Isaac Teo contributed to this report.