As part of a widening investigation into disgraced FTX founder Sam Bankman-Fried, federal prosecutors are now looking into campaign donations in Oregon from Bankman-Fried and Nishad Singh, a former director of engineering at FTX.
The prosecutors from the Southern District of New York (SDNY) are also learning about Singh's role in the fraud allegedly conducted by FTX.
Investigators are likely to uncover a tangled web of connections in the state, where Bankman-Fried and associates spent tens of millions of dollars, primarily to benefit the Democrat party and congressional candidates.
Campaign finance records show that the Democratic Party of Oregon (DPO) PAC received a $500,000 contribution in 2022, which it reported in campaign finance filings as coming from the cryptocurrency startup Prime Trust based in Nevada.
But Prime Trust was allegedly used as a "pass-through," with the funds actually coming from Singh.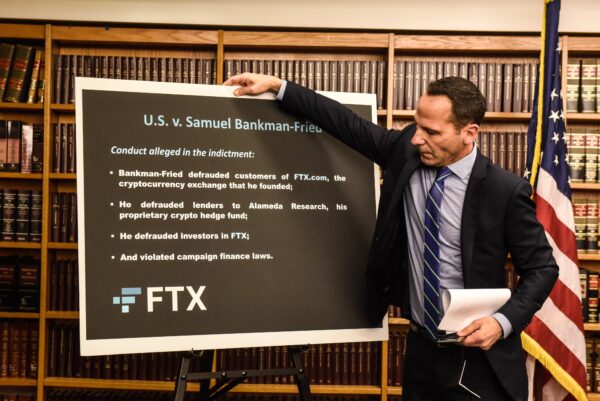 Oregon Secretary of State Shemia Fagan has tasked the state's election officials with investigating whether Singh or the DPO broke a state law against making or accepting political donations under a false name.
If evidence of such activities is discovered, the SOS can ask Oregon Attorney Ellen Rosenblum to launch a criminal investigation into the matter.
"We play the initial fact-finding role. If we find something, we hand it over to the Department of Justice," said Ben Morris, with the Oregon Secretary of State's office.
The Elections Division is trying to determine whether Singh misled members of the DPO when the donation was made, whether someone within the DPO posted the contribution fraudulently, or whether it was an honest mistake.
Making a campaign contribution under a false name is a felony. The DPO denied any wrongdoing,
"Based upon documentation received from our bank, the DPO reasonably believed that this contribution was, in fact, from Prime Trust LLC," wrote DPO executive director Brad Martin in a recent statement.
The investigation began in late November and could take up to three months.
The DPO did not respond to multiple requests for a comment.
A Tangled Web
The involvement of Bankman-Fried and Singh in Oregon campaign finances initially came to light in April, when the campaign of Democrat Carrick Flynn, a primary candidate for Oregon's new 6th Congressional District, incorrectly reported that it had received $14 million from Prime Trust.
A Prime Trust spokesperson soon issued a statement denying that it was the contributor.
"Prime Trust was identified in the PAC filing solely because the transferred funds were held in an account under Prime Trust's name for the benefit of a specific customer, and Prime Trust originated the wire transfer at the direction of that customer," explained Erin Holloway, president of global marketing for Prime Trust, in a statement.
It was later revealed that the funds were from Bankman-Fried ($13 million) and Singh ($1 million).
According to the group Open Secrets, more than $10 million of that was spent to support Flynn. That's twice the $5 million that Bankman-Fried's hedge fund, Alameda Research, gave to President Joe Biden's 2020 campaign, which was the second largest amount from any supporter, the group stated.
Flynn reportedly received more than twice the outside spending of any other congressional candidate in the nation during the 2022 primary, due primarily to Bankman-Fried's largesse.
In a related move that drew the ire of the other candidates for the new seat, the House Majority PAC, a super PAC closely affiliated with Pelosi and other top Democrats, also pledged support for Flynn spending roughly $1 million on ads on his behalf.
Six candidates vying for the 6th CD seat released a joint statement decrying the move.
"We strongly condemn House Majority PAC's unprecedented and inappropriate decision …" the statement said. "We call on House Majority PAC to actually stand by our party's values and let the voters of Oregon decide who their Democratic nominee will be."
Campaign operatives speculate that the House Majority PAC supported Flynn to curry favor with Bankman-Fried, who had given $6 million to the PAC and promised to play a significant role in Democratic fundraising well into the future.
Dark-Money Group
Other connections between FTX associates and Flynn raised alarms as well.
Flynn received the endorsement of a group called "Guarding Against Pandemics," a dark-money group that can obscure its donors, which is run by Sam Bankman-Fried's brother, Gabe Bankman-Fried.
It is allegedly funded by Sam Bankman-Fried.
Two employees of that group are listed among donors to Flynn's campaign, including Michael Sadowsky, who also serves as president of the Protect Our Future PAC.
According to a transcript of a May 14 interview, Flynn told Vox that he's never met or talked with Bankman-Fried but is friendly with Gabe Bankman-Fried.
Flynn speculated that the support was based on their shared interest in preventing pandemics and the "effective altruism," a philosophical and social movement to help "all humans, animals and people who are not born yet."
Despite the unprecedented support, Flynn was eventually defeated in the primary race and Democrat Andrea Salinas went on to victory in the general election, becoming the first to represent Oregon's new 6th district.
According to a report by writer Teddy Schleifer in the digital newsletter Puck, SDNY prosecutors have asked for a recipient of cash from Singh to provide information about the contribution, including details about the form and method of payment for the contribution made in Singh's name.
Meanwhile, Sam Bankman-Fried awaits trial on eight criminal charges, including violation of campaign finance laws, and is on house arrest at his parents home on $250 million bail.