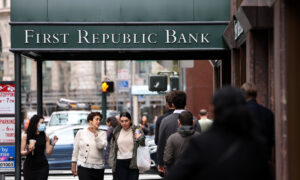 The share price of First Republic Bank tanked again Friday morning, but did not return to Monday's lows. Wedbush Securities, a prominent financial services and investment firm, recently issued a downgrade of the stock, citing concerns about the company's prospects.
Its stock fell more than 23 percent, hitting a low for the day of just above $26 per share. Earlier this week, the stock temporarily fell to a 52-week low of $17.53. Despite Thursday's announcement that several big banks, including JPMorgan Chase, Bank of America, and Wells Fargo, would provide $30 billion to First Republic to shore up balance-sheet issues. The Wedbush report suggests that First Republic may be facing significant challenges in the near term, which could lead to a distressed sale of the company.
"We find it difficult to come up with a realistic scenario where there's residual value for First Republic common equity holders," Wedbush analyst David Chiaverini told clients. "The combined actions taken on the liability side of the balance sheet over the last week to shore up liquidity could increase interest expense materially."
Wedbush is now targeting $5 for First Republic's stock, a more than 80 percent decline from current levels.
According to Chiaverini, the current economic climate and increased competition in the banking sector are putting pressure on First Republic's profitability. In addition, the bank's reliance on jumbo mortgages and high-net-worth clients could make it vulnerable to market fluctuations and changes in consumer behavior.
The analyst believes the bank will ultimately be sold in the coming weeks. Others have echoed Chiaverini's skepticism that the $30 billion will be enough to save the bank.
On Thursday, JPMorgan's Gigi Sparling wrote in a note to clients that the capital infusion "wouldn't do much to alleviate the challenged structural position of the First Republic balance sheet, with net interest margin compression likely to be exacerbated and earnings remaining under compression until more meaningful action is taken to reposition the balance sheet."
First Republic's credit rating was downgraded to "junk" by Standard & Poor's (S&P) and Fitch. The bank, headquartered in San Francisco with over $200 billion in assets, has not yet responded to the Wedbush report. 
Financial stocks are down today, including the big names like JPMorgan Chase and Citibank, which each fell by around 3.5 percent at the time of writing. S&P's regional banking exchange-traded fund (ETF)—a basket of small- to medium-sized institutions—fell by more than 5 percent.
First Republic continues to issue statements saying it is well-capitalized and that investors should not worry.