Ahmaad Galloway, a former running back for Alabama Crimson Tide, was found dead in his apartment in St. Louis, Missouri on Monday.
Galloway was an eighth-grade English teacher at Compton-Drew Middle School in St. Louis. When he did not show up for work on Monday, school officials called the police to do a welfare check on the teacher. The 42-year-old was later found dead in his apartment.
"Ahmaad was always on time, very responsible. So we knew something might be wrong," school principal Susan Reid told WVTM.
"There wasn't anything disrupted at Ahmaad's apartment, so we are thinking that it could have been a medical issue."
The cause of death has not been determined for Galloway, but a medical examination is ongoing.
"The medical examiner is working to find out how Ahmaad died. The family is coming together from different parts of the country before deciding on funeral arrangements," Reid said.
According to Reid, the door of Galloway's classroom at the school will be kept shut out of respect. His students are receiving counseling at Compton-Drew Middle School.
"He was an excellent teacher," Reid told TMZ. "He bonded with his students, particularly those who were interested in athletics."
A native of Millington, Tennesee, Galloway spent four seasons with the Crimson Tide from 1999 to 2002, totaling with 1,830 yards and 17 touchdowns on 376 carries. In 2001, he rushed for 881 yards on 174 carries with six touchdowns.
"When Ahmaad arrived at Bama, he was humble, yet mature beyond his years," former Crimson Tide offensive lineman Griff Redmill told WVTM.
"He was mature and very put together—I knew right away that he was a person that could be my friend for life."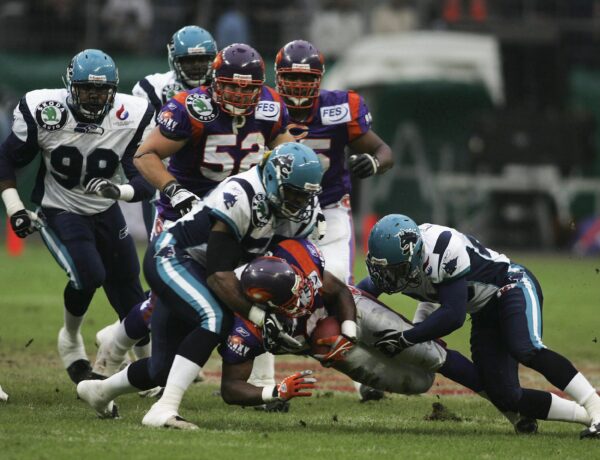 The former football star was drafted into the NFL by the Denver Broncos in the seventh round of the 2003 NFL Draft. He sat out of the 2003 season due to a knee injury during his senior year with the Alabama football program.
He later returned to the field and played in NFL Europe with the Scottish Claymores before spending a season with the San Diego Chargers. He last played for the Frankfurt Galaxy in 2005 before leaving football.
Galloway went into high school coaching in 2010 and earned his teaching certificate. He is survived by two children, Austin and Aubrey.
"Ahmaad was always quiet and humble," Galloway's sister Kimberley Slaughter said.
"My brother loved football growing up and later loved his children Austin and Aubrey."