Free Online Falun Dafa Tutorial Sessions Quickly Gain Popularity Amid COVID-19 Pandemic
During the COVID-19 pandemic, free Falun Dafa (also known as Falun Gong) online exercise classes based in North America have attracted thousands of people globally, helping to heal illnesses, keep fit, and improve morality.
Since October 2020, nearly 5,000 people from more than 54 countries around the world have participated in the free online Falun Gong tutorial sessions. At present, due to the ever-increasing demand, the online classes have been expanded to 14 different languages, with the number still increasing.
Canadian Falun Gong practitioner and coordinator of the free sessions, Dr. Lei Shizhong, told the Chinese edition of The Epoch Times that so far, people of different races, occupations, and ages from all over the world have participated in the online classes.
He said that due to the huge increase in global demand, especially since the COVID-19 pandemic, multi-lingual classes have been opened to provide people around the world with the knowledge to learn Falun Dafa, which has benefited hundreds of millions of people physically and mentally.
Lei said that the free exercise tutorial sessions are being conducted in 14 languages including English, Chinese, German, Spanish, Indonesian, Japanese, Vietnamese, Russian, Swedish, Dutch, Turkish, Persian, and Korean. Classes are held in different languages at different times of the day. "More language classes are in the pipeline," he added.
So far, more than 5,000 people have participated in the online classes in English, French, and Chinese.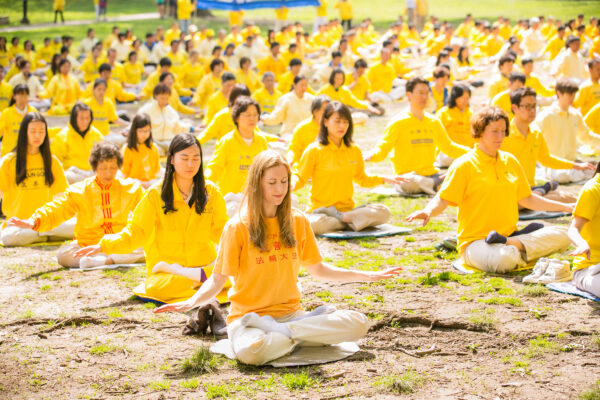 Many people who participated in the study said that it helped to enhance their immunity and relieved anxiety and stress.
Lanakila W. was a stage 4 rectal cancer patient. He started practicing Falun Gong in July last year. After practicing Falun Gong for 3 months, he went to a hospital for examination. "The visit revealed that no polyps are there and even the scars from the surgeries are all cleared up!" he said.
Tranika T., another participant, said "I definitely feel very blessed to have found it [Falun Dafa], and many religions even teach Truth, Compassion, and Forbearance."
Laurel G. said "a beautiful sense of calm within. Much gratitude."
French classes started in April 2021. So far, 600 people from 10 countries have attended the French classes which are held twice a week.
Mélanie B. from French class said "I felt a warmth, a vibration in my hands, a wonderful feeling of well-being."
In addition to overseas learners, there are also Chinese in mainland China who have broken through the Chinese regime's internet firewall and participated in the online sessions.
A practitioner surnamed Tang said that he learned the truth about Falun Dafa in November last year. He had been looking for information about the spiritual practice many times and found leaflets and self-study materials online. "After learning the meditation exercises from the online classes, I felt very hot all over my body," he said. He said that Falun Gong makes him see things more clearly, and since the atmosphere of the class is very good he is reluctant to see it finish. Since Dec. 4 last year, he has taken the classes four times in a row.
According to the Falun Dafa website, "Falun Dafa, also known as Falun Gong, is a spiritual practice that millions around the world have made a part of their lives. Rooted in Buddhist tradition, it consists of two main components: self-improvement through the study of teachings, and gentle exercises and meditation."
After it was made public in China in May 1992, in just a few years Falun Gong spread all over the country. Outside mainland China, Falun Dafa has been introduced to more than 100 countries and regions around the world and has benefited hundreds of millions of people physically and mentally.
Liang Yao contributed to the report.