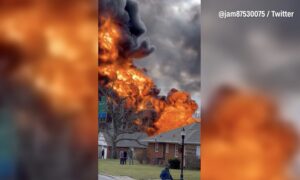 An overturned gas tanker exploded on a highway in Frederick, Maryland, on Saturday, killing one person. There was damage done to nearby vehicles and homes and city officials advised residents to avoid the area.
Smoke and flames filled the air after the tanker exploded on U.S. Route 15 in Maryland, according to the public information officer for Maryland State Police (MDSP), Ron Snyder.
The driver of the tanker died on the scene, Snyder confirmed. No other fatalities or injuries were reported.
The highway was closed between Route 50 and 7th Street, according to MDSP, which has officers at the scene.
MDSP wrote on Twitter that "Multiple vehicles and homes suffered damage from flames from the fire caused by the overturned tanker."
Frederick's Division of Fire & Rescue Services (DFRS) personnel were also at the scene, according to Frederick Mayor Michael O'Connor. The mayor is asking residents to avoid the area.
The state's Fire Marshal and Department of the Environment were also notified and are responding to the scene, MDSP said. The cause of the crash is still under investigation.
The mayor made a statement saying: "We are providing all available resources to assist with this incident. We will continue to support DFRS as they lead incident control and clean up. I implore all residents to avoid the area to allow DFRS to do their jobs and prevent any fire from spreading."
From NTD News