Los Angeles District Attorney George Gascón defended his policy decision late Wednesday night in the 2009 case of Victor Bibiano, a juvenile charged with a double murder, who was released from serving a life sentence and went on to commit another murder.
At the time, Gascón declined to move Bibiano's case from being tried as a juvenile to an adult.
Since Proposition 57 was passed by voters six years ago, all minors convicted in an adult court would go through another hearing to determine if they should be tried again as an adult or moved to a juvenile court. Bibiano's case was subsequently sent to a juvenile court.
In a webinar organized by the district attorney's office June 22, Gascón defended his progressive reform decisions, and said recent anecdotal reports can't be the basis for dismantling the work he's done. In 2020, he instituted a ban on convicting minors as adults if the crime was committed while they were younger than 18.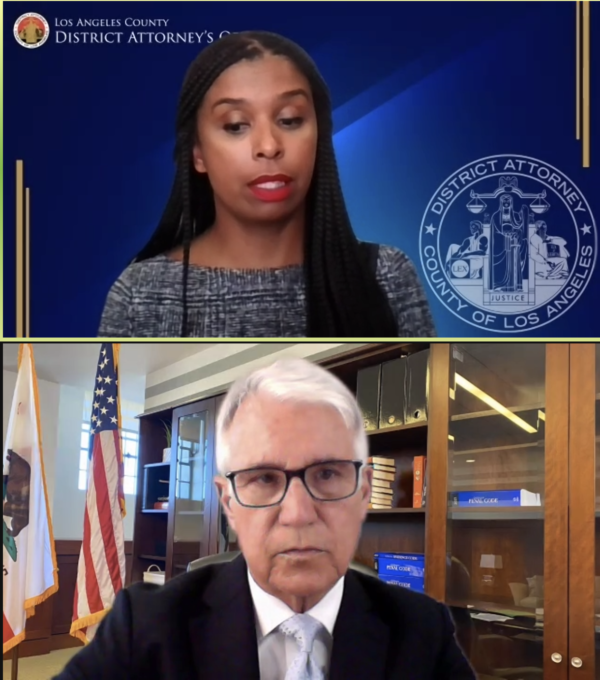 Bibiano was 17 when he committed the double murder alongside two other suspects. He served eight years of a life sentence before being released under Gascón's directive in 2021.
"During his time in prison, there were no serious violations," Gascón said. "So, there was nothing about the history of this individual before he was convicted of a double murder, or since he was brought back to dealing with the restrictions under Prop. 57 for us to be able to show that he was not eligible for a criminal investigation back in 2009."
Bibiano was arrested in connection with the killing of Mario Rodriguez, 42, in April. Rodrigeuz was found shot in an encampment in Pacoima.
The Association of Deputy District Attorneys, a coalition representing more than 1,000 district attorneys in the county, quickly condemned Gascón's remarks in a statement.
"No exceptions or individual factors were considered," said Eric Siddall, vice president of the association. "No matter how heinous the crime, no matter how irredeemable the criminal, no matter the consequences of the policy, that person would remain in juvenile court."
Gascón, elected in 2020 on a promise to reform the criminal justice system, has come under heavy criticism following the slaying of two El Monte police officers last week. The suspect in that case, Justin Flores, was also released per Gascón's directives last year in a separate criminal case. Flores also had an extensive criminal history.
The El Monte City Council passed a unanimous vote of no confidence in  Gascón on June 22 during a special meeting. El Monte joins more than 30 other cities who have voted the same.
"Gascón today wants the public to believe that he did all this analysis. He wants the public to ignore his administration's history of bad decision-making. He wants the public to forget about all the other absurd results caused by his policies," Siddall said.
But Gascón blamed public perception on "misinformation" about such cases involving juveniles.
"This is one of those cases, where misinformation is very prevalent," he said. "And you have people that really are not familiar with a case making legal opinions. Frankly, people that do not understand the law, which I know it may sound to some of you over complicated, but there is a tremendous difference between juvenile law and adult law in this particular case, under the current law."
The recall effort to oust Gascón has surpassed the needed signatures ahead of the July 6 deadline, but they are currently adding more signatures to cushion any losses once signatures are thrown out during the verification process.