GOP lawmakers have alleged a double standard that favors Democrats over Republicans in the wake of revelations this week that classified documents from the Obama-Biden administration were discovered in the Biden Penn Center in November.
Their remarks came ahead of an announcement on Jan. 12 that more classified documents were since discovered in the garage of one of Biden's homes in Deleware. The same day, Attorney General Merrick Garland said he appointed former Trump-appointed Justice Department official Robert Hur as special counsel to investigate Biden's handling of classified materials.
Many have sought to distinguish the revelations this week from the government's actions against former President Donald Trump, whose Florida home was raided by the FBI last summer during which classified documents were discovered, and who is currently investigated by Special Counsel Jack Smith. But Republican figures contend that the same treatment should apply in both cases.
"Where is the FBI raid on the Joe Biden crime family after the revelations that he stole classified materials while serving as Vice President and stored these documents at Biden's 'think tank' that has received over $50 million in Chinese gifts?" Rep. Elise Stefanik (R-N.Y.), who serves on the House Select Committee on Intelligence, told The Epoch Times on Jan. 11.
The University of Pennsylvania, which houses the Biden Penn Center, has received a sum of $54.6 million between 2014 and 2019 from China, based on public records, according to the New York Post. The Center denies that it's received any donations from China.
Differential Treatment
The differential treatment of the Trump and Biden cases comes down to party affiliation, according to a former GOP congressman.
"The principle difference is that one is a Republican and the other is a Democrat," former Rep. Mo Brooks (R-Ala.) told the Epoch Times.
"The government is predominantly Democrat, not just at the elected official level, but at the bureaucratic level," added Brooks.
"I absolutely believe that there is a bias in our investigative agencies and judicial system against Republicans. How bad the disparity is, is open to debate."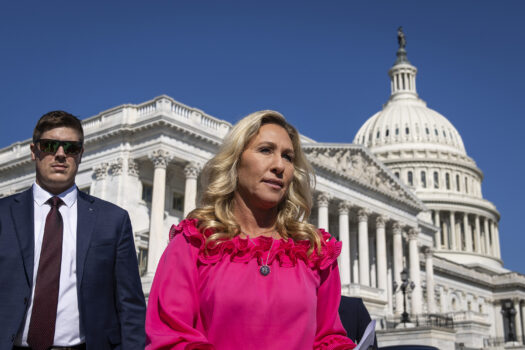 Rep. Marjorie Taylor Greene (R-Ga.) agreed, saying that conservatives are punished for actions that are largely ignored by a government dominated by ideological liberals.
"We have a big problem with the National Archives and Records," Greene told The Epoch Times.
The congresswoman said that the National Archives and Records Administration (NARA), which is in charge of documents generated by the office of the president and vice president, has two different standards: one that favors Biden and the other that punishes Trump.
"This is an organization that we will be investigating, through the House Oversight Committee as to their handling of these documents. And we're also going to be questioning the Department of Justice and the FBI into why the hypocrisy and why the difference because it's absolutely unfair," Greene said.
The White House has stressed that it is cooperating with NARA and the Department of Justice on the matter, while Biden said earlier this week he was "surprised to learn" of the documents found at the Biden Penn Center and did not know what the records contained.
VP Can't Declassify
Greene also contended that there is an even bigger distinction in the case of Biden's classified documents.
"The difference is this: Joe Biden was vice president of the United States when he took classified documents. That means he stole classified documents because the vice president is not allowed to declassify anything. And he has no right to take classified documents," she said.
"It's completely different for the president of the United States," Greene added, who she said can declassify documents at any time for any reason.
Trump maintains that before leaving office he declassified the documents found at his residence.
But Brooks, who previously worked as a defense attorney and a district attorney said that while he agrees that there is bias in how the government treats these cases between the GOP and Democrats, he's seen no evidence that Trump used established processes to declassify documents found in his possession.
"I don't give much weight to that distinction," said Brooks. "Because today, there has not been any evidence produced that Donald Trump, in fact, did the things that you're supposed to do to declassify documents."
A former intelligence officer who has worked on security issues in Europe and the Middle East said while it's an open question whether Trump followed the process to declassify documents in his possession, no such allowance can be made for Biden.
"A former vice president has no authority to remove classified documents from a secure facility, even for the purpose of using it as background references for writing a book," Del Wilber, who served in Iraq and Eastern Europe as a counter-intelligence advisor, told The Epoch Times.
"If it were necessary for a former vice president to review classified documents they would have to submit a formal request to review those documents with the authority maintaining control, and then go to a secure facility to view them," Wilber said, adding said that on the face of the case, Biden didn't do that.
The Epoch Times has reached out to the White House, NARA, and Department of Justice for comment.