Green Tea, the Basics and the Science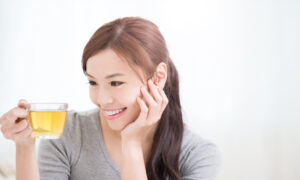 What Do We Know About Safety?
Green tea, when consumed as a beverage, is believed to be safe when used in amounts up to 8 cups per day. Keep in mind that only the amount of added caffeine must be stated on product labels and not the caffeine that naturally occurs in green tea.
Drinking green tea may be safe during pregnancy and while breastfeeding when consumed in amounts up to 6 cups per day (no more than about 300 mg of caffeine). Drinking more than this amount during pregnancy may be unsafe and may increase the risk of negative effects. Green tea may also increase the risk of birth defects associated with folic acid deficiency. Caffeine passes into breast milk and can affect a breastfeeding infant.
Although uncommon, liver problems have been reported in a number of people who took green tea products, primarily green tea extracts in pill form. People with liver disease should consult a health care provider before taking products with green tea extract. People taking green tea extracts, especially those with liver disease, should discontinue use and consult a health care provider if they develop symptoms of liver trouble (such as abdominal pain, dark urine, or jaundice).
Green tea is an ingredient in many over-the-counter weight loss products, some of which have been identified as the likely cause of rare cases of liver injury.
Green tea at high doses has been shown to reduce blood levels and therefore the effectiveness of the drug nadolol, a beta-blocker used for high blood pressure and heart problems. It may also interact with other medicines.