Groups in Los Angeles Join China's COVID Lockdown Protests, Calling for CCP to Step Down
Several Southern California groups gathered in front of the Chinese Consulate in Los Angeles Nov. 27 in support of demonstrations across China and the world calling for an end to the country's COVID-19 lockdowns and for the ruling Chinese Community Party (CCP) to step down.
Protesters were chanting "Take down the Chinese Communist Party" and "No more lockdown. We want freedom"—echoing the unprecedented mass protests that erupted in China's major cities after an apartment fire killed at least 10 people Nov. 24 in the city of Urumqi in northwest China's Xinjiang region. Many residents were locked in their homes for nearly four months under strict lockdown policies and could not escape when the fire took place.
"We are here to mourn our compatriots who lost their lives in the fire," said Bugra Arkin, a Uighur participating in the gathering organized by local Uighur groups, human rights advocates, and "Milk Tea Alliance," an Asian democracy and human rights group.
"The Chinese Communist Party's lockdown policy is not about the pandemic; it is about controlling society. It sustains their suppression and persecution of the Uighurs. It is an extension of the genocide [of Uighurs]," he told The Epoch Times.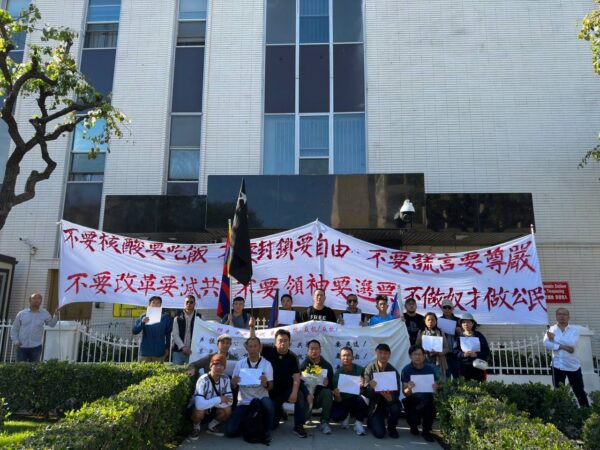 The fire's death toll may be much higher—or more than 40, according to information circulating in the community—than official estimates, which are routinely altered by Chinese authorities in such events.
Videos circulating on social media showed the building's emergency exits locked and all the cell gates bound by iron wire, resulting in rescue delays.
Large-scale protests broke out across China after the incident. In Shanghai, residents openly shouted "Take down the Chinese Community Party," "Step down, Xi Jinping," and "We want freedom" on the night of Nov. 26.
"I am very inspired, and deeply touched by the support for Uighurs from people in other places," Arkin said.
He said the incident had become "a tipping point" for mainland people to resist the CCP on a large scale.
"I hope they will continue to fight back. I hope more Chinese people will wake up and oppose this illegitimate CCP regime," he said.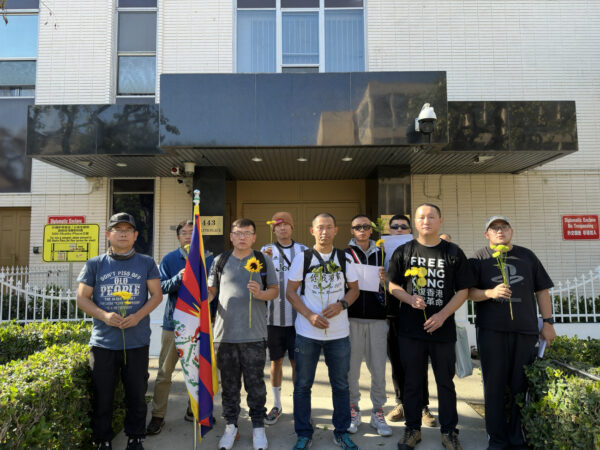 Lijian Jie, one of the demonstrators and the executive director of the Youth Department of the Chinese Democracy Party, told The Epoch Times the recent protests in China are the biggest since the 1989 student-led pro-democracy movement in Tiananmen Square, Beijing.
"The CCP locked the door and let its people burn alive, but their desperate cry shook up the rest of the country. People are awake now," Jie said. "Chinese people now know that anyone can be the next victim of fire, and this is all because of the CCP's tyranny."
Jie said he believes the end of the regime is coming as more people learn about what's happening in China.
"It's a historic mission for all of us to expose and oppose the CCP, the biggest cancer of humanity," he said. "People are breaking free from the party's shackles. Freedom is right around the corner."