Harris to Travel to Ghana, Tanzania, Zambia to Strengthen US Partnerships in Africa
[ad_1]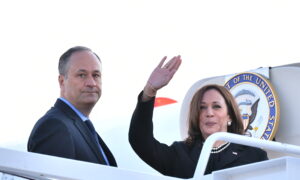 Vice President Kamala Harris and Second Gentleman Douglas Emhoff leave the United States in late March to travel to the African cities of Accra, Ghana; Dar es Salaam, Tanzania; and Lusaka, Zambia.
The recent U.S.-Africa Leaders Forum, which President Joe Biden convened in Washington in December 2022, will serve as a foundation for the vice president's visit, ending on April 2.
"The trip will strengthen the United States' partnerships throughout Africa and advance our shared efforts on security and economic prosperity," according to The White House's announcement.
During the course of the trip, the vice president will work in collaboration with African governments and the private sector to advance efforts to "expand access to the digital economy, support climate adaptation and resilience, and strengthen business ties and investment, including through innovation, entrepreneurship, and the economic empowerment of women," according to the White House.
These goals will be pursued in an effort to expand economic opportunity across Africa.
The vice president will meet with President Nana Akufo-Addo of Ghana, President Samia Hassan of Tanzania, and President Hakainde Hichilema of Zambia to discuss regional and global priorities.
Some of the topics that will be brought up during these meetings include the nations' shared commitment to democracy, inclusive and sustainable economic growth, food security, and the effects of Russia's war with Ukraine, amongst other things.
The vice president will work to enhance people-to-people relations and interact with civil society, especially young business leaders, members of the African Diaspora, and corporate representatives and entrepreneurs.
During his Dec. 14 speech at the United States of Africa Business Conference in Washington, Biden detailed a series of initiatives that would be taken to improve the United States relations with the continent that will likely cost billions of dollars, as The Epoch Times previously reported.
The three-day summit in the U.S. Capitol began on Dec. 13. It was the first time a gathering of this kind has taken place in America since 2014 when it was held during the administration of former President Barack Obama.
"The United States is all in on Africa's future," Biden said during his speech. "And the work we've done over the past two years—building on decades of vital investments made under previous American presidents—has helped make possible the critical steps that I'm about to announce."
Delegates from 49 countries and the African Union attended the summit, as well as 45 national leaders from various African nations.
[ad_2]

Source link