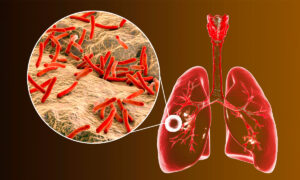 Over the past few years, we have experienced isolation, mask-wearing, and significant behavioral changes in response to a declared pandemic.
As that emergency fades into the "new normal" of our post-COVID world—the mass migration of people into Western countries is setting the stage for something potentially worse.
The escalating influx of individuals from various regions has led to an unprecedented situation at the U.S. border, raising concerns about the introduction of tuberculosis (TB) and other infectious diseases not widespread in the United States.
New U.S. Centers for Disease Control and Prevention (CDC) data published in March found that tuberculosis cases increased by 5 percent in 2022 to 8,300 cases in the United States.
Tuberculosis on the Rise
By the time the bacteria that caused tuberculosis was identified in 1882, the disease was killing an estimated 1 in 7 people in the United States and Europe. TB remains the leading cause of infectious disease globally as an airborne disease transmitted through coughing and sneezing.
The rise of drug-resistant TB poses challenges for effective treatment, with over half a million cases reported in the past year. Additionally, TB infection after COVID-19 has become more prevalent, raising concerns about potential outbreaks in the post-pandemic world.
Prompt treatment is crucial for individuals with active TB, Dr. Sarah Lee, chief resident for emergency medicine at Northwell Staten Island University Hospital in New York, told The Epoch Times. Symptoms such as coughing up blood, night sweats, fever, and weight loss can worsen without intervention. "Without proper treatment, about two-thirds of people with active TB will die," she added.
New York City Health Commissioner Dr. Ashwin Vasan recently announced that the continuing arrival of migrants bussed north from states on the southern border is also bringing several diseases, most notably TB.
So far in 2023, the five boroughs of New York City have reported a TB rate over twice (pdf) the national average, with Queens experiencing the highest number of cases. Specifically, Flushing, Queens, has been severely affected, with a TB infection rate over three times higher than the city-wide average, primarily impacting recent immigrants.
In a letter (pdf) to doctors and health care administrators, Vasan notes a significant number of individuals who have recently arrived in NYC have either resided in or traveled through countries with high rates of TB. To address this issue, Vasan requested that all individuals who have recently arrived in the city from these countries and have not undergone TB screening be promptly assessed.
In 2022, nearly 90 percent of TB cases in the city occurred among individuals born outside the United States, and almost 80 percent of TB-infected individuals born there were non-Hispanic black or Latino, according to the NYC Department of Health.
Identification and Treatment Are Key
Dr. Sharon Nachman, chief of the Division of Pediatric Infectious Diseases at Stony Brook Children's Hospital, stressed the importance of accessible diagnostics, such as chest X-rays. "So we can do a chest X-ray and say, 'Is your chest X-ray clear or not clear?'"
Clear X-rays indicate latent infection, treatable with medication. In the case of active infection, doctors obtain a sputum sample to check for antibiotic resistance. "We can identify, because we're in the U.S., what the resistance factors for antibiotics are," Nachman said. In the United States, doctors can identify the specific antibiotic resistance factors, like rifampin or multidrug resistance, she noted.
There is a range of new-generation TB medicines available, such as bedaquiline and delamanid, to effectively treat multidrug-resistant TB in the United States, Nachman added. "So I want to say that the dangerous part is closing our eyes and not looking for it, as opposed to identifying and treating it."
Neglected or incomplete treatment of patients with multidrug-resistant TB can lead to its spread in the community, making the disease more difficult—and potentially impossible—to treat.
In the United States, treatment for TB is free for the uninsured because TB is a declared public health hazard. "You don't need to pay for your meds; you don't need to pay for anything," Nachman said. "We can get you in and get you treated and get you on meds."
TB Vaccine Is Not a Perfect Solution
An easy solution to rising rates of TB in the United States should be vaccination against infection, according to Nachman. A vaccine, bacille Calmette-Guerin (BCG), has long been available against TB.
The vaccine isn't effective against intra-thoracic TB and only "somewhat effective" against miliary TB, a potentially fatal form of the condition, which can lead to disseminated TB or TB meningitis, according to Nachman.
"So people thinking, 'I've got a BCG vaccine, I'm not going to get pulmonary TB,' the answer is actually, you will," Nachman said. "We don't have anything better." The complexity of the TB bacteria makes it difficult to determine which antibodies or components can offer protection.
Another problem, according to Nachman, is that TB is primarily transmitted through close and ongoing household contact rather than casual encounters. She emphasized that the risk of spreading TB is significantly higher in overcrowded living conditions.