'He's Turned It Into a Dinner Bell'
A shy, senior rescued donkey delighted his owner by showcasing his singing voice just days after stepping foot into his adoptive home. Today, nothing but the center stage will do for this drama king.
Pinky Ruggles, 37, lives in Conroe, Texas, in a home with acreage. She always dreamed of owning horses, and after buying her first horse, Ace, in 2009, she noticed he had an affinity with donkeys. She also got Jack, another horse, in 2018.
When Pinky closed on a new house and finally had more space, she reached out to Texas Miracle Ranch (TMR) in Plantersville, telling them she'd like to adopt a harder-to-home donkey.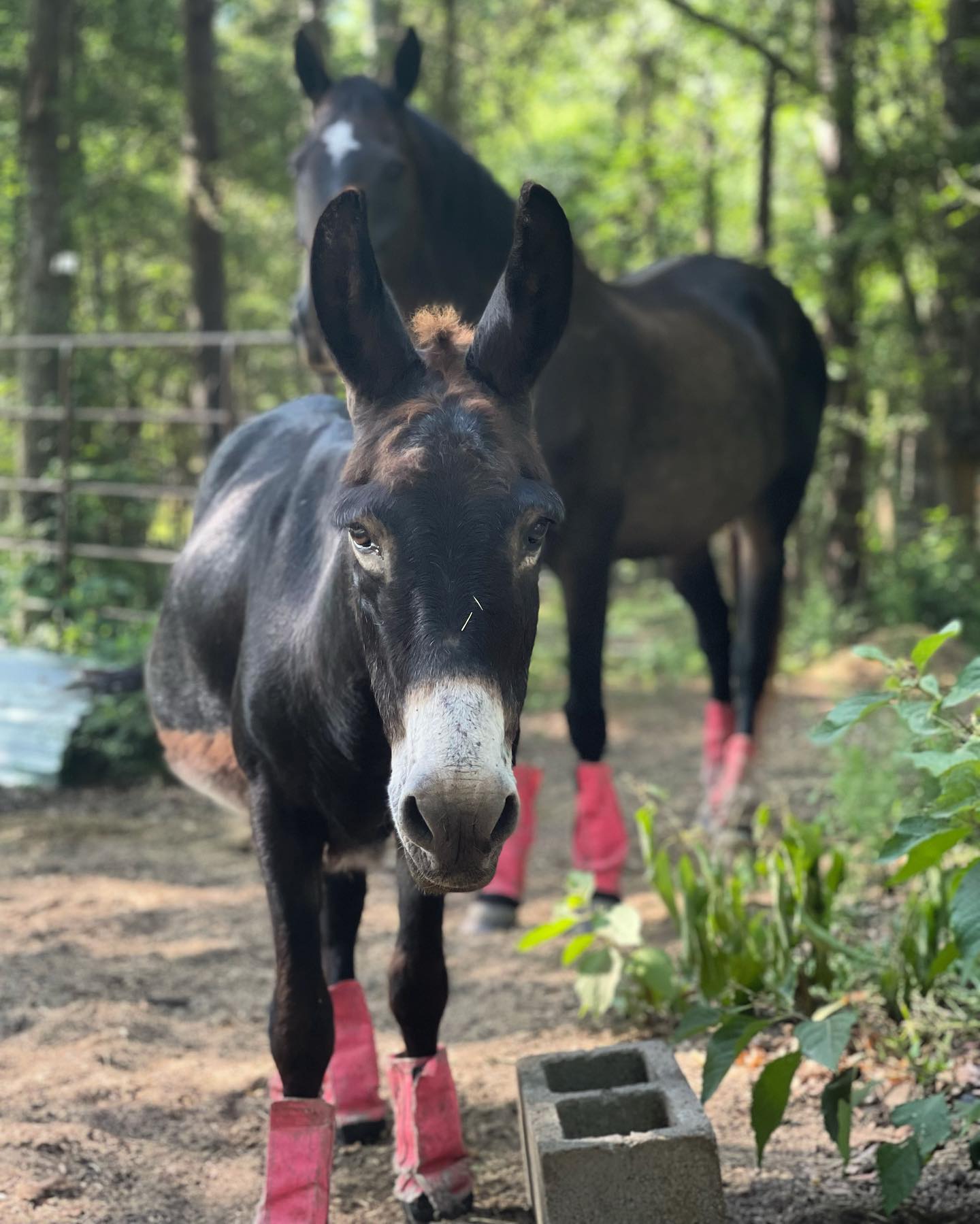 The ranch introduced her to a couple of "super sweet" donkeys before she met Monte. An average donkey lifespan is anything between 27 and 40 years. At the time, Pinky had no idea that Monte was already 26 years old. He just seemed "perfect."
"He was standing off to the side by himself, quiet, hanging out," Pinky told The Epoch Times. "There was just something about him that said, 'You need to pick this little dude.'
"I came back home and told my boyfriend, 'I think I found the perfect donkey for Ace.' When it was time for him to come home in September of 2020, this donkey stepped off the trailer, and … looked like he was ready for a new life."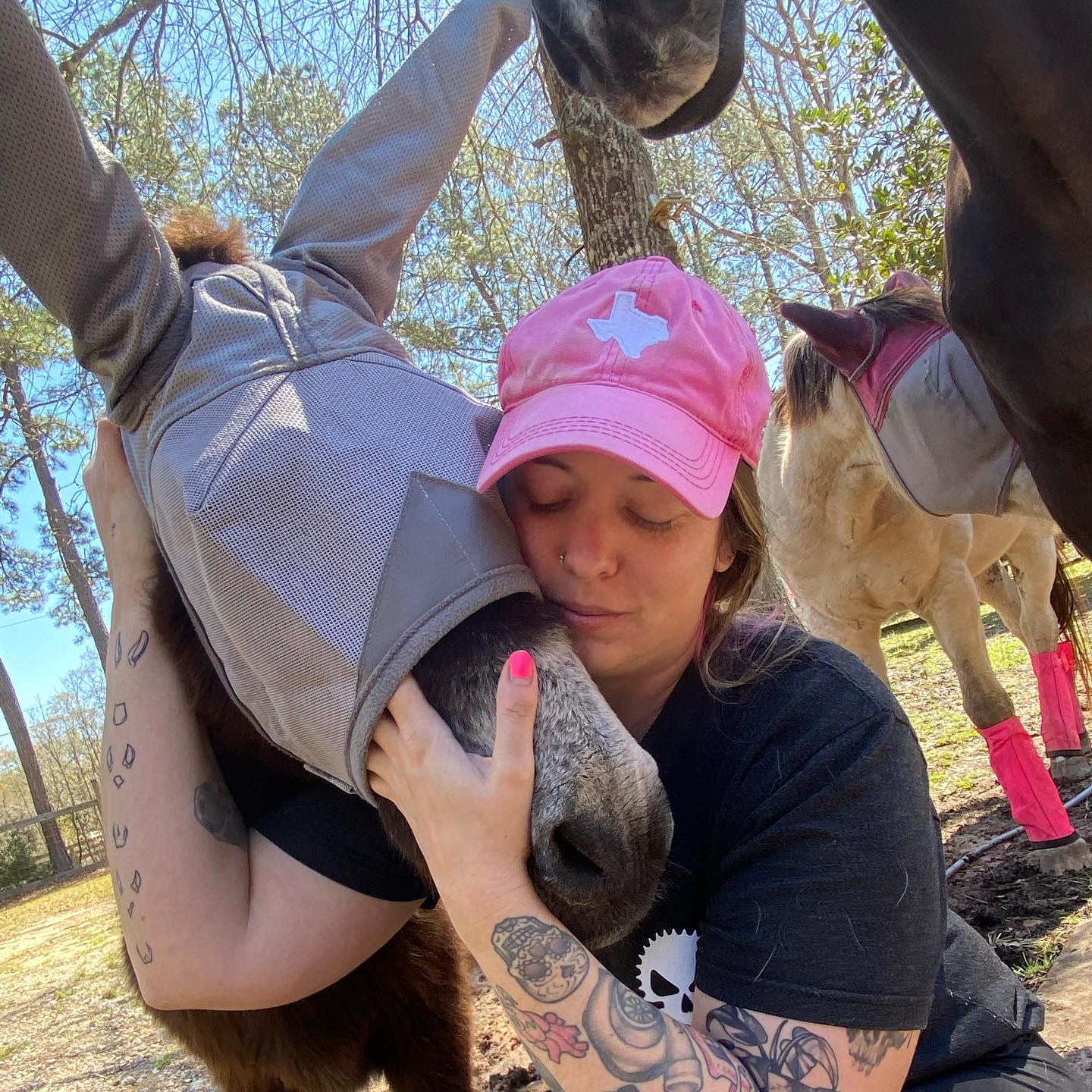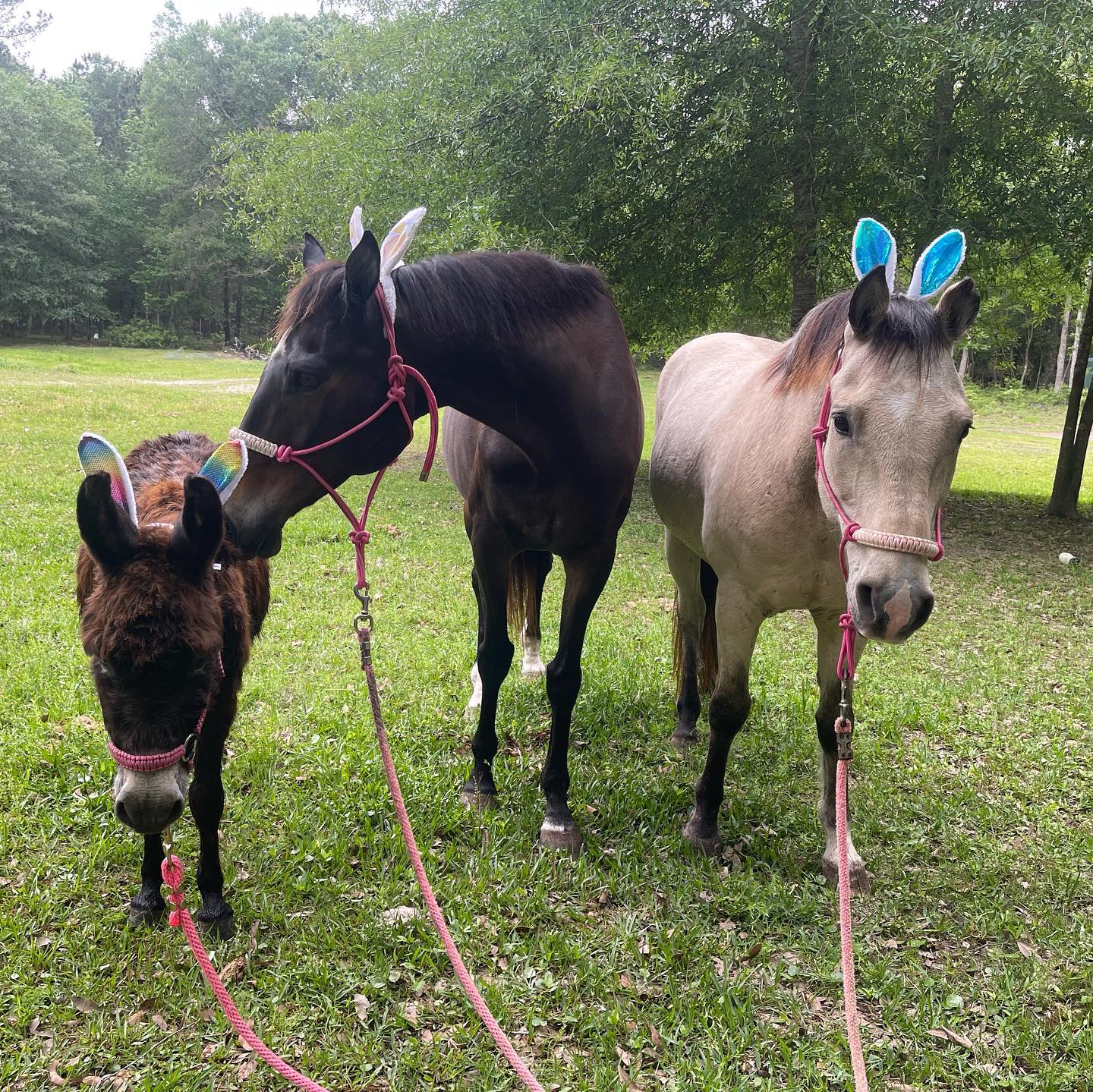 Monte was also ready to meet his two new friends, Ace, now 15, and Jack, now 16. The trio bonded instantly. Pinky kept them on halters for safety, but in no time at all, the horses and their new donkey pal were grazing together in the back yard. Monte was only quiet in his new home for a couple of days before he found his voice.
"I think I heard him maybe once or twice," Pinky said, "but the third day for breakfast, I went to the back to go feed them in their stalls, like I usually do, and he just let loose.
"He looked like he surprised himself when he did it, and I know the horses were like, 'What was that?' But now he's turned it into a dinner bell, as soon as he starts braying, the horses knows that means Mom is outside and Mom has food!"
Monte doesn't just sing for his supper. The musical mule also brays to the mini ponies across the street, cars that pull into the driveway, and the neighborhood roosters. But standing in front of the stairs, braying and nodding at the door until Pinky appears, is by far his favorite pastime.
(Courtesy of Pinky Ruggles)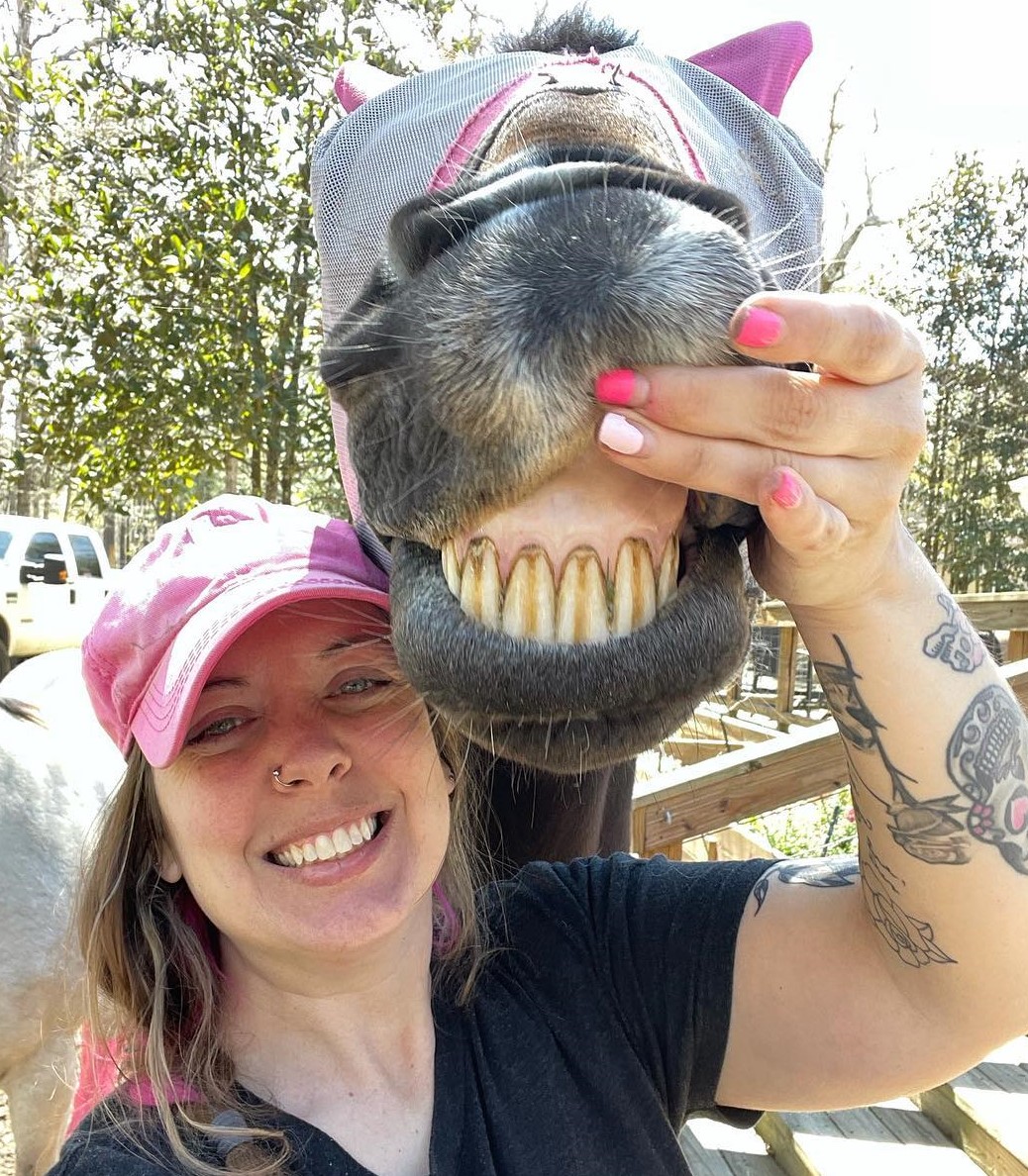 "I was like, 'Well, he's singing! Clearly, he's an opera singer, we've got to put this online,'" Pinky said, who never expected her quirky donkey to go viral.
Since his booming success on TikTok and Instagram, Monte has even become "a little bit of a diva," and has cottoned on that when the camera comes out, snacks follow.
"People let me know daily how much joy he brings to them," Pinky said. "Whether it's somebody that has never really interacted with a donkey before, doesn't have room to have a donkey, or just wants to follow an animal that is super goofy, we are humbled."
Pinky says that she has no way of knowing what Monte endured before he was rescued by TMR ten years ago. He can still be "a little standoffish," but once he is comfortable he enjoys scratches, is very smart, very mischievous, loves life, and loves food even more.
"His love language is food," Pinky said.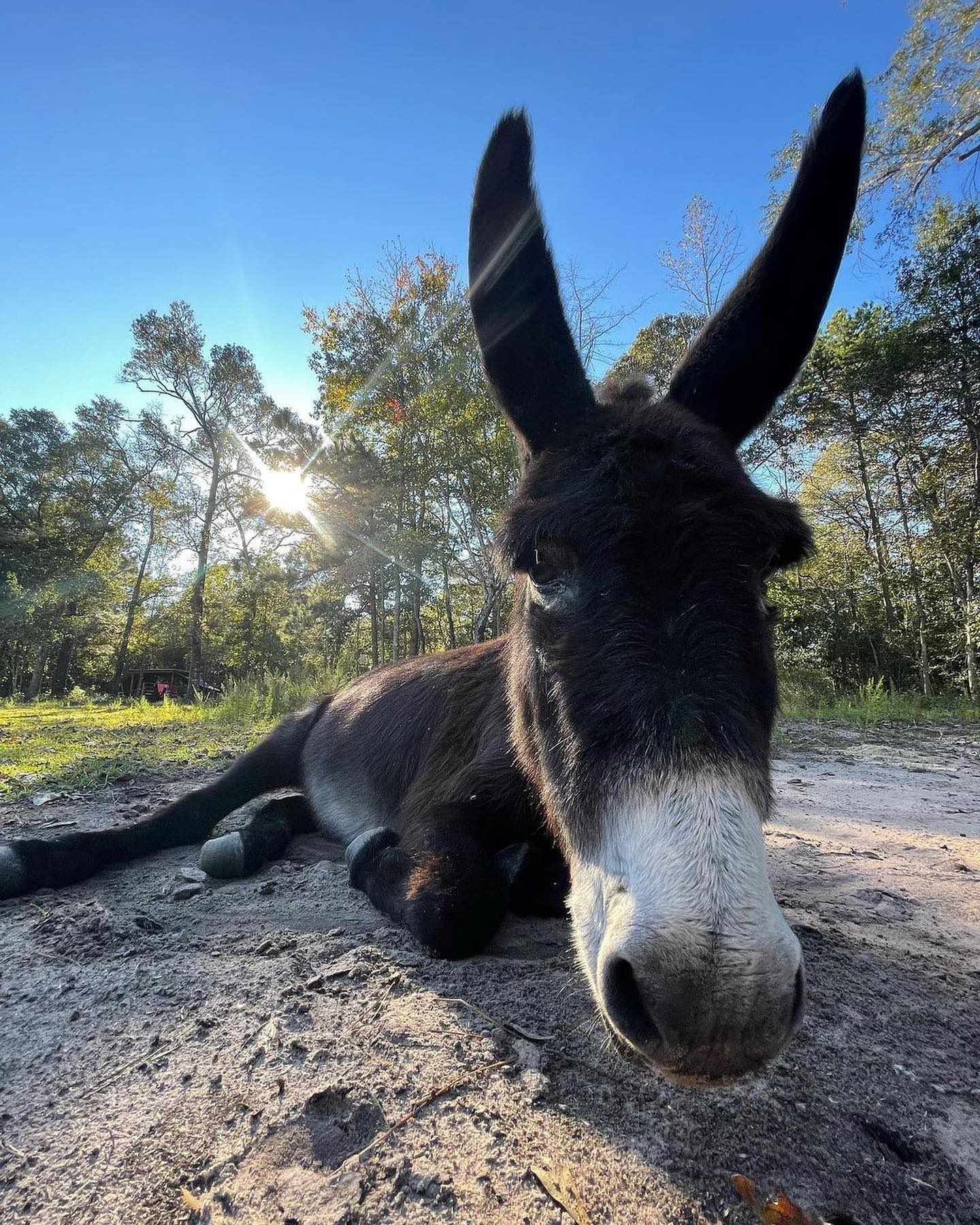 When Monte is with Pinky—his most trusted caregiver—he will chase, play, and act goofy. The bond they share is extraordinary. "It's a trust," Pinky explained. "I know that he's not going to do anything to hurt me, and he also knows I'm not going to hurt him."
Monte and Ace remain close. Older now, Ace has stepped down from his former role as mischief-maker, but Pinky still describes the horse and donkey's boisterous bond as "a mess." It also forms two parts of a love triangle: while alpha horse, Jack, is possessive of Ace, Monte vies for Ace's attention, leaving the harried horse in the middle.
"It cracks me up," Pinky said, who posts about life with her animals, useful resources, and Monte merchandise inspired by fan art on her website, montethesingingdonkey.com.
"I've got my horses and the donkey in the back yard, the dogs in the house, and now the chickens. Why not share it, because I love it so much!"
Share your stories with us at emg.inspired@epochtimes.com, and continue to get your daily dose of inspiration by signing up for the Inspired newsletter at TheEpochTimes.com/newsletter