The Republican-led House Oversight Committee asked a Hunter Biden business associate to testify before the committee, coming a day after the panel released information from financial documents showing that Walker transferred $1 million to Biden family members days after receiving a wire from a Chinese energy firm.
Oversight Committee Chairman James Comer (R-Ky.) wrote a letter to John Robinson "Rob" Walker Friday and asked him to appear for a transcribed interview before the panel. Walker was told to contact the committee to schedule an interview before March 24, the letter said.
"Subpoenaed financial records reveal that from 2015 to 2017, Biden family members—Hunter Biden, James Biden, Hallie Biden, and an unknown 'Biden'—and their companies collectively received over $1.3 million in payments from accounts related to Rob Walker," his office wrote. "Most of the payments to the Biden family came after Rob Walker received a $3 million wire from a Chinese energy company."
On Thursday, a new disclosure found that $3 million was wired from State Energy HK Limited on March 1, 2017, to Walker's Robinson Walker LLC, according to the House Oversight panel. Later, between March and May 2017, payments were sent incrementally to Biden family accounts, including those belonging to Hunter, James, and Hallie Biden, it said.
"After the Robinson Walker, LLC account received $3 million from State Energy HK Limited, Biden family members and their companies began receiving incremental payments over a period of approximately three months," a memo from the committee said. "The recipients of the money included Hallie Biden, companies associated with Hunter Biden and James Biden."
An unknown bank account with the identity "Biden" also received payments up to around $70,000, according to the memo. It's unclear who operated that account.
Although Republicans asserted that the transfers were evidence that a Chinese state energy firm was linked to the Biden family, their letters only indicated that the funds were transferred from Walker's account to Biden family accounts in March 2017. There was no direct evidence provided showing that the money came from China.
The Epoch Times has reached out to a lawyer for Hunter Biden, a spokesman for James Biden, and an email account associated with Hallie Biden regarding Comer's memo about the money wires. Walker, meanwhile, has not issued a public comment on the matter.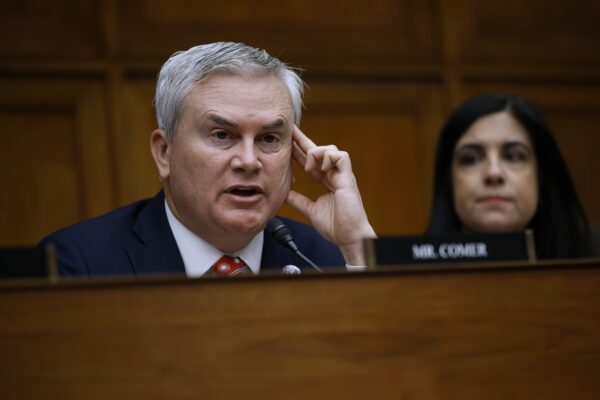 In a statement Friday, Comer described Walker as a "key witness" in Republicans' investigation into the Biden family's dealings. Citing a recorded conversation another Walker and Hunter Biden associate Tony Bobulinski, Comer wrote that "Walker once said that exposing him would 'bury all of us, man.'"
"These records reveal that the three parties likely all received a third of the money from China and it is unclear what services were provided in return," the chairman added. "The Oversight Committee has many questions for Rob Walker," he said, "and we look forward to getting answers for the American people."
'Baseless'
A spokesperson for the White House on Thursday disparaged Comer's recent findings and said the House Oversight investigation is a waste of time, suggesting members of President Biden's family should be considered off-limits. The spokesperson suggested that in particular, Hallie Biden—the widow of Beau Biden—is being unfairly singled out by Republicans.
"Instead of bizarrely attacking the president's family, perhaps House Republicans should focus on working with the president to deliver results for American families on important priorities like lowering costs and strengthening health care," the spokesperson told news outlets.
And a spokesperson for Hunter Biden's lawyers told Fox News: "Here we go again as Rep. Comer takes something old and tries to make it new by wrapping it in a wild and baseless right-wing conspiracy." The spokesperson did not address Comer's claims or questions about the 2017 wire transfers, but they did confirm that members of the Biden family received those payments, without elaborating.
"The accounts so dramatically listed by Rep. Comer belonged to Hunter, his uncle and Hallie—nobody else," the spokesperson said.
In December 2020, Hunter Biden issued a statement saying that federal prosecutors are investigating his tax affairs. Since then, few details about that probe, which is headed by U.S. Attorney David Weiss, have been divulged.
Comer's request comes as Hunter Biden filed a lawsuit against Delaware-based laptop repairman John Paul Mac Isaac for allegedly invading his privacy after Mac Isaac sued him. The younger Biden is reported to have dropped off his laptop at Mac Isaac's repair shop years ago.
"No matter how they came into his initial possession, Mac Isaac improperly accessed files that he admits were 'none of [his] business' even though he was never given permission by Mr. Biden to access or review any data of Mr. Biden's," the suit says. The shop owner later made copies of the data and distributed the copies to others.