NAGOYA, Japan—Mr. Iwamoto Yasuhiro, the president of Japan's largest truck sales network, U-Truck Net, said he was deeply touched and shocked when seeing the divine culture that Shen Yun Performing Arts presented at the Aichi Prefectural Art Theater in Nagoya on Jan. 27.
"Shen Yun artists presented the traditional Chinese people's respect for Gods and Buddhas. This is the real divine culture," he said. "Current China doesn't believe in divine beings after the Great Cultural Revolution … I saw the enormous difference between these two Chinas."
New York-based Shen Yun is the world's top classical Chinese dance company, and has a mission to show the beauty and goodness of "China before communism."
"From Turkey to Mongolia, until current South Korea, all these lands used to be the territory of China. Shen Yun's programs involve so many historical and cultural stories. It's majestic!" Mr. Iwamoto said.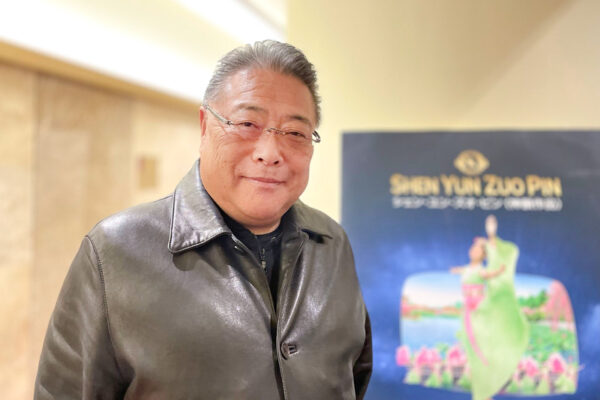 Mr. Iwamoto has visited China many times. He said Shen Yun represents the real China.
"All Shen Yun's aspects, including the costumes, deliver the values of traditional culture," he said. "I wish Shen Yun can keep on performing and can let the people see the real Chinese culture."
"The live orchestra is magnificent. The conductor can't be seen by us because he was inside the orchestra pit, but he led the musicians to play the music perfectly matching the dance," he said. "I can't imagine how hard they practiced to reach this achievement. It's fabulous. This is a very high-end orchestra."
Mr. Iwamoto said the music moved his heart and soul, which he enjoyed a lot.
Each Shen Yun performance consists of nearly 20 vignettes, presented through highly-expressive art forms such as classical Chinese dance, original orchestral music performed live, soloists who sing in the bel canto tradition, animated digital backdrops, and more.
'Shen Yun Is the Best of Best'
"When the curtain was opened, the scene was brilliant. I was very moved. It's too beautiful," said Mr. Umemura Takeshi, the president of a foreign candidates' recruiting firm. "Shen Yun is the best of the best."
Mr. Umemura said he could understand the rich values and virtues that Shen Yun presented easily because of the excellent performances of the dancers.
"The male dancers are masculine and valiant. The female dancers are elegant and graceful. The beauty of the dances is breathtaking," he said. "All dancers are very flexible. Their expressions are charming and serious. They are really very professional."
Mr. Umemura then gave an example, the male dancers' Tibetan ethnic dance.
"The movements are very powerful and influential. I was excited and inspired by it. I felt the profound meaning of the oriental culture," he said.
For 5,000 years China's civilization was built on values and virtues from the spiritual teachings of Buddhism, Taoism, and Confucianism, virtues like loyalty, propriety, wisdom, justice, and benevolence—values that are universal and shared the world over.
"I was surprised by the soprano. She is very slim, but her voice is very loud and expressive," said Mr. Umemura. "Sometimes, her voice was very feminine. Sometimes, her voice was full of force. She is a master of voice. It's fantastic."
Mr. Umemura appreciated Shen Yun's effort to revive the traditional culture, which he said was encouraging.
'Shen Yun Made My New Year'
"I was very sad because of the pandemic and the unclear and gloomy future. Now I 've obtained hope. Shen Yun made my new year!" said Mr. Sakakibara Shigeru, the president of a disaster prevention equipment company.
Mr. Sakakibara said he felt blessed to attend Shen Yun, and was especially moved by the musical solos.
"The voices of the soloists entered the deep bottom of my heart and resonated with my soul. I only found this type of voice in Shen Yun," he said.
"The sound of erhu is pleasant to the ears. It can express very detailed emotions. It's enchanting," he said, referring to the two-stringed ancient instrument featured in a solo program.
This is Mr. Sakakibara's second experience with Shen Yun. He said he was looking forward to Shen Yun after attending three years ago. Every year, Shen Yun has an all-new production. However, Shen Yun didn't visit Japan in the past few years due to the pandemic.
"Shen Yun is spectacular! I hope I can attend Shen Yun next year!" he said.
In the 2023 season, Shen Yun has eight equally sized touring companies set to visit more than 180 cities across five continents. It is expected that over 1 million audience members will see Shen Yun this season.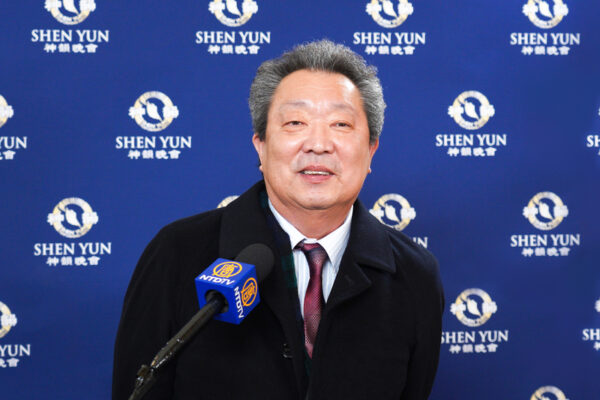 Reporting by Epoch Times Staff in Nagoya, Japan.
The Epoch Times is a proud sponsor of Shen Yun Performing Arts. We have covered audience reactions since Shen Yun's inception in 2006.