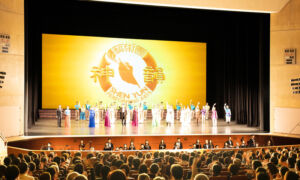 UTSUNOMIYA, Japan—After attending Shen Yun Performing Arts at the Tochigi Prefecture Cultural Center in Utsunomiya on Jan. 21, an automaker executive said "I didn't dare to think a bit at all about other things" during the performance, so as to avoid missing a single moment.
"The performance is totally beyond my expectations. I was surprised by the dances' beauty," said Mr. Kazama Tetsuo, a supply chain executive of Japanese automaker Honda. "The beauty is amazing!"
He said the male dances were most impressive, in which "the male dancers are masculine and valiant. Their performances perfectly showed their solid skills and techniques." For Mr. Kazama, the power of these performances lasted long after the dance ended.
Mr. Kazama was amazed by the coordination of the orchestra's music with the interpretation of the dance, which he said was exquisite.
"The live orchestra's music is very powerful. It gave me a very different experience, which is wonderful," he said. "In addition, the backdrops cooperated seamlessly with the stage. I felt very happy after seeing these beautiful performances."
Mr. Kazama liked the traditional Chinese culture that Shen Yun presented, which encourage people to follow moral codes.
"I'm deeply mesmerized. I didn't dare to think a bit at all about other things," he said.
New York-based Shen Yun is the world's top classical Chinese dance company. Each Shen Yun performance consists of nearly 20 vignettes, presented through highly-expressive art forms such as classical Chinese dance, original orchestral music performed live, soloists who sing in the bel canto tradition, animated digital backdrops, and more.
'I Learned About Peace'
Mr. Akutsu Takanobu is a construction machinery expert. He said he loves the Chinese culture that Shen Yun presented, which encouraged him to think about the meaning of life.
"This is the first time I attended Shen Yun. It's really amazing. I was very touched," he said.
Mr. Akutsu said that Japanese people learned Chinese culture in school, but he felt much more from Shen Yun Performing Arts.
"I learned about peace, to cherish and respect others, and to work hard to improve myself from Shen Yun," he said. "In these over two hours, I learned a lot of things."
Shen Yun has a mission to show the beauty and goodness of the 5,000 years of China's civilization. Chinese culture was built on values and virtues from the spiritual teachings of Buddhism, Taoism, and Confucianism, virtues like loyalty, propriety, wisdom, justice, and benevolence—values that are universal and shared the world over.
'Filled Me With Energy'
"All my five senses enjoyed the show. I haven't seen such an unforgettable performance for a long time. Attending Shen Yun physically filled me with energy," said Mr. Nagao Yoshikazu, a professor at the Utsunomiya University.
Mr. Nagao said the show had so many beautiful factors that his two eyes weren't enough to see everything he wanted to see.
"My focus changed between the stage and the orchestra … the music and dance coordinate seamlessly," he said. "I was surprised by the dancers' perfect expressions, their tumbling skills, and the cooperation and coordination."
"I haven't seen any production as beautiful as Shen Yun. Shen Yun is simply so magnificent. I was very touched," said Mr. Hoshi Yoshihiro, a member of the Fukushima Human Rights Advocacy.
Mr. Hoshi said Shen Yun was like a dreamland, something that seems too wondrous to be true.
"I could feel the power from the stage and music," he said. "The feeling is so obvious. It's extraordinarily wonderful."
Reporting by Epoch Times Staff in Utsunomiya, Japan.
The Epoch Times is a proud sponsor of Shen Yun Performing Arts. We have covered audience reactions since Shen Yun's inception in 2006.