NEW YORK—You can love them, hate them, tolerate them, or accept them but, one way or another, a family figures into everyone's life. This is the premise of the new musical, "I Love My Family, but… ."
Written by Brandon Lambert (book, music, and lyrics) and Lauren Gundrum (book and lyrics), the show can now be seen in the downstairs space at the Soho Playhouse.
Covering about 30 years in 80 minutes, the show features Frank (J.D. Daw), his wife Martha (Katie Oxman), their son Timmy (Julian Diaz-Granados), and Timmy's friend and the family's next-door-neighbor, Claire (Jennifer Dinolfo). While the musical presents snapshots from this quartet's life, the main focus centers on Timmy.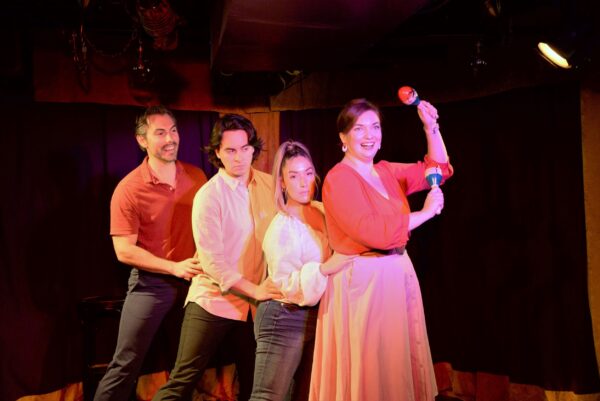 The audience gets to watch as Timmy grows from a baby to questioning child (asking things like "where do babies come from"), through that awkward teenage stage, and later, his marriage. Timmy and his wife eventually become parents in their own right. All of these situations are punctuated by songs that highlight the many emotional fallouts which occur along the way.
The show starts off strong with a title number where the different characters complain about whatever is bothering them at that particular moment: "Get out of my room," "Why are the credit cards maxed out?," and "Who changed the Netflix password?" The musical's greatest strength is some very amusing and pointed lyrics, as well as the exploration of life situations almost everyone in the audience can relate to.
A particularly funny segment has Frank explaining to Timmy the importance of picking the right career path ("Rich as Fudge"). There's also an enjoyable running bit ("Lullaby") about the wonder and stress of caring for a newborn, a child who the grandparents intend to spoil, even as the parents try to temporarily foist said child on their elders so they can enjoy a much-needed break. Though for sheer hilarity mixed with total understanding, one simply can't beat the number "Why" as Timmy mourns the passing of his beloved goldfish.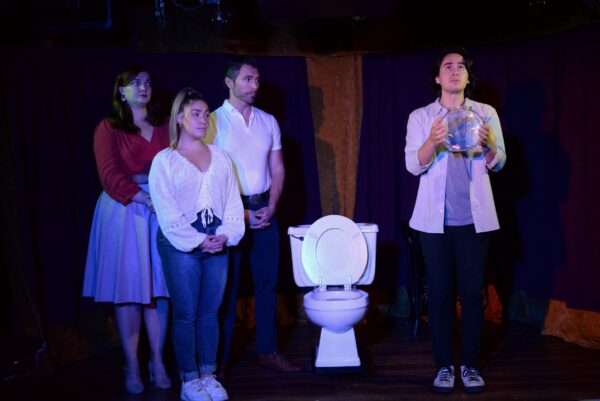 Lacks Depth
Despite these high notes and the overall fun of the piece, it quickly becomes clear the show lacks any real depth. This is both in terms of providing backstories for the characters or in trying to go deeper into matters which can cause problems in any relationship. As a result, all of the characters come across as solely one-dimensional.
This is especially true in Claire's case, with any moments of empathy lasting only as long as whatever song they happen to be singing. It doesn't help that some of the more serious issues, such as divorce, miscommunication, or the realization that life has not worked out the way you hoped, are all too often handled with the same type of frivolity as every other moment in the play.
Another problem is the songs themselves, which start to feel more forced and uneven as the show goes on. It doesn't help when one starts to think of a lyric that would work better for a specific song even as it's being sung right in front of you.
The cast of four, however, is excellent. Daw, Diaz-Granados, and Dinolfo are particularly good when it comes to belting out a musical number. Oxman works the best acting-wise as the stalwart wife and mother who carries a sort of long-suffering air through many of her scenes. Daw, meanwhile, is able to imbue a sense of resigned humor into his portrayal of Frank, a father simply trying to do his best in life.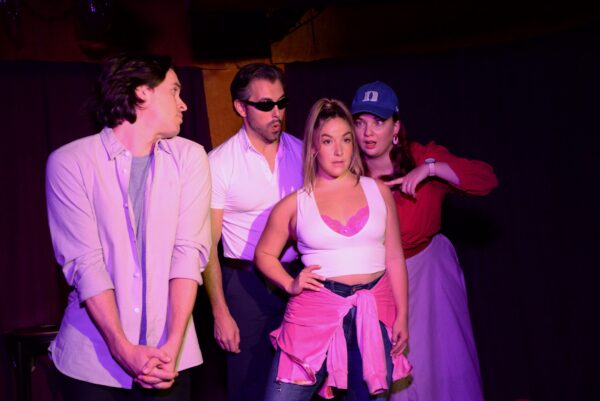 The interplay between Timmy and Claire as they turn from childhood friends to something more is fun to see. However, by the end of the show their situation has become so contrived, it's hard to really care.
Musical director Alex Ratner does an excellent job on the piano, though a few of the early moments lean a bit too heavy on amplification, with the result being that it can be hard to hear some of the lyrics.
Guy Stroman handles the directing chores nicely, but like the rest of the cast, he's hamstrung by the weak material he has to work with. Sierra Lai Barnett has come up with some very enjoyable choreography that works quite well in the small downstairs playing space.
"I Love My Family, but…," which starts to feel overlong about 10 to 15 minutes before the show actually ends, seems more like a revue than an actual musical. It could work wonderfully as a concept album. All told, there's a lot of good material for the creative team to work with, and one hopes they continue to revise their material for a future incarnation.
'I Love My Family, but…'
SoHo Playhouse, downstairs space
15 Vandam St., New York
Tickets: ILoveMyFamilyBut.com
Running Time: 1 hour, 20 minutes (no intermission)
Closes: April 8