Introducing The Met's Divine Art Collection by a Renaissance Nun
Last year, an Italian nun caused quite a stir at Sotheby's, London, when her painting titled "Still Life of Birds, Including a Marsh Tit, Chiffchaff, Chaffinch, Blue Tits, Goldrest, Lapwing and a Great Tit" fetched far more than estimated. The Renaissance painting by mannerist painter Orsola Maddalena Caccia sold for 212,500 pounds ($264,350), 14 times more than its estimate of 10,000 to 15,000 pounds.
Caccia's bird painting is exceptional for a number of reasons. Even though she was a prolific 17th-century painter, most of her commissioned pieces were religious frescoes and altarpieces, which are still in situ in Italy. Although she painted still-life subjects—Caccia is even credited as the first recorded painter of a floral still life in Italy—they number far fewer than her religious paintings.
Most of Caccia's work is in Montferrat, an area in the northwest region of Piedmont, Italy. But late last year, New York's Metropolitan Museum of Art became the largest repository of Caccia's paintings outside of Italy, after hedge fund manager Errol M. Rudman bequeathed the museum three of her paintings.
Faith and Family 
Baptized as Theodora Orsola in 1596, Caccia grew up with her five sisters and two brothers in Moncalvo, a village in the Piedmont region, where she lived for most of her life.
Caccia's father, the successful fresco painter Guglielmo Caccia, known as "il Moncalvo," taught her how to paint. He first taught her how to mix pigments for his paints, and later she began painting some of the minor figures in her father's frescoes. 
Caccia became Orsola Maddalena when she took to the cloth in an Ursuline convent at Bianzè, a fortified frontier outpost. A few months before her father died, in 1625, he obtained permission to found a convent at Moncalvo, where he could safely house all six of his daughters. 
The Ursulines were founded in 1535, when Angela Merici, now known as St. Angela Merici, had a divine vision to create a convent. The original nuns took their vow of chastity but remained with their families.They didn't have to choose between the family and the cloister.
In the Moncalvo convent, Caccia ran the painting studio where the nuns took on commissioned works to support the convent's running costs.
After her father died, Caccia continued to paint as he had done, completing mainly religious commissions such as frescoes and altarpieces. Her overall painting style remained faithful to her father's teachings, but among her meticulous compositions she planted small, realistic still lifes.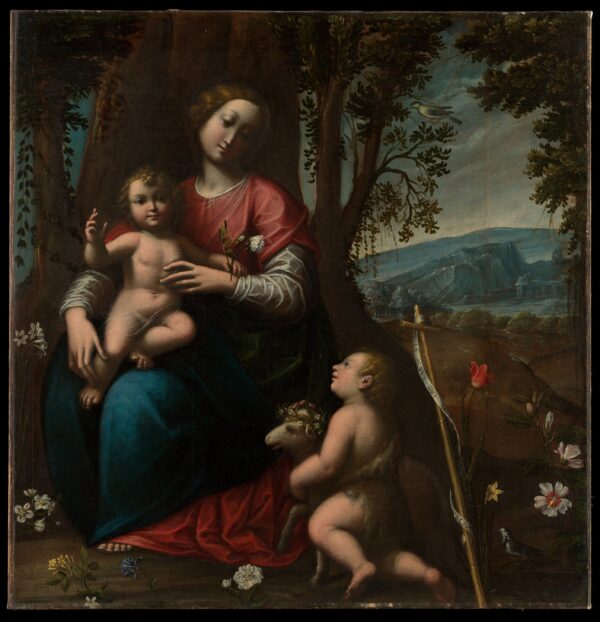 Those still lifes within the paintings had a distinct purpose: to acknowledge the divine. A lily could symbolize the Virgin Mary, and another flower could simply be an appreciation of God's creations, but each helped the viewers deepen their connection to the divine. 
Caccia at The Metropolitan Museum of Art
The Met's three Caccia paintings—two still lifes and a religious composition—differ greatly from her Sotheby's bird painting, but they are just as delightful. 
Caccia painted "Madonna and Child With the Infant Saint John the Baptist" around the time that her father died in 1625, and his influence can be clearly seen in the painting. She painted the same mannerist style of figurative forms as her father did, with their elegant limbs and mannerisms. She also used the sfumato painting technique, as did her father, which delicately softens colors and tones to convey a more realistic image. Birds and flowers also feature in the painting.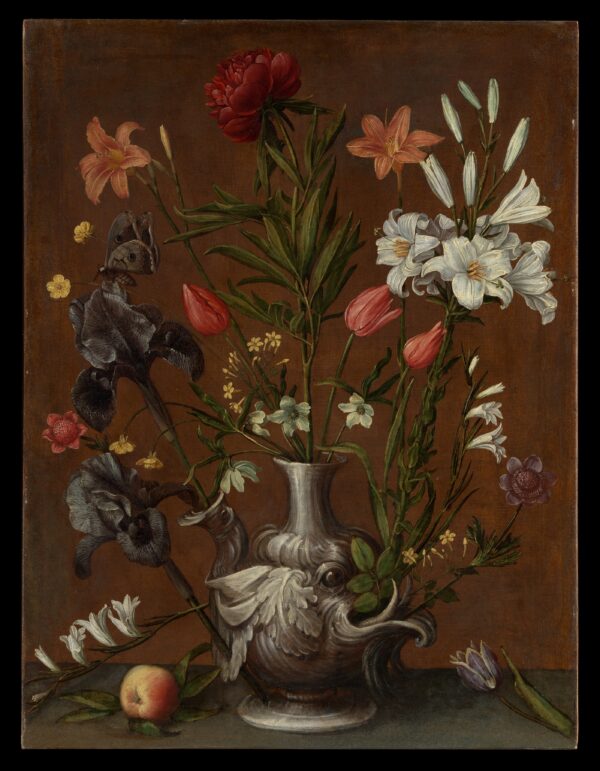 Each flower in her paintings "Flowers in a Grotesque Vase" and "Fruit and Flowers" is meticulously rendered, a skill Caccia likely learned from studying Northern European botanical prints, according to The Met's website.
In "Fruit and Flowers," a striking medley of color, fruit, and flowers—tulips, irises, apples, pears, peaches, and more—harmoniously collide in an unusual arrangement. Caccia carefully painted each item, perhaps in praise of God's fruitful creations, and as a vibrant appreciation of the gifts we all share on his abundant earth.