Jan. 6 Committee Reveals Findings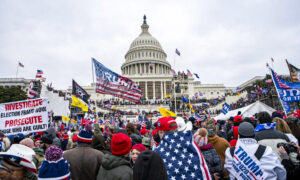 The House committee investigating the Jan. 6 breach at the Capitol will reveal its findings in a hearing on Thursday at 8 p.m. ET.
The series of hearings that will take place over the next several weeks begin with a prime-time session Thursday night, in which the nine-member panel plans to give an overview of its 11-month investigation.
More than 1,000 people have been interviewed by the panel, and only brief snippets of that testimony have been revealed to the public, mostly through court filings.
The hearings are expected to showcase a series of witnesses, but the committee has not yet publicly released the names. The committee will also preview additional hearings.
Meanwhile, GOP lawmakers have scheduled their own programming events to present other accounts of what happened on Jan. 6.
Many Trump supporters who participated in the wider protests on Jan. 6 have said that they were exercising their First Amendment rights to call for voting transparency amid reports of irregularities, the outcome of which may or may not have overturned the result of the election.
Jan. 6 Committee Hearing Schedule
Thursday, June 9, 8 p.m. ET
Monday, June 13, 10 a.m. ET
Wednesday, June 15, 10 a.m. ET
* Click the "Save" button below the video to access it later on "My List."
Follow EpochTV on social media:
Twitter: https://twitter.com/EpochTVus
Rumble: https://rumble.com/c/EpochTV
Truth Social: https://truthsocial.com/@EpochTV
Gettr: https://gettr.com/user/epochtv
Facebook: https://www.facebook.com/EpochTVus
Gab: https://gab.com/EpochTV
Telegram: https://t.me/EpochTV