Japan Adds Luxury Goods to Russia Sanctions as It Takes in Ukrainian Refugees
Luxury products are among a list of items banned by the Japanese government for export to Russia over its invasion of Ukraine.
Announced on March 29, the ban went into effect on April 5.
Nineteen luxury products, including perfume, fine artwork, and high-end cars, are now part of an expanding list of banned exports to Russia that also includes weapons, military-grade tools, carbon fiber, and general semiconductors.
Koichi Hagiuda, Japanese Economy, Trade, and Industry Minister, said on March 23 that Japan will cooperate with the Group of Seven (G7) global economy bodies to adopt stringent sanctions against Russia.
The ban on luxury goods exports to Russia is aimed at business oligarchs who support Russian President Vladimir Putin.
Koichi said that following western countries' broader sanctions, Japanese lawmakers have also proposed to freeze the assets of Russian politicians and oligarchs and their families.
Russia's oligarchs accumulated wealth following the collapse of the Soviet Union in the early 1990s and, to varying degrees, have supported Putin's government for political influence.
Meanwhile, Russia has put Japan on its "unfriendly nations" list and suspended peace treaty talks with Japan in retaliation for Tokyo's sanctions.
Moscow and Tokyo are also at loggerheads over the disputed Kuril Islands, which Japan refers to as the Northern Territories which Soviet troops seized at the end of World War II.
But Japan is hesitant to cut all economic ties with Russia.
Japan will not pull out from the Sakhalin-2 liquefied natural gas (LNG) project in Russia despite the withdrawal of other companies over Russia's invasion of Ukraine, Prime Minister Fumio Kishida said on March 23. Kishida added that Japan would increase efforts to reduce reliance on Russian energy in coordination with the Group of Seven (G7) advanced countries' plan.
Minoru Osugi, a New Conservative Party activist, told The Epoch Times that as well as economic sanctions — both imports and exports—Japanese development projects should be pulled out of Russia.
Nemoto, a media professional, told The Epoch Times that most  Japanese media is supporting the sanction efforts against Russia over its invasion.
The ban on the export of luxury goods was used by Japan in 2006 after North Korea claimed to have conducted a nuclear test.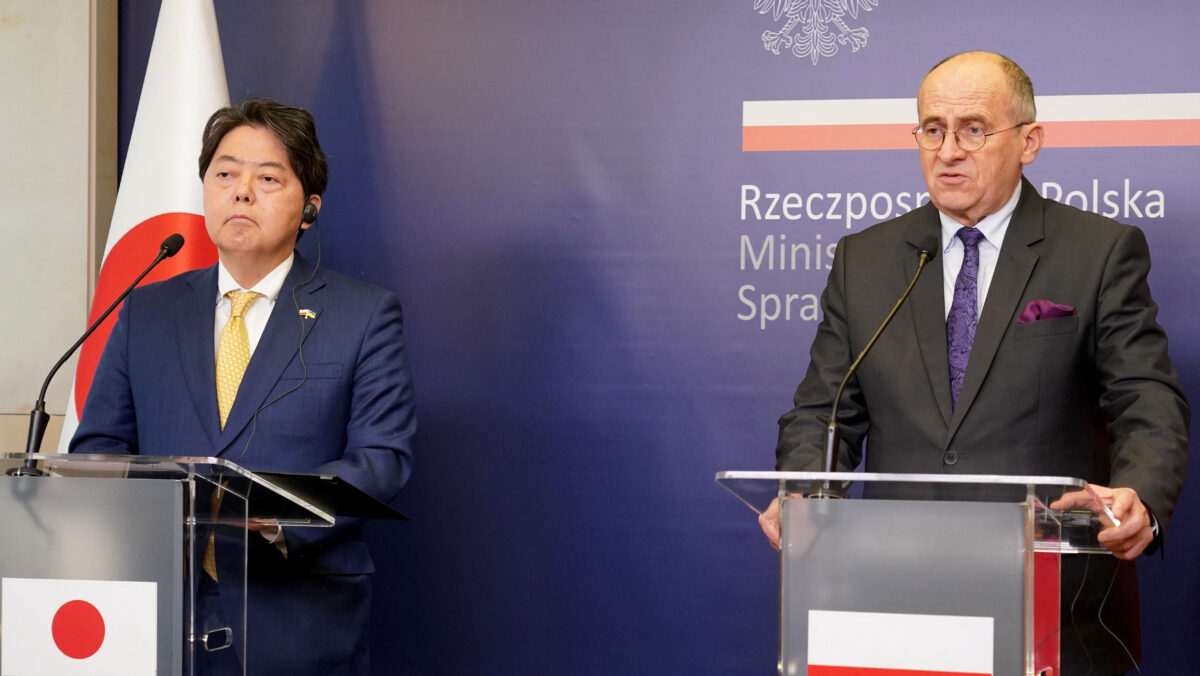 While in Poland, Foreign Minister Yoshimasa Hayashi said on April 4 that 20 Ukrainian refugees were being sent to Japan on a government plane on that same day, Kyodo News reported.
Hayashi also met with Ukrainian Minister Dmytro Kuleba in the Polish capital Warsaw, that Japan would accept "as many (Ukrainians) as possible" from a humanitarian perspective.
Chief Cabinet Secretary Hiroshi Matsuno told a news conference in Tokyo on April 4 that Japan had accepted 393 Ukrainian evacuees as of Saturday since Russia invaded Ukraine.
Japan will cover the Ukrainian refugees living expenses and medical care while assisting them to learn the Japanese language. They will also receive employment counseling and education for children.
Ms. Yamada, a self-employed businesswoman, told The Epoch Times was glad the government is helping the Ukrainian refugees.
"People on both sides of the war are the most innocent, especially the children, who will always be accompanied by the shadow of the fear of war when they are young," Yamada said.
Since Prime Minister Fumio Kishida said on March 2 that Japan can accept Ukrainian refugees.
As of April 3, more than 4.2 million refugees had fled Ukraine since the Feb. 24 start of the conflict. Of them, 2.45 million are in Poland, according to the UNHCR, reported France 24.
With additional reporting by Aldgra Fredly.