Jon Pelson on Huawei Threat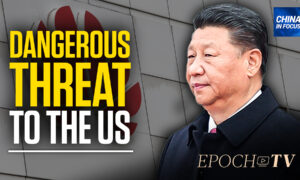 In this special episode, we sat down with Jon Pelson, author of "Wireless Wars: China's Dangerous Domination of 5G and How We're Fighting Back." He touches on the security risks around Huawei equipment being installed in the United States, what's at stake, and what can be done.
Pelson said, "If China said, 'We're going to start giving unreliable information. We're not going to turn it off, we're going to give bad data,' you could take a state or entire sections of the country offline for their power supply, for their health care information. You could shut down banking without ever setting foot in the country. And in the old days, you used to have to drop a bomb on the phone network, you'd have to blow up the switches or cut the fiber cables. Here, you can do it remotely."
And we sat down with Chadwick Hagen, investor, author, and columnist, in the second half. He touched on whether China is financially exploiting U.S. markets, Chinese capitalism, and how its expansion is hitting America's wallet.
Hagen said, "There's also counter-arguments that state America is the best economy and the best assets to invest in. And so while that's certainly true, you just have to wonder why China wants to invest so much in the American market, in such strategic industries. And then why does Beijing always step in and seem to grab control from certain executives at certain times."
Have other topics you want us to cover? Drop us a line: chinainfocus@ntdtv.org
And if you'd like to buy us a coffee: https://donorbox.org/china-in-focus
Subscribe to our newsletter for more first-hand news from China.
For more news and videos, please visit us on Gettr and Twitter.