Kari Lake's Lawsuit Trial a Win for Election Integrity: Jenna Ellis
The fact that a judge has ordered a two-day trial in Arizona gubernatorial candidate Kari Lake's election lawsuit is a win for election integrity efforts, said Jenna Ellis, former senior adviser and counsel to former President Donald Trump, in a Dec. 14 interview with NTD News.
The hearing to determine whether there was enough evidence to warrant a trial took place Tuesday before Maricopa County Superior Court Judge Peter Thompson.
"I think this is a great step forward that this judge is taking the petition from Kari Lake very seriously and said that there is sufficient evidence here," Ellis said. "Regardless of whether or not that's exactly enough time or the judge ultimately ends up extending that timeframe, if there needs to be more presentation of evidence or additional arguments, two days, in my view, is at least a huge threshold victory."
Lake told Fox News that on Election Day, voters in Arizona were disenfranchised because of malfunctioning printers and tabulators, which caused huge lines, full parking lots, and delays that prevented many from voting that day.
"It's a 70-page lawsuit that reads like a real crime novel," Lake said during an interview for Tucker Carlson Tonight on Wednesday. "We vote for a full month in Arizona with early ballots, and on Election Day when the Republicans showed up, the Election Day voting was sabotaged, and that's what our case is going to prove."
Lake's Legal Team Has Whistleblower Witnesses
Lake's legal team alleges there were 135,000 illegal ballots that were counted, far more than the 17,000-ballot margin of victory for Hobbs. Lake's team has requested permission to examine the ballots to assure their chain of custody, which Ellis said is very important but will be up to the judge to decide.
"This is why state law needs to change in terms of requiring these types of counties and election officials to provide the data to the candidates so that they can mount these types of challenges where appropriate," said Ellis.
Lake said the trial is set to begin on Dec. 20 and that her team will have four whistleblowers testifying, including someone from Runbeck Election Services, a vendor used by Maricopa County.
"There are a plethora of problems that went down in Maricopa County, and if somebody doesn't stand up and say, 'We can't have our elections being run this way,' then we'll never have another fair election," Lake told Carlson.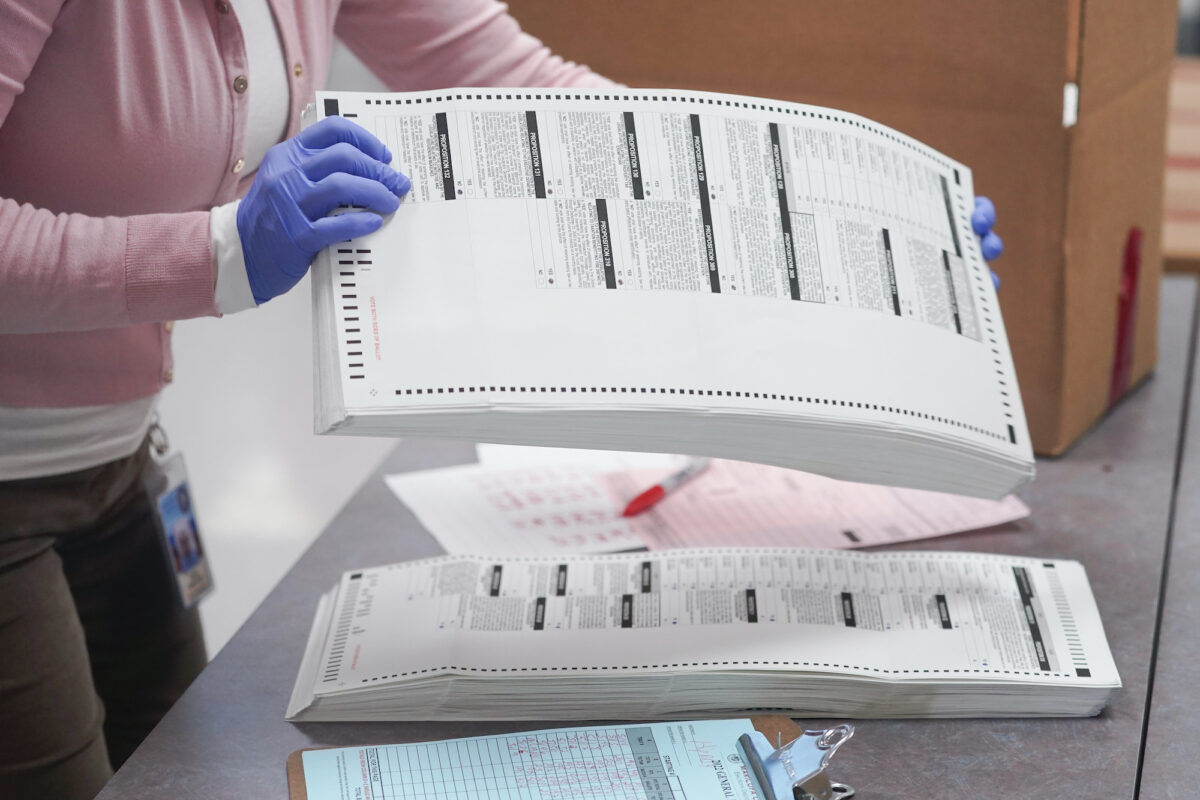 Ellis said verifying the authenticity of batches of ballots in Maricopa County was a major issue after the 2020 presidential election as well, and that county officials do not provide this information freely. Compounding the problem is that the mainstream media echoes what the election officials are saying instead of covering both sides evenly, she said.
If Lake's legal team can show that anything close to the 135,000 alleged illegal ballots were counted, that would rise above the margin of victory for Hobbs.
In her lawsuit  filed Dec. 9 (pdf), Lake is asking the judge to declare her the winner over Hobbs, or alternatively to order a new vote in Maricopa County, the state's most populous county, to be overseen by a special master.
In a statement issued Friday, Hobbs's campaign criticized Lake's lawsuit as a "nuisance" and filed a motion for it to be thrown out.
"Kari Lake needs attention like a fish needs water—and independent experts and local election officials of both parties have made it clear that this was a safe, secure, and fair election," the statement read.
The Epoch Times reached out to Katie Hobbs's office and the Maricopa County election division for comment.