Katie Hobbs Allegedly Had Election-related Tweets Removed; Georgia US Senate Runoff Election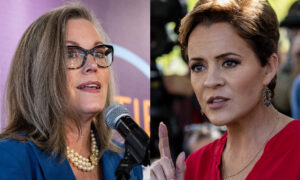 Georgia's race for U.S. Senate nears the finish line. The runoff election is on Dec. 6.  More on what candidates had to say in their final appeals to voters.
Arizona Governor-elect Katie Hobbs is in the spotlight again. According to leaked emails, she reportedly had election-related tweets removed last year.
The U.S. Supreme court heard a case involving free speech and same-sex marriage on Dec. 5.  Find out what Justices signaled after two hours of arguments.
Topics in this episode include:
1. Gunfire Damages NC Power Station
2. Georgia's US Senate Runoff Election
3. Katie Hobbs Allegedly Had Tweets Removed in 2021
4. Rittenhouse Reacts to Twitter Files
5. Faith and Gay Marriage Clash at Supreme Court
6. Celebrity Lawyer Gets 14 Years
7. Nanjing University Students Protest Against Lockdowns
8. China: Health Workers Break Into Residents' Homes
9. Youtube Accused of Censoring China Protests
10. Brazil Beats South Korea 4-1
11. Texas Woman Has World's Largest Feet at Size 18
12. 900 Santas Run in Annual Santa Claus Race
* Click the "Save" button below the video to access it later on "My List."
Follow EpochTV on social media:
Twitter: https://twitter.com/EpochTVus
Rumble: https://rumble.com/c/EpochTV
Truth Social: https://truthsocial.com/@EpochTV
Gettr: https://gettr.com/user/epochtv
Facebook: https://www.facebook.com/EpochTVus
Gab: https://gab.com/EpochTV
Telegram: https://t.me/EpochTV