Kentucky Gov. Andy Beshear, a Democrat, has signed into law a measure that requires the state's public pension funds to make investment decisions on financial risks and returns, rather than environmental, social, and governance (ESG) factors.
Beshear signed House Bill 236 into law on March 24, mandating the state's fiduciaries to solely consider factors that have a "direct and material connection to the financial risk or financial return of an investment," according to the language of the bill.
It bans actions on "nonpecuniary interests," including "environmental, social, political, or ideological interest" without a connection to the financial performance of an asset.
State Treasurer Allison Ball, a Republican, touted the new law, saying "Kentucky now has the strongest anti-ESG legislation in the nation," Just the News reported on March 28.
"For many years, pension investments were about maximizing returns," Ball added. "Recently, however, there has been a destructive shift in investment methodology to use the savings of Americans as financial muscle to push ideological causes through the ESG movement.
"Kentucky has said no to this shift by passing HB 236, which clarifies that pension fiduciaries must base investment decisions solely on financial metrics, not politics."
The state's House passed the legislation 77–17 on March 2 and the state's Senate passed it on March 13 after a 32–5 vote. Republicans hold supermajorities in both chambers of the state legislature.
Heritage Action for America, a grassroots conservative advocacy group, issued a statement on March 24 applauding the Kentucky General Assembly and Ball for "their efforts to protect citizens from the harms of the radical ESG movement."
"With the ESG movement infiltrating businesses and threatening Americans' finances, it's now more important than ever to ensure that asset managers are following through with their fiduciary responsibilities," said Jessica Anderson, the group's executive director. "As the first bill of its kind to be enacted, HB 236 will require asset managers to prioritize the investment returns and financial interests of Kentuckians."
Anderson added, "This is a historic victory for Kentucky and will be an example for other states to follow as they look to protect their state industries, investments, and workers."
"We look forward to even more states across the country adopting this approach and taking additional steps to rid our states of woke finance."
Ball was in Washington on March 9, taking part in a bill-signing ceremony held by House Speaker Kevin McCarthy (R-Calif.). That day, McCarthy signed a resolution introduced by Rep. Andy Barr (R-Ky.) to block a Labor Department rule that allows pension fund managers to consider ESG factors in investment decisions.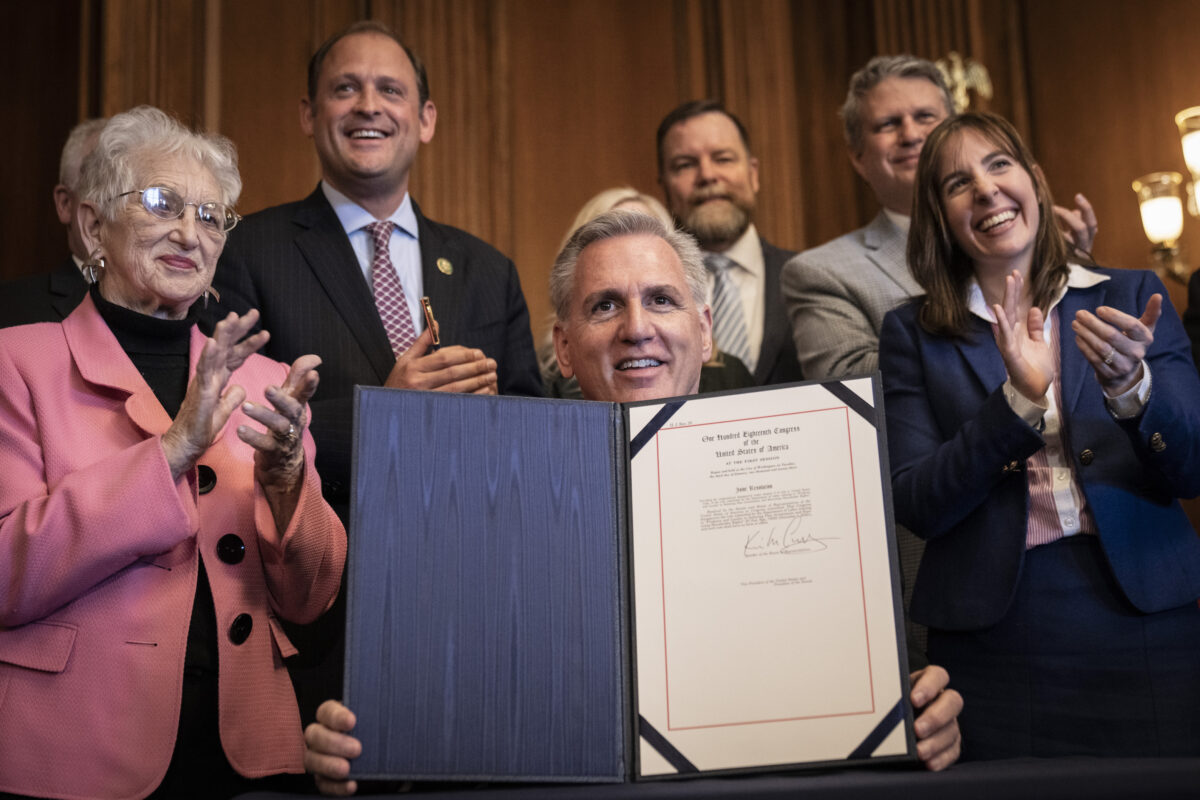 "I'm here to support what is happening as a Kentucky and as the state treasurer of Kentucky," Ball said at the ceremony. "I have been fighting to make sure our pension systems are strong and people can retire, so I've been pushing back against the ESG movement."
"We don't need to push ideological agendas. We don't need to push anything that is progressive," she added. "We need to focus on getting good returns so people can retire at the end of their work life."
However, President Joe Biden vetoed the resolution on March 20, saying the measure would "put at risk the retirement savings of individuals across the country."
The House failed to override Biden's veto after a 219–200 vote on March 23, falling short of the two-thirds majority threshold needed.
After Biden's veto, Ball took to Twitter to express her disappointment.
"He believes political agendas are more important than returns. In reality, ESG funds have underperformed the broader market over the past 5 years. Retirements are about returns, not politics," she wrote.
Ball, who has been the state treasurer since 2016, is currently running to be Kentucky's next state auditor. Meanwhile, Beshear is running for re-election as the governor of Kentucky.