Killers With History of Coercive Behaviour Towards Partners Face Longer Prison Sentences
[ad_1]

The government has agreed to tougher sentences for murderers who have a history of coercive or controlling behaviour against their partners.
The Ministry of Justice said excessive or gratuitous violence, sometimes dubbed "overkill," would also be made an aggravating factor for judges when sentencing in murder cases.
The changes were among a number of recommendations made in a report by Clare Wade, KC, in her Domestic Homicide Sentencing Review, which was commissioned by the government in 2021.
Domestic homicide is defined as a death owing to violence, abuse, or neglect by a partner, former partner, relative, or member of the same household.
Wade told the BBC she was "disappointed" the recommendations in her review had not been adopted in full.
Wade defended Sally Challen, who in 2019 became the first woman to have a murder conviction quashed because she had been under coercive control—Challen killed her husband Richard in 2010 after enduring 40 years of emotional abuse.
In her review Wade recommended introducing special defences for people who are prosecuted after killing an abusive partner.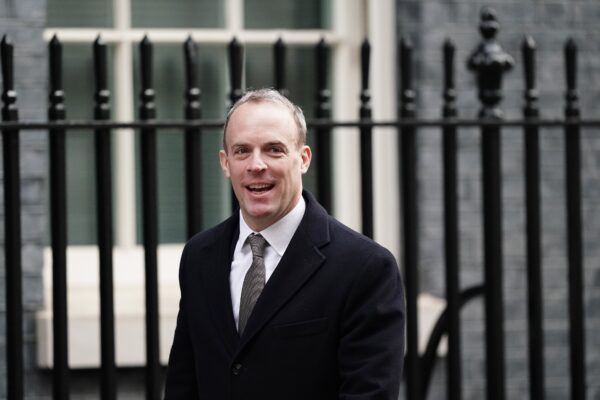 Justice Secretary Dominic Raab said the two measures announced were ones which could be delivered quickly, but he said he wanted more time to look at the "wider recommendations" and said the government would set out a full response to the review in the summer.
Raab said: "This government will do everything we can to protect vulnerable women and keep in prison for longer those who attack or threaten them.
"The changes I am announcing today will mean longer jail sentences for those who kill women in the home by taking greater account of the specific factors involved, whether it is controlling and coercive behaviour or cases involving particular savagery known as 'overkill'," he added.
In September 2021 Wade was commissioned by the government to review sentencing guidelines after ministers were warned about "systemic misogyny within the criminal justice system" by the Victims' Commissioner, Dame Vera Baird, and Domestic Abuse Commissioner, Nicole Jacobs.
Campaigners Call for 'Root-and-Branch Reform'
Carole Gould and Julie Devey, co-founders of the campaigning group Killed Women, said in a joint statement, "After years of campaigning, we welcome the government's announcements today, but they must be just the start of the root-and-branch reform that is needed to ensure killers of women face sentences that reflect the cruelty and brutality of their crimes."
Controlling or coercive behaviour was introduced as a criminal offence in the Serious Crime Act 2015 and can include economic, emotional, or psychological abuse and threats.
A public consultation will be launched to determine whether a higher sentencing starting point of 25 years should be applied in murder cases where there is a history of controlling and coercive abuse.
Currently, the 25-year starting point only applies to murders where a knife has been taken to the scene with intent.
Wade has pointed out that currently a woman who stabs an abusive partner could be given a longer sentence than a man who strangles his wife.
The government said it had also asked the Sentencing Council to review the manslaughter sentencing guidelines in light of controversy of the so-called "rough sex defence."
Poppy Devey Waterhouse was murdered by her ex-partner, Joe Atkinson, after he failed to come to terms with their three-year relationship ending.
Atkinson was jailed in 2019 for life but was given a minimum tariff of just of 15 years and 310 days.
Earlier this month Devey Waterhouse's mother, Julie Devey, joined campaigners and MPs gathered in Parliament to read out the names of women who lost their lives to violence by men.
'Where Is the Justice?'
Devey said, "We gather here now listening to this year's needless death toll and ask where is the action, where is the urgency, where is the justice?"
She added: "As bereaved families, we have faced endless failures from the agencies that were supposed to deliver justice for our daughters, or protect our mothers, aunts, nieces and loved ones. We will not stop demanding action from government to save women's lives. We will be a force to be reckoned with."
Karen Ingala Smith, who compiled a list of names for the Counting Dead Women project, said: "These killings should not be accepted as inevitable. They are a symptom of the lack of strategic priority afforded to ending men's violence against women."
Raab also announced he planned to change the law to prevent killers serving whole life sentences from getting married in prison.
It comes as news broke that serial killer Levi Bellfield, 54, had launched a legal challenge to demand the right to marry his girlfriend.
Bellfield is serving a whole life sentence for the murders of Milly Dowler, 13, Marsha McDonnell, 19, and Amelie Delagrange, 22, who were all attacked with hammers on the streets of London.
A Downing Street said it was "deeply inappropriate" for such criminals to be able to get married and it said details of the planned legislation would be announced in "due course."
In the United States a number of notorious criminals have got married behind bars, including Richard Ramirez, a California serial killer known as The Night Stalker, who married in San Quentin prison in 1996 and died on Death Row in 2013.
PA Media contributed to this report.
[ad_2]

Source link