Kobe Bryant's Widow Awarded $16M Over Leaked Crash Photos; Uvalde School District Police Chief Fired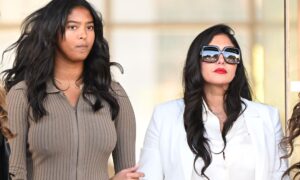 Kobe Bryant's widow was awarded $16-Million dollars by a jury on Wednesday. The lawsuit was over leaked photos of the helicopter crash site where her husband and daughter died.
Uvalde school board votes unanimously to fire police chief Pete Arredondo. The embattled police chief didn't show up at Wednesday's meeting.
President Biden announced his student debt relief plan on Wednesday. We break it down to find out what's inside.
Topics in this episode include:
1. Trial Over Kobe Bryant Crash Photos
2. Uvalde School Board Votes to Fire District Police Chief
3. Heavy Rain Causing Flooding, Evacuations in Mississippi
4. Biden's Student Debt Relief Plan
5. Moderates and Republicans Question Fairness of Plan
6. College Costs Rising 4x Faster Than Inflation
7. First Lady Jill Biden Has 'Rebound' Covid-19 Case
8. What Dugina's Death Means for War in Ukraine
9. Rocket Strikes Ukrainian Train Station
10. Japan Police Chief to Resign
11. Texas Drought Affecting Beef Production
12. TX: Dino Tracks From 113 Million Years Ago Uncovered
13. Youngest Person to Fly Solo Around The World
14. Crazy About Croissants, 'It's Luscious'
* Click the "Save" button below the video to access it later on "My List."
Follow EpochTV on social media:
Twitter: https://twitter.com/EpochTVus
Rumble: https://rumble.com/c/EpochTV
Truth Social: https://truthsocial.com/@EpochTV
Gettr: https://gettr.com/user/epochtv
Facebook: https://www.facebook.com/EpochTVus
Gab: https://gab.com/EpochTV
Telegram: https://t.me/EpochTV