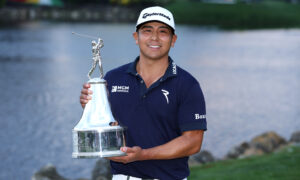 Kurt Kitayama overcame a triple bogey and beat out a star-packed field to win the Arnold Palmer Invitational for his first PGA Tour victory on Sunday, March 5, in Orlando, Fla.
Kitayama recovered to shoot an even-par 72, making a vital birdie at No. 17 and a memorable par at No. 18 at Arnold Palmer's Bay Hill Club & Lodge, finishing 9-under 279 to beat star Rory McIlroy of Northern Ireland and Harris English by a single shot.
The likes of Scottie Scheffler (73 Sunday), Patrick Cantlay (68), Jordan Spieth (70) and Englishman Tyrrell Hatton (72) were tied for fourth two back at 7 under.
The 30-year-old from California had won tournaments on the Asian and European tours, but his best showings on the PGA Tour were three runner-up finishes.
"I'm going to sleep really well tonight," Kitayama said. "Yeah, it's everything I kind of mentally prepared myself for. It was pretty much as hard as I expected."
Kitayama also shot a 72 Saturday to maintain a one-shot lead through 54 holes. He made three birdies and a bogey over his opening seven holes Sunday before hitting trouble at the par-4 ninth.
He hit his tee shot far left and out of bounds, and after hitting a provisional tee, his fourth shot missed the green. He missed a 17-foot double bogey putt, settling for a triple-bogey 7. That knocked him down to 8 under for the tournament, behind new co-leaders Spieth and Hatton at 9 under.
"I told (caddie Tim Tucker) I didn't feel rattled at all," Kitayama said on the NBC broadcast. "He said, 'Yeah, I know. You look good, and we're gonna just keep chugging along and we'll get it back.'"
Spieth had birdied four of his first five holes to start the day and got to 10 under for the event with a birdie at No. 13. He proceeded to bogey the par-3 14th and the par-4 15th after off-target tee shots.
"I didn't have my ball-striking on the weekend that I've had my last few tournaments," Spieth said. "It's really hard to go around this place without it, but if you can, the way I did it today was how you do it, making putts and making chips and it was great."
Spieth's drop led to a five-way tie for the lead at one point, featuring himself, McIlroy, Hatton, English and Kitayama at 8 under.
While most of those players couldn't buy a putt during the final few holes, Kitayama responded to his triple bogey by making seven straight pars. At the par-3 17th, his tee shot settled inside 14 feet of the cup and he drained the birdie to take the outright lead.
Kitayama missed the fairway left on his tee shot at the par-4 18th and his approach from the rough to the green left him 47 feet. Needing a two-putt par from that distance to win outright, Kitayama's first putt was on a perfect line and stopped right on the edge of the cup.
"He's done really well," McIlroy said of Kitayama. "He's sort of persevered and played wherever he could get starts and all of a sudden he's won one of the biggest events on the PGA Tour. So good for him."
McIlroy finished with a colorful card featuring five bogeys, including each of his first two holes, and seven birdies. He said he would rue his tee shot at the par-3 14th, which became plugged in a greenside bunker and led to the first of consecutive bogeys.
Scheffler, the defending champion and world No. 2, had a difficult front nine with a double-bogey 6 at No. 8, two bogeys and two birdies. He got back to 8 under for the tournament by birdieing Nos. 12 and 16 but gave one back at the last hole, when his second shot barely cleared the water hazard and landed shy of the green.
"Got a little gust or something," Scheffler said. "With the heat and everything, it's pretty much a stock wedge, and I actually trapped it a little bit. It just got caught up in the wind."