The Labour Party has reported Boris Johnson to Parliament's standard watchdog following allegations that BBC chairman Richard Sharp helped to secure an £800,000 loan guarantee for the former British prime minister.
Anneliese Dodds, chair of the main opposition party, wrote to Parliamentary Commissioner for Standards Daniel Greenberg after a Sunday Times report alleged that Sharp, a Tory donor and BBC chair candidate at the time, was involved in talks about financing Johnson when the prime minister found himself in financial difficulty in late 2020, shortly before Sharp was appointed chair of the public broadcaster.
Dodds urged Greenberg to conduct an "urgent investigation," saying the "lack of transparency" may cause "quid pro quo" concerns.
Labour also wrote to Commissioner for Public Appointments William Shawcross, calling for an investigation into the process of Sharp's appointment.
Sharp said he only made an introduction and was not otherwise involved. Both he and Johnson denied a conflict of interest.
According to the Sunday Times, Sharp, a former Goldman Sachs banker, got involved in November 2020 after his friend Sam Blyth, a multimillionaire Canadian businessman who is also a distant cousin of Johnson, floated the idea of acting as Johnson's guarantor.
The report said Sharp in December 2020 introduced Blyth to Cabinet Secretary and Head of the Civil Service Simon Case and spoke to the prime minister.
It also said that Sharp and Blyth had a private dinner with Johnson before the loan was finalised, but all three denied they had talked about Johnson's finances at the dinner.
In January 2021, Sharp was appointed chair of the BBC, a role appointed by the sovereign upon the recommendation of the prime minister and the culture secretary.
The Sunday Times said neither Johnson nor Sharp declared the matter.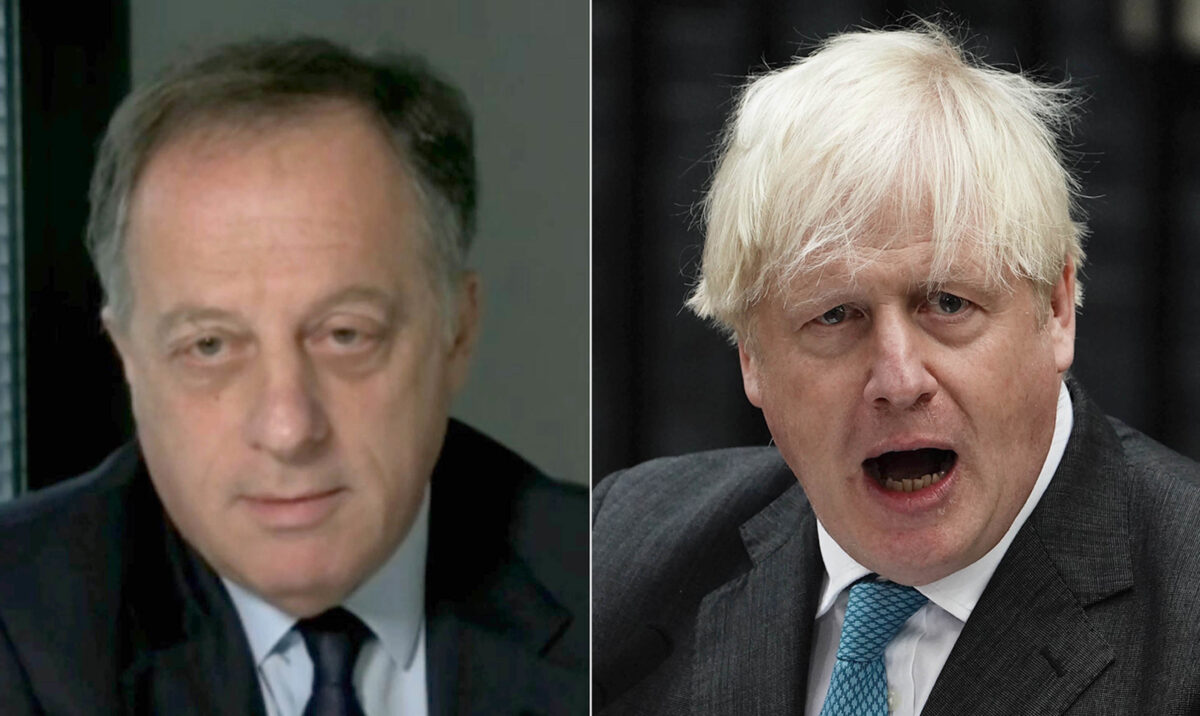 In a statement to the Times, Sharp said: "There is not a conflict when I simply connected, at his request, Mr Blyth with the cabinet secretary and had no further involvement whatsoever."
Johnson's spokesman also denied any financial advice, remuneration, or compensation was sought or given between Sharp and Johnson.
"Mr. Johnson did indeed have dinner with Mr. Sharp, whom he has known for almost 20 years, and with his cousin. So what? Big deal," the spokesman said.
"All Mr. Johnson's financial arrangements have been properly declared and registered on the advice of officials."
A BBC spokesman said the broadcaster does not appoint its own chair and that questions are "a matter for the government."
In the letter to Greenberg, Dodds called for an "urgent investigation" as she cited the MPs' code of conduct that "holders of public office should not place themselves under any financial or other obligation to outside individuals or organisations that might influence them in the performance of their official duties."
She told the standards commissioner she was concerned that Johnson "may have breached this section by asking for an individual to facilitate a guarantee on a loan whom he would later appoint to a senior public role."
"The lack of transparency around it, like that of the issue raised around Mr Blyth, may give the impression that this was a quid pro quo arrangement," she added.
It comes after Labour demanded a probe earlier this week into reports that Johnson used Blyth to act as a guarantor for an £800,000 credit facility.
Dodds raised concerns that neither alleged arrangement was properly declared, claiming Johnson's financial affairs "just keep getting murkier, dragging the Conservative Party deeper into yet another quagmire of sleaze."
"Serious questions need to be asked of Johnson: why has this money never been declared, and what exactly did he promise these very generous friends in return for such lavish loans?"
In a letter to Shawcross urging the commissioner to investigate Sharp's appointment, Shadow culture secretary Lucy Powell said it's vital that the public and Parliament can have trust in this process, and it is free from any real or perceived conflict of interest."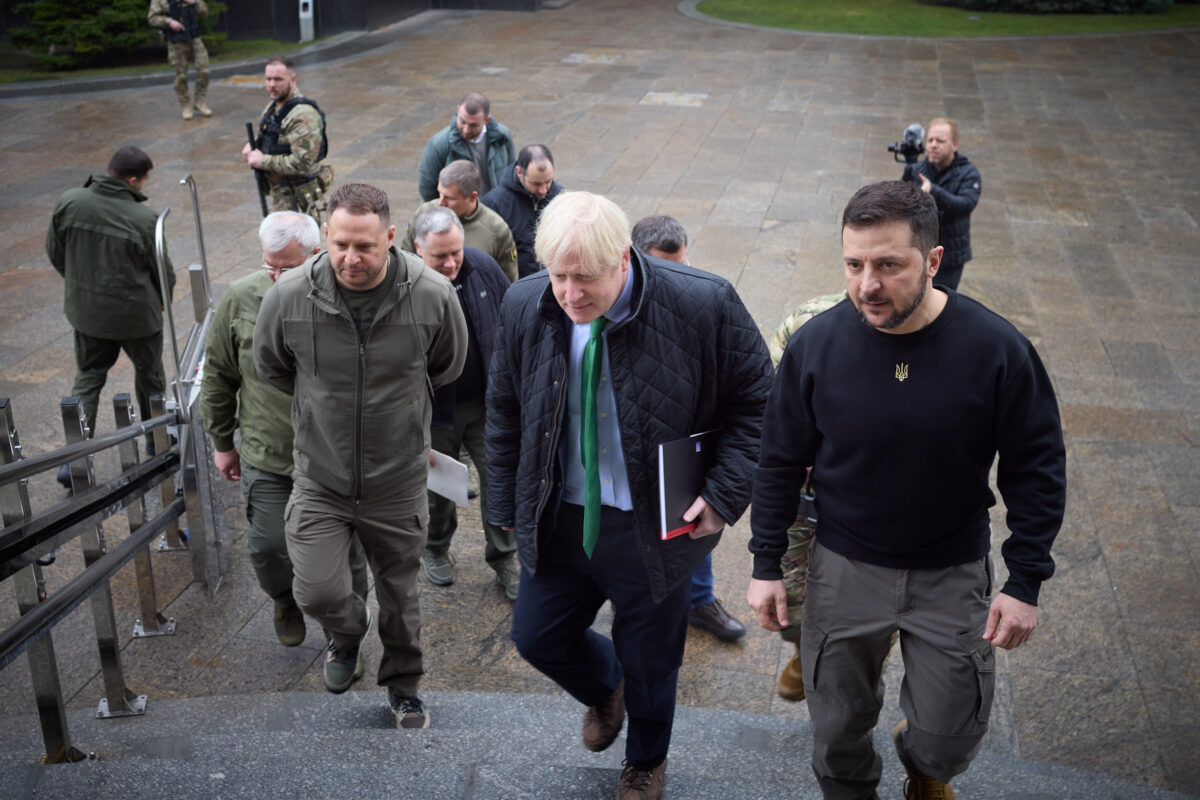 Speaking on the BBC's "Sunday With Laura Kuenssberg" programme on Sunday, Foreign Secretary James Cleverly said he had "absolutely no doubt" that Sharp was appointed on merit.
"I know that he is an incredibly accomplished, incredibly successful individual who brings a wealth of experience with him," the foreign secretary said of Sharp.
"That is why he was appointed to chairmanship of the BBC, but I've not had the chance to discuss any of the issues that were brought up today, but I have absolutely no doubt he was appointed on merit."
Cleverly said it's "not unusual" for people to be "politically active" before they take up senior roles at the BBC.
Johnson made a surprise visit to Ukraine on Sunday amid the allegations. The former PM said it was "a privilege" to visit the war-worn country at the invitation of President Volodymyr Zelenskyy, and the "only way to end this war" is for Ukraine to win as fast as possible.
Prime Minister Rishi Sunak's press secretary said the prime minister is "always supportive of all colleagues showing that the UK is behind Ukraine and will continue to support them."
PA Media contributed to this report.