LAFC Celebrates MLS Supporters' Shield Following Nashville FC Loss
In Los Angeles FC's season finale match versus Nashville SC, goalkeeper Joe Willis denied the Black & Gold from a 22nd victory with 14 saves, to eventually defeat LAFC 1–0 on Sunday, Oct. 9, at Banc of California Stadium.
However, repeating their 2019 success, LAFC already had the luxury of having clinched their second regular-season crown, the MLS Supporters' Shield, in four seasons on Oct. 2, with a 2–1 victory in Portland. They celebrated the trophy presentation following Sunday's match.
LAFC will have the homefield advantage throughout the MLS Cup playoffs and receive a first-round bye with their first match-up on Oct. 20—as they await the result of this Saturday's game between Nashville FC and crosstown rival L.A. Galaxy.
The Black & Gold finished the season with a record of 21–9–4, for 67 points. A victory would have surpassed their 69 points from 2019.
LAFC played with their usual dominating flair, allowing their superstar, Carlos Vela, to retire early in the 40th minute of the first half to avoid risking injury and allowing Cristian Tello to gain match experience.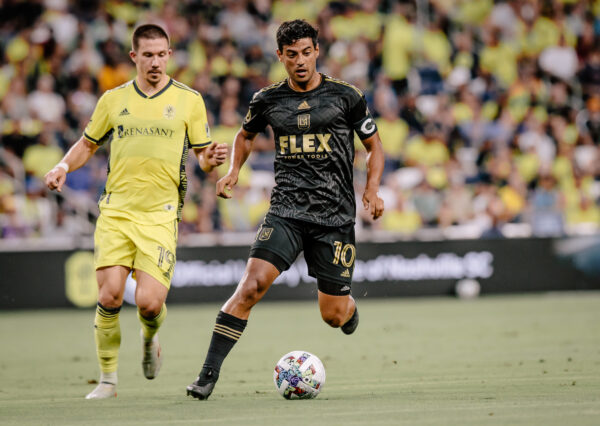 Vela became the fifth player in MLS history to record three seasons with double-digit goals and assists, with 12 each—his previous benchmarks came in 2018–2019.
He has also led LAFC with four of their last six goals from Sept. 13–Oct. 3, while leading the league with 11 game-winning goals and assists this season.
LAFC controlled the majority of the match, with 65.8 percent of the possession and 30 shots to Nashville's 12. Los Angeles also had 14 shots on goal while the visitors just had two.
Nashville's goalie Willis repeatedly denied LAFC, including a penalty-kick save from leading scorer Cristian Arango in the 45th minute of the first half, following Arango being taken down from behind near the center of the box by Nashville defender Daniel Lovitz.
On the penalty attempt, Arango attempted an unusual slow approach and paused mid-strike waiting for Willis to dive, to his right—but Arango's lack of pace to the center-left of the goal allowed Willis to recover with an outstretched right arm to bat down the shot.
Willis made his ninth shutout of the season denying seven LAFC attackers, including Denis Bouanga, Kellyn Acosta (USMNT), Kwadwo Opoku, Cristian Tello, Latif Blessing, Vela, and Arango. Gareth Bale did not enter the match.
Nashville became only the second team this season to win at LAFC, the result of a second half goal in the 51st minute from Teal Bunbury. It was his fifth goal of the season for Nashville (13–10–11, 50 points), locking up a fifth-place finish in the Western Conference.
Bunbury buried his opportunity off of a flick-on header from a corner kick from the left that he half-volleyed into the top-right corner past Maxime Crepeau.
Nashville's other forward Hany Mukhtar was crowned as the MLS Golden Boot winner with 23 goals—one ahead of Austin FC's Sebastian Driussi.
The loss had little impact on the Supporters' Shield celebrations as LAFC await a revenge match versus Nashville or another El Tráfico meeting against the Galaxy to begin their 2022 MLS Cup Playoffs.
LAFC defender Ryan Hollingshead commented regarding the upcoming matchup: "At this point we are so confident in who we are as a team, especially at the Banc at home, that we're ready to see anybody and face anybody. … We think that we are the team to beat in this league. We think the Shield shows it, but we got to now go prove it."