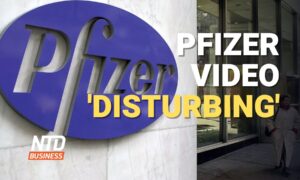 Pfizer is allegedly looking into mutating COVID-19 in order to develop new vaccines. This, according to a newly-released undercover video.
And we talk to Dr. Robert Malone, the pioneer of mRNA vaccine technology, about the Pfizer video. He calls what's shown in the video "profoundly disturbing."
AI program Chat GPT is transforming the business world. We speak to executives who are using it and look into what jobs it could potentially replace.
Pharmacies are facing staff shortages. Now two more stores are cutting hours and closing some locations.
NTD's Sean Marshall visits a boat show in New York City to see what's there.
The longest-running show on Broadway celebrates a record-setting milestone. We hear from fans who are going to see it one last time before it closes.