Long-Awaited Shen Yun Does Not Disappoint, Says Audience Member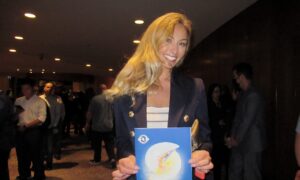 COSTA MESA, Calif.—Malissa Ochoa said she had been waiting for years to see Shen Yun Performing Arts. And on Saturday, it did not disappoint.
The mortgage company manager praised the New York-based production for being "aesthetically beautiful, and entertaining, and very educational" after finally experiencing the internationally renowned performance at the Segerstrom Center for the Arts in Costa Mesa.
Having long anticipated Shen Yun, which is known for its mini-dramas that bring to life China's cherished legends and stories of moral courage through classical Chinese dance and music, Ms. Ochoa said she had planned out her entire day to prepare for the experience.
"I decorated my whole house. I had beautiful silk robes for [my friend and myself]. I made the best … Chinese food. We had a whole theme rolling out today. This has been long-awaited so we took a whole day and did a pre-celebration, and it is a high! When you expect something for so long and then you finally see it, sometimes it can be disappointing. But this has been lovely.
"It brings light to people, and that is what we all need right now," she said.
'Pep in the Step'
"I read up on [Shen Yun] before I came … so I'd know what to expect. I'm a little taken aback that in China, people cannot see this type of [performance]. That was an interesting statistic for me," she said.
Shen Yun is currently banned from performing in China, due to the censorship of the Chinese Communist Party, despite it being welcomed by other countries all around the world.
"I just love [everything]. And I think, during a time like this when the economy is tough and there's inflation and a lot of people are having hard times, seeing something like [Shen Yun] is very inspirational and beautiful, and just gives a little pep in the step for us everyday people," Ms. Ochoa said.
The special effects from Shen Yun's animated backdrop were also impressive, she said. "I love the screen in the background and how the people come out."
The innovation, which is patented by Shen Yun, allows for seamless interaction between the backdrop and the action on stage, creating a magical experience.
Ms. Ochoa particularly enjoyed the spiritual themes shared by Shen Yun.
"And whenever the clouds lift in the screen and you go to Heaven, it almost made me cry," she said, describing a scene in one of the dances. "It is just wonderful and warm, and there needs to be more of that in our world [for] people with open minds that can absorb it in a proper way."
The ancient Chinese believed that there was a time when heavenly deities and earthly mortals once co-existed peacefully on earth and that the Chinese people were the recipients of a divine culture.
'Chinese Culture I Saw Today Was Very Exciting'
Also enjoying Shen Yun was Thomas Garcia, an instructor of data science at Chapman University. It was the first time Mr. Garcia had seen Shen Yun.
"I really enjoyed the dancing and especially the orchestra," he said. Mr. Garcia enjoys listening to Chinese instruments and is a collector of records of Asian music.
"The way it was choreographed and the way the music was played in just perfect timing … it was excellent," he said.
It was also an educational experience for Mr. Garcia.
"I learned a lot. I saw the symbolism—communism and the freedom of the people, the people's freedom to practice their religion or spirituality … that was a struggle, I could see that," he said.
He had also learnt how old Chinese culture is. "And they keep those traditions strong while other cultures' traditions fade away, especially when they come to the United States. But the Chinese culture I saw today was very exciting."
Reporting by Linda Jiang and Diane Cordemans.
The Epoch Times is a proud sponsor of Shen Yun Performing Arts. We have covered audience reactions since Shen Yun's inception in 2006.