LOUDOUN COUNTY, Virginia—Republican-aligned candidates running for positions on Loudoun County's school board gathered to share their vision for the county on Thursday, in the wake of the "Loudoun Love Warrior" (LLW) controversy, where a group affiliated with some of Loudoun's elected officials targeted and allegedly harassed and doxed parents after they spoke out against the school board's policies.
These candidates say that unlike some of the current local officials, they are committed to creating a political environment that values civil discourse, transparency, and accountability, where all citizens can express their views without fear of retaliation, and where all constituents are treated fairly regardless of their party affiliation or religious beliefs.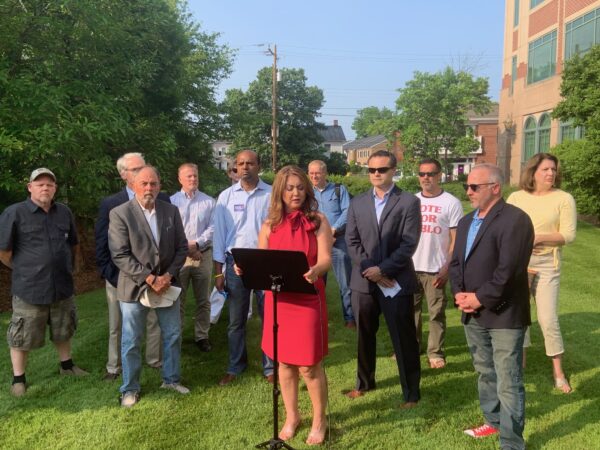 GOP candidate Daniel Brubaker told reporters at a May 25 press conference that he is running for a position on the board to restore merit so that students get rewarded for their academic achievements.  He also wants schools to be more accountable to parents and be transparent with information having to do with children's well-being.
Brubaker also took time to address the LLW controversy, referring to an ABC 7News report about whistleblower documents showing hundreds of messages in ongoing conversations among the LLW Facebook members that shows them targeting specific parents and plotting ways to harm them.
"I believe … free discourse is so important to getting to the truth and getting to the best policy. You have to have the ability to speak about things, [and] other people have to say things that might be wrong. But they have to have the ability to speak without feeling that they're going to be killed or physically harmed, or they're livelihood threaten, their children or anything like that, so we really need to pull that back," he said.
Some of the messages show that a parent, Mark Winn, was targeted by LLW in an effort to have him fired.
The group indicated that Winn was targeted for making what they considered to be "homophobic" comments. But Winn says he was quoting a bible passage in his comments about the seriousness of protecting children to the school board.
Two other Republican candidates, Kari Labell and incumbent John Beatty, as well as Democrat Megan Lockwood, are all running against Brubaker for the Catoctin district seat.
Lockwood has also commented on the LLW controversy.
"Accusations were made regarding doxing and threatening behavior against citizens exercising their First Amendment right of free speech. I was caught completely off guard, as I am assuming most listening were. Let me be clear: violent rhetoric and threats are not acceptable. The homophobic comments made publicly at a winter school board meeting were equally unacceptable and personally repellent to me," Lockwood wrote in her May blog post.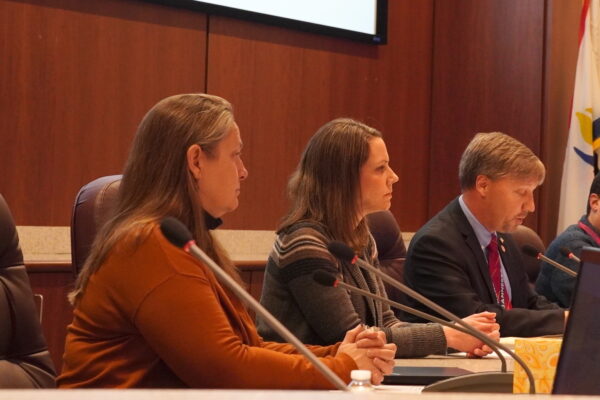 More Candidates
Another GOP school board candidate, Chris Hodges, is running for Loudoun's Broad Run district to replace member Tiffany Polifko, who has decided not to seek re-election.
"I have no other political aspirations than joining the School Board and doing the best job I can for as long as I can," Hodges, a graduate of the U.S. Naval Academy and a Navy veteran, said in a press statement.
"My goal is to re-establish LCPS as one of the top school districts in the country. We must raise standards, give parents a stronger voice in their child's education, support our hardworking teachers, make the most efficient use of taxpayer dollars, and prioritize the safety of our students."
The Democrat running against Hodges is Linda Deans, who says her priorities are a high-quality education for all students, teacher and staff diversity, keeping parents informed, and community engagement.
All eight electoral district seats of the county and one member elected at-large are up for re-election.
Joe Smith is running for a school board seat in the Little River district and wants to improve academic excellence, school safety, parental rights, and career guidance. He said Loudoun's focus on equity and culturally responsive instruction only furthers identity politics, rather than providing a solid academic education.
Smith will face off with Democrat Sumera Rashid, who says her priorities are inclusivity, academic excellence, and transparency.
Michael Rivera, a police detective and former school board candidate, is running for the at-large school board seat against Democrat Anne Donohue and incumbent at-large member Denise Corbo.
Arben Istrefi will face a primary against incumbent Brenda Sheridan for Sterling District. Democrats will hold their primary election on June 20, while the GOP will not.
Republican-aligned Viktoria Hunyadi is running in Algonkian against Democrat April Chandler, and Republican-aligned candidate Deana Griffiths is running against Democrat Incumbent Harris Mahedavi for the Ashburn seat.
Incumbent Erika Ogedegbe is the Democrat nominee for re-election in Leesburg, with GOP Lauren Shernoff as a contender. Democrat Melinda Mansfield is running in Dulles District against incumbent Jeff Morse.
Candidates can register to join the Loudoun county races until the deadline for filing on June 20. The general election will be held on Nov. 7.