LUBLIN, Poland—After a warm reception last year, New York-based Shen Yun Performing Arts returned to the stage of the Opera Hall of the Center for the Meeting of Cultures with a new repertoire to touch the hearts of the audience–who could not hide their tears of emotion and admiration for the artists' professionalism. At the end of the performance, they appreciated the dance group with a standing ovation.
Shen Yun was founded to revive traditional Chinese culture, destroyed by the communist regime. The troupe weaves a story of China from ancient times to the present, which they express through classical Chinese dance and music. The innovative stage design consists of a 3-D animated backdrop that transports the audience to mythical, heavenly lands and to the times of the great Chinese dynasties.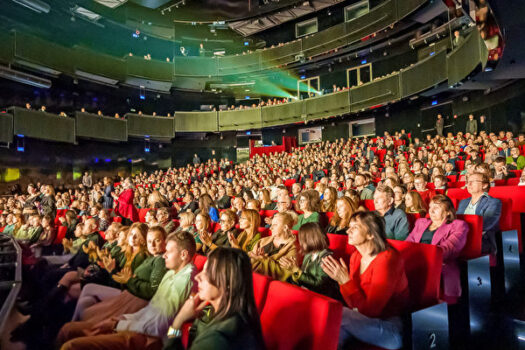 Mr. Kamil Warchulski, who has lived in Germany for 21 years, where he has his own practice, said he came to see how beautifully cultures merge. "[The music was] beautiful and the whole spirituality, which is just wonderful when it shows that culture and art transcend the borders," he said.
Shen Yun's work is embedded in the traditional heritage of Chinese culture, where the spiritual element is found in the arts and every human activity.
Mr. Warchulski was surprised that there is so much wisdom and so much spirituality in this heritage, "which is similar to our European spirituality." He added that he believes this is something that should be further promoted and spread.
"All the pieces had their charm and their [unique] portrayal," he said. He pointed out that he himself comes from a classical dance background, having at one time danced in ballet. He explained that this was something that made him want to see "how this beautiful art of classical Chinese dance is an art." He added that "this is something wonderful."
Classical Chinese dance is an extremely versatile and demanding discipline. Its form, built on traditional aesthetics, has influenced other art forms over the dynasties, including other dance forms and gymnastics.
Mr. Warchulski appreciated the artistry of the show and the professionalism of the artists. "[It] was very, very beautiful," he said.
The artist was moved by the music played by the Shen Yun's orchestra, which combines the sounds of Eastern and Western culture. He confessed that he had to hold back "a waterfall of tears of happiness" while listening to it.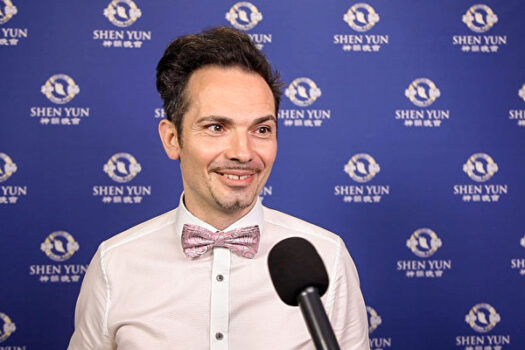 'A Higher Art'
Ms. Iwona Wierzchucka, a psychologist, psychotherapist and visual artist, found the performance deeply moving and very touching. As she said, it reached "deeply into experience, into the spirit, into something very, very individual, very intimate. This is not just art [made] to just [visually] present something," she pointed out.
"This is something unbelievable. And when all these people were dancing, I had a tremendous amount of feelings and an enormous number of thoughts," she said. "It's unbelievable how the body can serve [to convey] a higher idea, a higher art, a higher purpose. It's very inspiring." She added that thanks to the performance, she might return to art–to dance, as she confessed, she used to dance flamenco.
According to beliefs from ancient China, ancient Chinese dress was inspired by the attire worn in Heaven. Shen Yun's costumes reflect the authentic styles of Chinese dynasties.
"Unbelievable, intense color. The kind of colors that are not combined together in Europe. For example, yellow with pink … They are contrasting, and at the same time incredibly well synchronized. Very intense, very vibrant," recounted Ms. Wierzchucka, who with her friend Ilona Łojewska came all the way from Cieszyn for the performance. "Very beautiful. So natural, joyful," she added.
'Something That We Also Have in Our Souls'
"They really present it all very positively," said Ms. Łojewska, an accountant by profession. She noted that Shen Yun's performance "is such an incredible feeling for a person. Everyone should see it, simply. Because it's … It can't be described in words. It is unbelievably beautiful."
Among Shen Yun's dance stories are also stories based on real events taking place in modern China, showing persecution directed against practitioners of the Falun Dafa spiritual discipline, whose main principles are truthfulness, compassion, and forbearance.
Ms. Wierzchucka said the show "carries a lot of values." Referring to stories from contemporary China and about Falun Dafa, she said: "What they carry as an idea is something extremely timeless."
She added, thinking about the songs performed during the performance by soloists using the traditional bel canto technique, that "this is something we also have in our souls."
"We don't necessarily want to have new technology, new some possibilities that actually distance us from ourselves," she noted.
"It's worth seeing this show to stop for a moment and think about the future," Ms. Łojewska said.
She explained that the idea is to "preserve the traditions, culture, values that were once instilled in us and that are, in fact, in our hearts," not to let them be stifled by new technologies and the rush of life, she concluded.
Reporting by Miranda Tsai and Agnieszka Iwaszkiewicz. Translated by Mikołaj Jaroszewicz.
The Epoch Times is a proud sponsor of Shen Yun Performing Arts. We have covered audience reactions since Shen Yun's inception in 2006.