Lula Defeats Bolsonaro to Become Brazil's President: Election Authority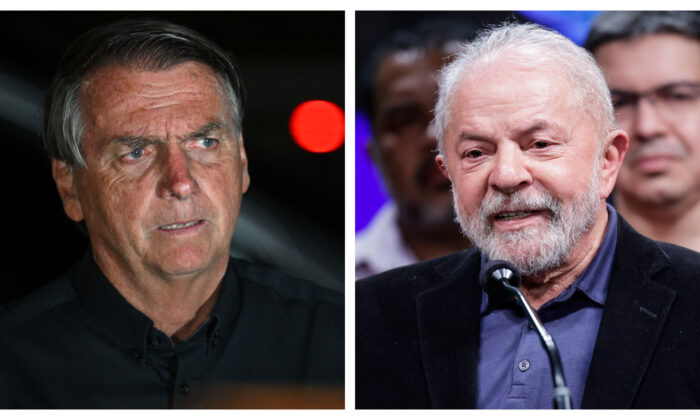 (Left) Brazilian President and reelection candidate Jair Bolsonaro in Brasilia, Brazil, on Oct. 2, 2022. (Evaristo Sa/AFP via Getty Images); (Right) Former president of Brazil and candidate of Worker's Party Luiz Inacio Lula da Silva in Sao Paulo, Brazil, on Oct. 2, 2022. (Alexandre Schneider/Getty Images)
SAO PAULO—Former Brazilian President Luis Inacio Lula da Silva on Sunday defeated incumbent Jair Bolsonaro to become the country's next president, Brazil's electoral authority said.
Lula had 50.8 percent of votes compared with 49.2 percent for Bolsonaro with 99.1 percent of voting machines counted, which the Supreme Electoral Court said was enough to "mathematically define" the outcome of the race.
Lula has vowed a return to state-driven economic growth and social policies. He also promises to combat destruction of the Amazon rainforest, now at a 15-year high, and make Brazil a leader in global climate talks.
A former union leader born into poverty, Lula organized strikes against Brazil's military government in the 1970s. His two-term presidency was marked by a commodity-driven economic boom.
However, his Workers Party was later tarred by a deep recession and a record-breaking corruption scandal that jailed him for 19 months on bribery convictions, which were overturned by the Supreme Court last year.
Voting is electronic and the results were announced within two hours of polling stations closing at 5 p.m.
Lula will take office on Jan. 1.