Manchester United's Ronaldo Scores 50th Hat Trick in 3–2 Win Over Norwich City
Cristiano Ronaldo scored his 50th club career hat trick, in Manchester United's 3–2 victory over Norwich City at home, Old Trafford, on Saturday, keeping the team three points from the top four clubs for Champions League qualifications.
It was Ronaldo's third hat trick for his current club, Manchester United, where his career climbed to stardom, before being traded to Real Madrid in the largest trade transfer in history at the time of 80 million pounds ($131.3 million) in 2009.
At Madrid, Ronaldo scored 44 hat tricks while winning five UEFA Champions League titles, and multiple La Liga and Copa del Rey championships. He also scored three hat tricks at Juventus before the most recent trade returning to Manchester United.
Besides winning five Ballon d'Or trophies as the best soccer player of the year, second-most in history, Ronaldo has made numerous charitable donations throughout his career.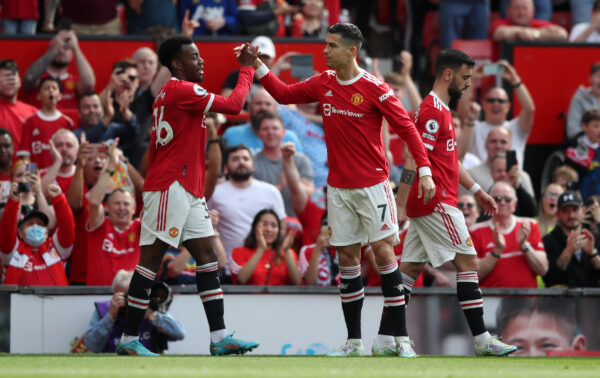 He was named the world's most charitable sportsperson in 2015, after donating 5 million pounds to the relief effort following the earthquake in Nepal that killed over 8,000 people.
In June 2016 after Real Madrid's Champions League victory, he donated his entire 600,000 euro bonus to a charity app that he launched in August to help "Save the Children," allowing donors to take a selfie with him in one of several different poses and outfits.
In his return season to Manchester, the club had been in turmoil, barely winning any matches early in the season following a second-place finish the previous year 2020–2021.
Sir Alex Ferguson once again recruited Ronaldo to return to the club while he was in negotiations to play for their biggest rival Manchester City.
United's improvement has not satisfied the thousands of Manchester United (MU) fans who showed their discontent by protesting against the owners beginning Friday, and has continued through their match against Norwich.
United had won only one of their last seven matches, but this victory gave them a much-needed three points in the standings, tying Arsenal for fourth.
Manchester City and Liverpool stand atop the English Premier League (EPL) with 74 and 73 points, while Chelsea is a distant third at 62 followed by Tottenham Hotspur with 57 points in fourth; the top four clubs in the EPL qualify for the most coveted competition in the Champions League the following season.
Spanish international goalkeeper for MU, David de Gea, stated following the victory, "We are not playing well … but at the end, three goals from Cristiano and the three points."
"We should control the game more against Norwich at home. A massive win for us," added de Gea. "We still have a chance to finish top four and we have to fight for it.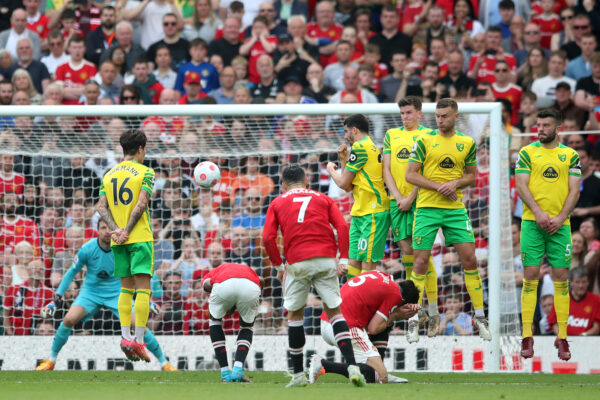 Ronaldo scored his first goal in the seventh minute when teammate Anthony Elanga of Sweden tackled the ball away from Norwich defender Ben Gibson to assist an open Ronaldo in the center of the box, whose shot beat Norwich goalkeeper Tim Krul.
From a corner kick on the right side of the pitch in the 32nd minute, Ronaldo scored his second goal from a header off the cross by Alex Telles, going low-left of the diving Krul in the center of the goal.
In last place in the EPL at 20th position, Norwich is likely to be relegated to the second division, but they competed on the same level as United this match.
Norwich would respond before the half with a goal in the first minute of stoppage time 1–2. Finnish international Teemu Pukki found an open Kieran Dowell just inside the right side of the six-yard box for a header into the low-left corner past United's keeper de Gea.
On another counter-attack, Norwich would draw level, 2–2, in the 52nd minute with Dowell assisting Pukki this time, with a pass to the right side of the box beating an offside trap; Pukki took a couple of touches, then finished with a low shot that scored off the inside of the right post.
Norwich nearly scored again in the 56th minute as Pukki headed a long cross down into an oncoming run by Milot Rashica, who placed a low shot from outside the middle of the box toward the left corner, only to be denied by a diving de Gea save.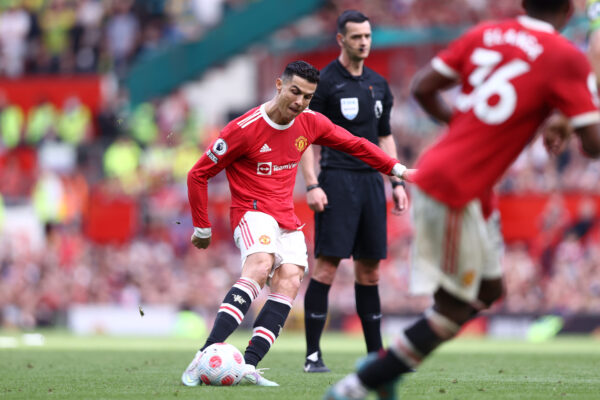 Ronaldo was once again heroic, in the 76th minute, and would score on an incredible free-kick from 23 yards away outside of the right post, blasting a knuckleball into the left corner that ricocheted off of the hands of the diving Krul, for the final goal in the 3–2 victory.
Fans booed Paul Pogba as he was substituted by Juan Mata; but there's much speculation about trading the aging Ronaldo following the season as Manchester United considers freeing up his salary in an attempt to overhaul the team.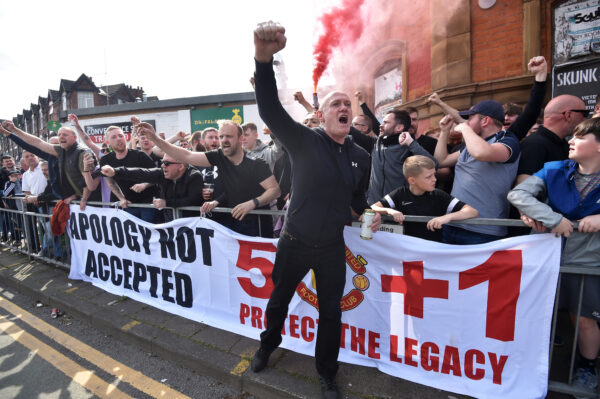 "Great [winning] goal from Cristiano," said de Gea. "We are happy, but we know we have to improve a lot."
Manchester United faces second-placed Liverpool away on April 19t, while Norwich City hosts Newcastle United on April 23, with six games remaining to avoid relegation.