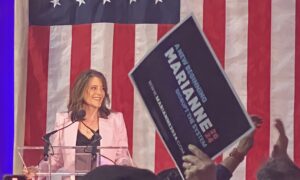 Marianne Williamson gathered before a crowd at Union Station in Washington on Saturday to announce that she is challenging President Joe Biden for the Democrat nomination in 2024.
Williamson, a bestselling self-help book author, struck an anti-establishment tone in front of an energetic crowd.
"The status quo will not disrupt itself … that's our job," Williamson said.
Williamson first gained national attention in 2020 when she unsuccessfully sought the Democrat nomination for the nation's highest office amid a crowded field of contenders.
Williamson's sometimes eclectic statements and political positions made her one of the most-ridiculed competitors in the field. For instance, in 2020 Williamson called for the creation of a "Department of Peace" and called on the United States to provide cash reparations to black people on the basis of their skin color.
Williamson also faced ridicule for comments she made during the presidential debates.
For instance, Williamson said at the time that her first call as president would be "to the prime minister of New Zealand [to say] girlfriend, you are so on. The United States of America is going to be the best place in the world for a child to grow up."
Williamson vowed then to "harness love for political purposes" in order to defeat President Donald Trump.
Now, Williamson is mounting another campaign for the presidency, becoming the first major Democrat to challenge Biden for the nomination.
"Martin Luther King said our lives start to end when we stop talking about things that matter," Williamson began her announcement. "We are here today to talk about something that matters a lot: the United States of America."
Largely Silent on Biden
Notably, Williamson did not use the opportunity to attack Biden's performance in office.
Biden is the clear frontrunner for the Democrats' 2024 nomination, and poses a significant threat to Williamson's aspiration to take the Oval Office.
Rather, Williamson made covert references to Trump, citing "hatred and division" as some of her concerns. Democrats have often sought to present themselves as a "party of love," and have consistently used terms like "hateful" to describe Trump and his allies.
"We're all here because we care about this country, but we're also here because we're worried about this country," she continued.
"We know that this country is plagued by many challenges now, not the least of which is hatred and division, which is greater than any of us have experienced national life. It is our job to create a vision of justice and love that is so powerful that it will override the forces of hatred and injustice and fear," the candidate said.
"Our country is at a crossroads," Williamson added. "We can either continue down the path of division and hatred, or we can choose a new way forward, a way that is grounded in compassion, love, and understanding. I choose the latter, and I invite you to join me on this journey."
In Williamson's only oblique reference to the current president, she said that in 2020 the nation was kept from going "over the cliff" by the reelection of Trump, and "we're still six inches away from it."
Williamson also tried to strike an economically populist tone, saying of Washington: "Half the people in this city don't even notice [the despair of the lowest classes]."
Williamson's announcement comes as the Biden administration faces mounting criticism from progressives over its handling of key issues such as health care, climate change, and immigration. Progressives feel as if Biden has not taken a strong enough left-wing position on these and other issues.
While Biden remains popular among Democratic voters, Williamson's announcement marks the first sign of trouble for the embattled president.
Though the president has said on several occasions that he intends to run for reelection in 2024, he has yet to make an official announcement to that end.
Now back in control of the House—and by corollary, the subpoena power—Republicans are planning a series of investigations into the Biden White House's handling of the southern border, energy policy, federal law enforcement, and others.
Until now, however, Biden has faced limited scrutiny from within his own party.
A few Democrats in Congress have come out overtly against the sitting president, whose attacks from within his party generally come from the left.
When asked by a local radio station if he supports Biden's reelection bid, Rep. Dean Phillips (D-Minn.) noted that Biden would be over 80 years old by 2024 and hopes "other Democrats step up."
"To answer your question directly, which I know is quite rare … no, I don't," Phillips told WCCO Radio.
Other progressives like Reps. Alexandria Ocasio-Cortez (D-N.Y.) and Cori Bush (D-Mo.) have also expressed reluctance to give Biden another term in office.
When asked by CNN anchor Jake Tapper on Sunday whether Biden deserves a second term, Sen. Joe Manchin (D-W. Va.), who has clashed with Biden on various occasions, refused to give a direct answer, saying "I'm not getting involved in any election right now. 2022, 2024, I'm not speculating on it."
Williamson underperformed in 2020.
By Jan. 3, 2020, Williamson had laid off her entire campaign staff. She later gave her endorsement to progressive Sen. Bernie Sanders (I-Vt.), who at the time of publication has made no announcements regarding his intentions in 2024.