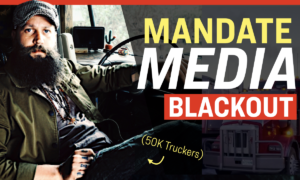 According to new data from the U.S. Department of Agriculture, Chinese companies—many of whom are either controlled by or have deep connections to the Chinese Communist Party—have been buying up more and more American farmland. In fact, over the last 10 years, the amount of land they've purchased has risen exponentially. However, now, there is an effort on Capitol Hill to finally fight back. 
Meanwhile, as you might've noticed, there has been a near-total media blackout of the many protests that are erupting around the world that are pushing back against vaccine mandates. And one of the largest of such protests is actually happening right across the border in Canada. 
Right now, there are somewhere between 50,000 and 100,000 truckers who are making their way to the Canadian capital of Ottawa in order to protest the new vaccine mandates that the government has imposed upon them. However, Facebook has just kicked them off the platform, GoFundMe suspended their donation drive, and Prime Minister Justin Trudeau looks like he's making an escape.
Resources:
???? Epoch TV:
???? American Hartford Gold (866-242-2352):
???? China
???? Canada Truckers:
---
Stay tuned for our newsletter so you won't miss out on our exclusive videos and private events.
Facts Matter is an Epoch Times show available on YouTube.
Follow Roman on Instagram: @epoch.times.roman
Listen to Podcasts: https://blubrry.com/factsmatterwithromanbalmakov/
Follow EpochTV on social media:
Facebook: https://www.facebook.com/EpochTVus
Twitter: https://twitter.com/EpochTVus
Rumble: https://rumble.com/c/EpochTV
Gettr: https://gettr.com/user/epochtv
Gab: https://gab.com/EpochTV
Telegram: https://t.me/EpochTV
Parler: https://parler.com/#/user/EpochTV